Part of what made the PlayStation Vita such an interesting console was the ability to take console games on the go. This is a trait that has helped make the Switch successful, with the latest title joining that group being Ni no Kuni: Wrath of the White Witch. When Level-5 released it back in 2013, it was considered a masterpiece and now current generation gamers can experience what so many others got to enjoy. However, given the struggles certain games have had on the Switch, was this a wise decision or is it another underperforming nightmare? Here's our Ni no Kuni Remastered Review.
Ni no Kuni: Wrath of the White Witch for the Nintendo Switch is a straight port of the PlayStation 3 version. There are no improvements whatsoever in the Switch version, but for those who will be getting it on the PlayStation 4 or PC, the difference will be the remastered visuals Bandai Namco implemented to the game. Instead of the locked 720p resolution and 30 frames per second, similar to the original release on PS3, the PC, and PS4 version has upped the resolution to 1080p running at 60 frames per second or if you are playing on a PS4 Pro, you have an option to play in 4K resolution at 30 frames per seconds or 1440p at 60 fps. Having played both the Switch and PS4 versions, there's really a big difference in performance between the two. However, the Switch version outperforms the counterpart with its portability.
For newcomers, Ni no Kuni: Wrath of the White Witch is co-developed by Level-5 and Ghilbi anime studio that brought popular animes such as Spirited Away and Princess Mononoke. For fans of the studio and who have watched their previous work, players will immediately notice the exemplary design and art.
The story of Ni no Kuni starts off with Oliver, a young boy who sets off on a journey in an alternate reality of his world to save his mother from the evil White Witch. In his journey, he will meet with fairies and combat enemies using creatures called Familiars, which resembles similarity to the monsters in Pokemon and Yo-Kai Watch. Unlike past JRPGs of Bandai Namco, Ni no Kuni doesn't provide a mature storyline, but instead a light-hearted and heartwarming approach. As with every JRPG, it starts off slow but expects the story to pick up as you progress along with the game.
One of the things that players should look at as they go through the game are the characters. Every character that you meet in the game is very interesting as they all have a back story, with an interesting script to tell. Some of them will give you some funny moments while others will make you feel emotional. As mentioned before, the game truly resembles that you are watching an anime as well as playing it. The story is of a high standard and those who have been watching animes and playing RPG games will feel right at home in the game's story.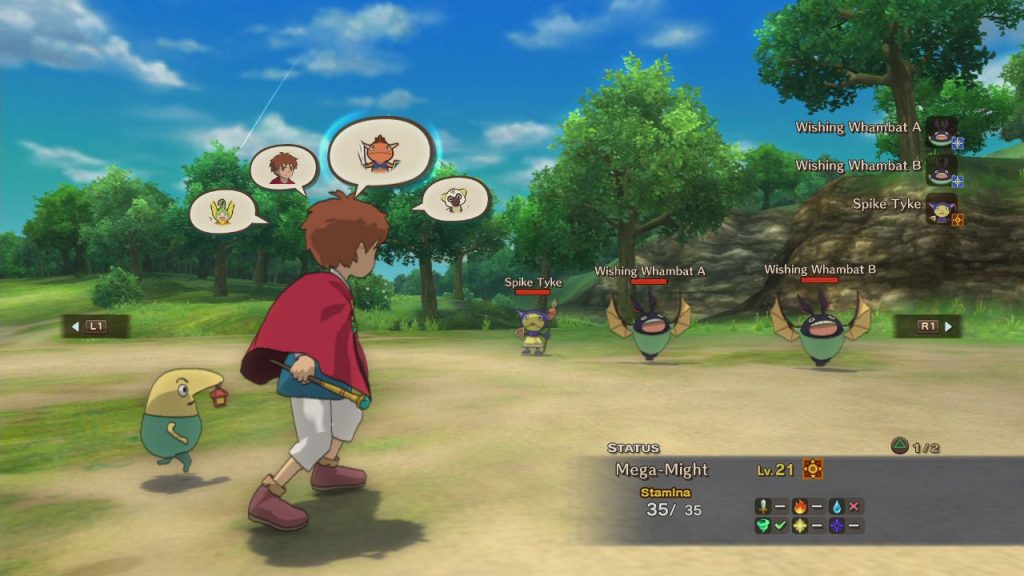 One of the core elements in Ni no Kuni is going out to the world and collect as many Familiars as possible and use them in battle. Similar to Pokemon, Ni no Kuni has a plethora of different creatures that roam the overworld map where you catch and put it in your collection to use in battle or to simply have a collection of over 200 creatures. When a Familiar reaches a certain level, they will learn a skill and if you're lucky, they will evolve into a far more powerful creature. While it may sound very similar to Pokemon, the way Level-5 conveyed the Familiars to the players are quite different; initiating a battle will require you guiding Oliver to the on-screen enemies on the screen. Once they are in battle, Oliver and the people that will join his party can only summon one Familiar at a time, however, there will be other two in the reserves where you can switch them out. The amount of time they can stay in battle relies on the stamina they have for each one.
Winning battles is easy and it's not like the ones you see in other Pokemon games, despite its similarities. As soon as you engage in battle, you can move around the battlefield to have Oliver or the Familiar dodge, Everything is in real-time. For every attack that you choose, a timer on how long you can attack will be shown. As soon as the timer runs out, you will have to choose another command. When it comes to choosing commands, enemies will attack you so it's best to run away from them as far as possible and then pick your attack.
In every RPG game, I always look for side-quests and in Ni no Kuni, you will be overwhelmed in the number of things you can do. Aside from collecting all Familiars, you can take a break from the story and do errands from people in various different towns. The errands, also known as Tasks in the game, will give you money to spend and some rare items that you will only get by completing missions. There are over 100 tasks that are available for you to do. Some tasks require you to repair people with brokenhearted illnesses where you will have to give them hearts that vary from courage, kindness, and enthusiasm. Since Oliver is a wizard, you can help him find people with a big heart that has good qualities, take them and give it to the people with brokenhearted ones.
Other stuff that you can do in the game is doing bounties. If you are up to slaying down monsters, certain tasks will require you to go out to the world. Yes, there's a world map where you can fly or walk and defeat certain types of enemies. If you are fond of colosseum challenges, there is an arena where you and Familiar can team up in taking down the wave of monsters. When successfully completed, you can earn rare Familiars. As for the end-game content, more tasks get unlocked and the ability to catch Golden Familiar will be possible, in which they are stronger than the regular ones you encountered earlier.
The amount of things that you can do in Ni no Kuni is almost overwhelming. There are so many things that you can do, you can expect to spend hundreds of hours playing the game. Of course, if side quests are not your thing, you can easily finish the game in roughly fifty hours.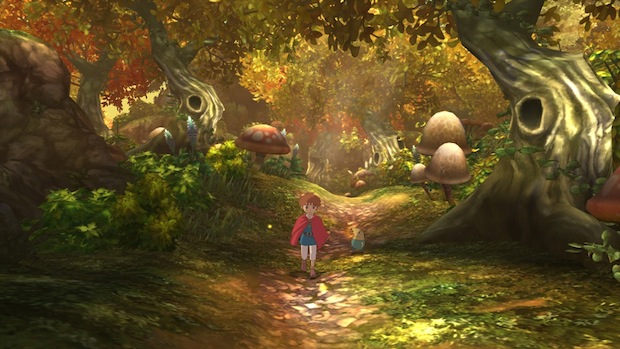 One of my initial complaints when I first played Ni no Kuni back on PS3 was how annoying grinding can be. With so many Familiars that you can pick up and use in battle, expect to do tons of grinding to power them up. Especially with random difficulty spikes that the game had, there's a chance that if you find yourself stuck on a certain boss, the most likely solution you have is to go out there in the wild and grind. At this time of age, grinding is frowned upon but for real hardcore JRPGs, it will be something that they will enjoy.
With games like Ni no Kuni that take many hours to complete the game, how does it fare when playing on the handheld mode of the Switch? Well, if you have the Switch revision that has an improved CPU and battery life, it could take about seven to nine hours before you get to charge your Switch. This will most likely apply to the upcoming Switch Lite as well where the internals is similar to the revised Switch model.
Despite the game being locked to 720p resolution, the game still looks phenomenal especially when playing it on-the-go. Though if you are thinking of playing it while docked, that's where you will get to see slightly degraded visuals – though textures still look sharp with very few pop-ins. If you have both the PS4 Pro and Switch, it all comes down to these two questions: Will you play the game on-the-go or at your house?
Verdict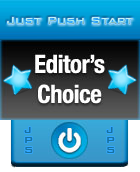 Despite its age, Ni no Kuni: Wrath of the White Witch remains a charming adventure. Since it's a straight port, there is nothing for returning fans besides the ability to play on the go. Even if you opt for the PS4 version, the only difference is performance and visual fidelity. Of course, newcomers should not sleep on this title and see why so many people enjoyed the original.
[Editor's Note: Ni no Kuni: Wrath of the White Witch Remastered was reviewed primarily on Nintendo Switch. A few hours were spent playing the game on PS4 to see the performance. The game was provided to us by the publisher for review purposes. A portion in this review is from the PS3 version we reviewed back in 2013]