Love Letter is a Renaissance themed deduction card game, which has just been rereleased by Z-Man Games. Originally released back in 2012, the game is designed by Seiji Kanai and sees players attempting to woo a princess. This latest release has been tweaked to play with 2 – 6 players rather than the 2 – 4 players of old. Taking around 20 – 25 minutes to play a game, spies will be deployed, priests will reveal things and Kings will be up for trading. However, is this a romance of gameplay or a royal failure? Let's find out.

Opening the bag players will find favour tokens to place in the middle of the table. Next, they'll find reference cards to pass to each player and then the deck of 21 cards. Shuffle the deck and round 1 is ready to be played. First, a single card is discarded facedown from the deck. In a 2 player game an additional 3 cards are discarded at this stage – though they are face up. Then, each player is dealt a card.

On a turn the active player draws a card. This gives them two cards to choose from. Picking to play one it's action is performed if possible. To understand why effects are beneficial it is best to know the aim. The aim is simple; either be the last player still in a round or when the deck runs out have the highest numbered card in your hand. Each card is numbered 0 – 9, with cards of the same number being identical. The 10 types of cards are all unique. The most common card type is the Guard. The Guard has a value of 1, with 6 of them in the deck. When a Guard is played the player chooses an opponent and attempts to guess their card. Successfully doing so eliminates that opponent from the round.

There are many ways to get eliminated. For example, the Baron – valued 3 – sees two players compare cards and the lowest valued is eliminated. Even holding onto the Princess herself – with a value of 9 – can be dangerous. Discarding or even playing her will see the player eliminated. Not every card has direct conflict, in fact the Handmaiden – valued 4 – stops you being targeted for a round. Then, there is the Spy – valued 0 – that will gain the player a favour token if they are the only player to play a Spy that round.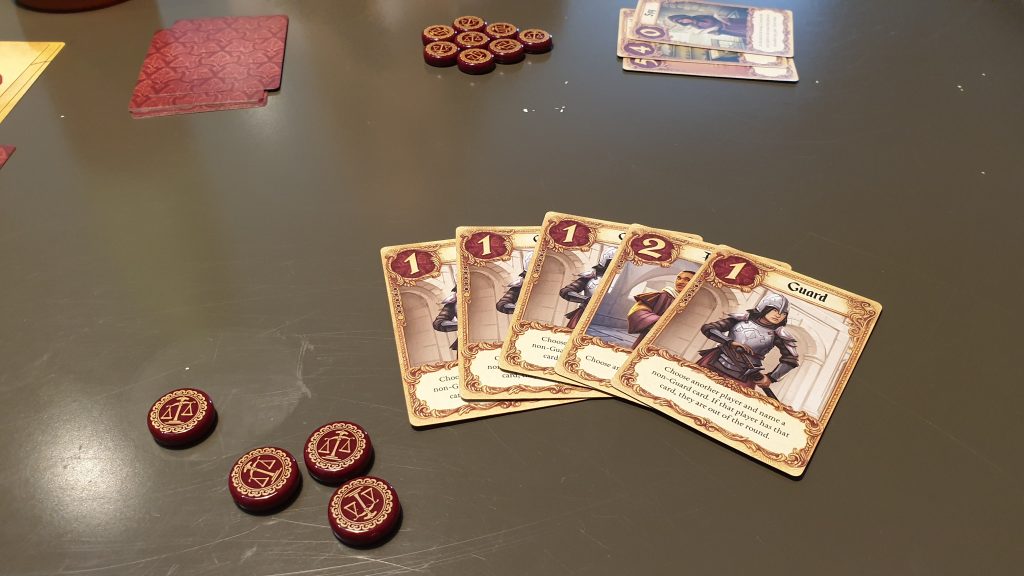 At maximum 2 favour tokens can be earnt in a round, by winning the round or via a Spy. At the end of the round players check to see if they have enough favour with the princess to win. The amount is determined by the player count (e.g. at 2 players you need to gain 6 tokens). It is possible that two players, but not more, simultaneously reach the required amount. If this is the case then the victory is shared, otherwise the sole winner is crowned. If the target amount of favour isn't reached it is time to collect the cards, shuffle them and start another round.

The game comes with a tiny rulebook. This is both in size and what you'll need to teach. All the information past setup and the aim is on the cards themselves. This does make them a little daunting to some, whom haven't played a similar game. For these players it is best to step them through each card individually. For most gamers, go through a general gist and they are ready and raring to go.

Included are player reference cards. For the first game players constantly were checking these. For part it was to see what the abilities were but mostly it was to see the quantity of each type of card in the deck. Over a few rounds this checking for abilities or quantity ebbs away. After a couple of games these player reference cards are simply not needed. They make getting the game to the table and instantly playable a breeze, then the game does the rest.

Almost surprising is the quality of the production. The bag itself is a good thickness to protect the cards and tokens inside – which are then in a provided plastic baggies. The favour tokens are lovely plastic tokens with a decal on one side. Cardboard chits would have worked perfectly. The fact they are plastic gives a game of this size a wow factor it almost shouldn't get. The size of the game is ideal for transporting around – being no larger than a single deck of cards. With the protection of the bag I've found no problem throwing it into a bag to play at work, on a train or round friends.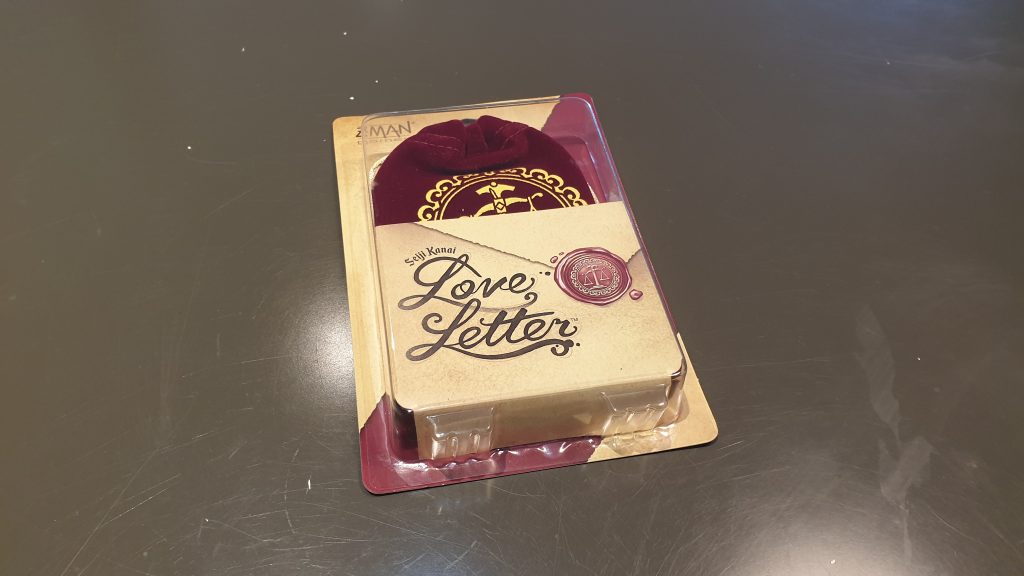 Removing a single card – or more a two player game – is genius. No matter how well you can count cards there remains an air of mystery until the very end of the round. It means you can only deduce what an opponent has at any point, if you've not seen their card. Removing more for a two player game, but having them visible, also helps keep the game time down – maintaining the fun speedy game even at the lowest player count. As the player count rises the speed at which players are eliminated seems to rise. Some chain reactions also occur as you can start to gain more information when it isn't your turn.

Player elimination is somewhat of a love hate mechanic. Leaving someone sat on the sidelines, or being that person, can leave an experience tainted. Love Letter is all about getting the other players eliminated. I am normally firmly in the no elimination camp but the speed of Love Letter allows it to flourish. The rounds are so short that players are rarely sidelined for more than 1 minute. If this speed isn't maintained players may be able to become distracted between rounds. Love Letter avoids this keeping players engaged until it is time to redeal the cards and once again vie for the Princess' attention.

Love Letter is a slightly deceptive small title, looking at its size you don't expect too much and then it fully delivers a fast paced, tense, experience. The simplicity of play encourages players in, with the fast paced bluffing and deduction gameplay hooking players for good. Each turn has a meaningful choice even though it is only between two cards. Each type of card is useful or problematic in its own way. There is a surprising amount of depth that emerges from such a small set of cards, allowing the game to be played over and over again. The clue as to whether Love Letter was a solid game was there, with the game being reprinted consistently since 2012. Thankfully, Love Letter stands the test of time and has shown itself to be a staple go to game!

[Editor's Note: Love Letter was provided to us by Asmodee for review purposes. The game is currently available on 365 Games for £12.99. It is also available from local board game stores, find your local store here]