OK Play, also known as Cinco Linko, is an abstract strategy, tile placement board game from publisher Big Potato Games. Released back in 2016, the game is a travel game extending Connect Four to five, as well as increasing the player range from just 2 to 2 – 4 players. Taking around 5 – 10 minutes what you see is what you get with this game. However, is this a game that is okay to play? Let's find out!

Coming with four stacks of coloured tiles each player gets one stack. Pulling them off the holder the game is ready to go as long as you have a flat space within reach. The game plays similar to the classic game Connect Four. Players take it in turns to place a single tile – in an attempt to get 5 of their tiles in a straight or diagonal row. Unlike the classic, the playspace is somewhat freeform. The first tile of the game is placed in the middle of the table. All subsequently placed tiles must then be orthogonally adjacent – not diagonal – to an already placed tile.

The game plays clockwise around the table with players adding a tile to the central "board". While the game ends instantly as soon as one player has managed five in a row, often this doesn't occur before players finish their stack of tiles. This is where OK Play gets interesting and a tad more brain burny. Instead of ending with a draw, on a players turn they choose a tile to remove from the board. They then play as normal with that tile – following the adjacency rules.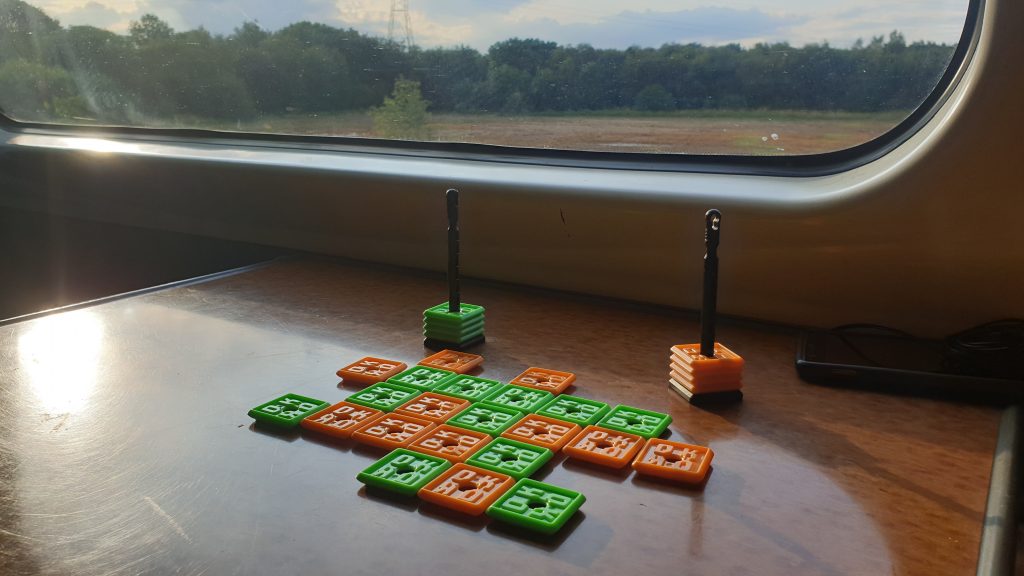 Not only does removing a tile potentially remove one row a player was working on it also opens up a space an opponent can utilize. Therefore, players have to constantly pay attention to what opportunities removing a tile would offer others. At 2 players this is easiest to spot – perhaps providing more frustration when you miss something. At 4, and to some extent 3, there is slightly more chaos and a lot more blocking occurs – leading to slightly longer games.

For the first few games there seems to be a first player advantage. Subsequent players are on the back foot from the offing attempting to stop their plans. Once players can take a step back and realise not everything needs blocking then the gameplay livens up and that perceived starting advantage reduces. To the extent when games consistently reaches the remove and replace phase whom started is often forgotten. Again most obvious in 2 player games, the first few turns of the game rarely massively differ. Get past this and all of a sudden the tiles will have zoomed out in different directions. So, while the puzzle is always different the first turns can feel samey.

Explaining how to play lasts mere seconds – the same time taken to unclip a stack of tiles and hand them out. Whilst it might be a tad awkward it would be possible to demonstrate to someone with limited or broken knowledge of the same language, the rules are that simple. Even those slightly unsure, due to the game length, can pick it up while playing and inevitable will want to play against straight away.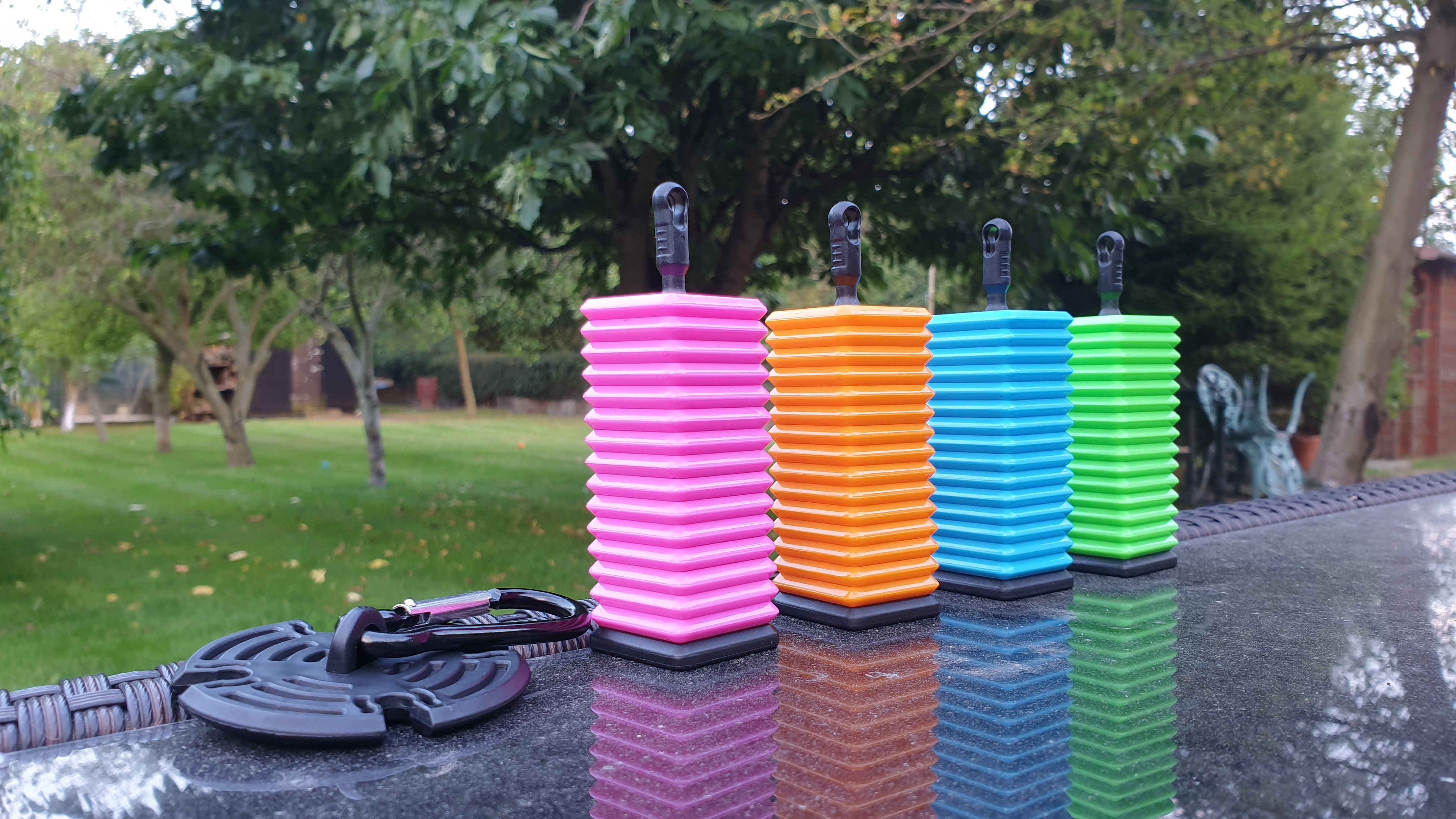 Combine the ease of play with the robust plastic tiles and the design of the clips and tile stacks and OK Play becomes an incredibly strong travel game. Visually, while made up of just coloured squares, OK Play can be rather eye catching. The plastic tiles are vibrant – with the choice between orange, blue, green and pink. As a mixture, when placed in a grid during play, there is an explosion of colour. Others will stop and look to see what is going on. Then, with the flexibility of playing up to 4, and such a short playtime, onlookers can jump in and game!

Is this a revolutionary title? The answer is no, it is very reminiscent of Connect Four. Yet, OK Play embraces the feeling of familiarity making tweaks in the right places to be distinct. The way the tile made board can grow in any direction is a modern twist and the repositioning of tiles makes for dynamically changing choices. It won't captivate players for hours on end but is one of those titles that is so easily transported it's guaranteed to be played on journeys and holidays – and occasionally as a filler too.

[Editor's Note: OK Play was provided to us for the review by Big Potato Games.]