Arguably the best thing about the Nintendo Switch isn't the ability to take console games on the go, it's seeing largely portable games get console quality releases. Even if Fire Emblem has had a mix of console and portable titles, it has been 12 years since the last home console release and in that time the series has grown immensely. And with Fire Emblem: Three Houses bringing all these improvements to a far more visually impressive platform, there is a lot to be excited for. With a thrilling story, tons of mechanics and some intense tactical gameplay, is Fire Emblem: Three Houses the best to date or is it just a good game with a new coat of paint?
First and foremost, it's important to understand that Fire Emblem: Three Houses has a lot of story and does a ton to build the world around it. It's the type of experience where you need to pay attention to the details, character relations and care about your role in their world, otherwise it will all fall flat. Thankfully, the story is interesting, assuming you invest the time to get to know it.
The story itself follows three nobles and starts with them being saved from bandits. It's revealed one of the people who saved them was once captain of the Knights of Seiros, leading to their integration back into the church. Eventually, there is a quest to reclaim an artifact that has transformed the thief into a monstrous creature. This leads to some questions about the nature of the relics and more about the world around them.
Beyond the main story, there are four main storylines you can follow. Each offers a different sequence of events, with each offering their own shocking events and surprising twists. It's enough to get someone invested excited in seeing where other paths lead, with enough differences to make it interesting. Though, it's important to understand there is a lot to Fire Emblem: Three Houses besides story.
Player progression is broken into various events on the calendar. Sometimes the event is predetermined, other times you have a choice and occasionally it's a question of whether or not you do something for someone's birthday. While this might not appeal to those looking for combat, it allows RPG fans to explore the world.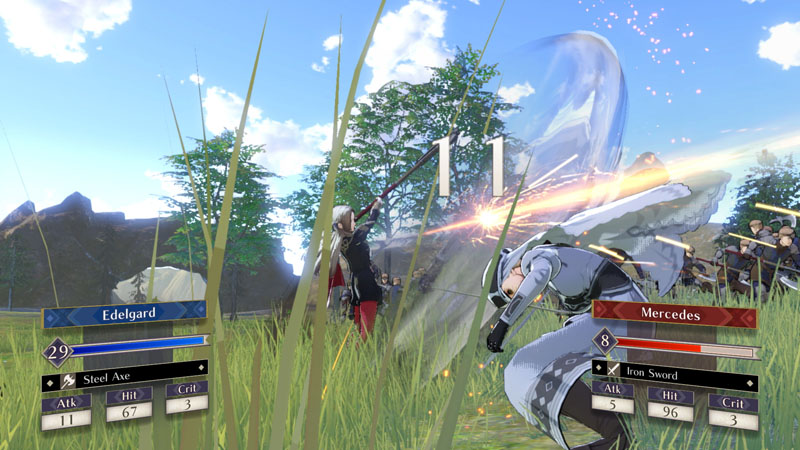 Some of the most common events are wondering around the kingdom picking various tasks to do. Most of the time you'll just interact with characters, which you can recruit if you meet certain conditions, complete quests and do things like fishing. What stands out isn't what you can do, as much as how much control you have over things.
Like a lot of players, there are certain characters I like more than others for one reason or another. Through various events and circumstances, I can build a relationship with them and develop my team as I see fit. This is a lengthy process that is greatly aided by the ability to play the Switch at home or on the go.
Those looking to do everything might find the micromanagement skills required to do that, or as close as you can get, a bit overwhelming, which gives you an idea of just how much there is to do. You could easily spend an hour playing a single day at the kingdom and still have a couple side tasks to do. And, as you might've guessed, there is far more to Fire Emblem: Three Houses than running around town interacting with people.
Other days you'll be asked to teach your recruits. Anyone looking for the full RPG experience will have to take the arduous task of determining how to develop your team. But, if that doesn't strike your fancy, you can let the game decide for you and move onto the next task. Another really common task is, unsurprisingly, missions.
If you've never played a Fire Emblem game, it's a tactical RPG not unlike Final Fantasy Tactics or Disgaea, with a far bit more to it. Players can move characters across a grid, attacks have various ranges and the idea is to defeat enemies before you yourself is defeated. Surprisingly, there is a lot to Fire Emblem: Three Houses combat system.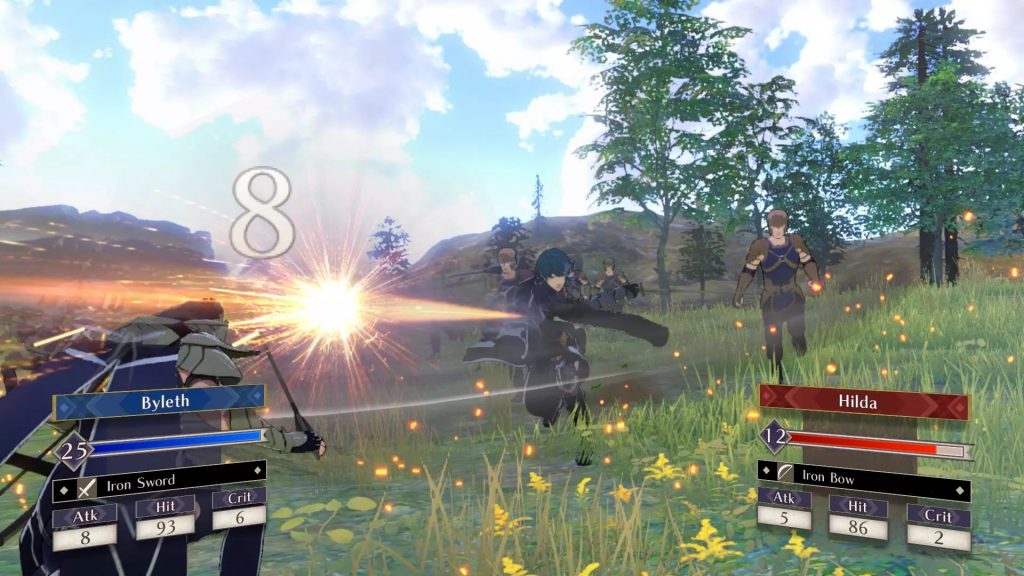 Instead of having an elaborate stamina, MP or similar mechanic, weapons are given durability. The type of attack determines how much durability you lose, so it's important to always think ahead. You can also bring multiple weapons or items to aid you in battle. So if you have an extremely powerful weapon you want to save for the boss, you can swap between them, assuming said character is holding it, and use it in the situations that matter.
Since units have a finite amount of inventory space, it's important to manage multiple units in times of crisis. So, if your best troop is out of weapons, you can choose to bring another unit near them and swap items, allowing them to remain useful. This is also a good way to make the best of a bad situation, even if it can be rather complicated at times.
This gets increasingly complex as you progress, meaning it's important to know what you're doing. Even on normal it was possible to get overwhelmed. Maybe not to the point where failure was assured but certainly enough where a bad choice or three will cost you greatly.
What really stands out about the combat system isn't all the subtle nuances, as much as the brilliant visuals. Fights feel like they're taking place on a battlefield and everything from a slash to a dodge is animated and felt. Even critical strikes had a nice dramatic build up that let you know it was going to hurt, long before the actual attack collided with a unit.
Verdict
I could honestly spend a while explaining all the mechanics in Fire Emblem: Three Houses and probably not touch on everything. What is important is to understand what you're getting into. It's not a simple game or one that is overly combat driven like Disgaea. You can easily go hours without seeing a battlefield and then agonize about arguably tedious mechanics. This isn't to say it's a bad game, I'd say anything but, it's just important to understand it isn't meant for everyone and that is alright.
[Editor's Note: Fire Emblem: Three Houses was reviewed on the Switch platform. The game was provided to us by the publisher for review purposes.]