Evil Comes Prepared is the second expansion for Disney Villainous, a hand management board game, released by publisher Ravensburger. Designed by the creative team at Prospero Hall, three new Disney characters are included in this standalone expansion. Joining the growing roster are The Lion King's Scar, The Emperor's New Groove's Yzma , and The Great Mouse Detective's Ratigan. On its own the box allows for 2 – 3 player to play the full 45 minute long game of Disney Villainous. However, is it worth getting for new or current players? Let's find out!
For those unaware of Disney Villainous check out our review of the base game, for a more in depth description of how the game plays. As an overview, the game sees each player choose a unique villain. Each comes with their own player board, which they will be moving along to trigger actions. Actions include gaining power which is used to play cards, vanquishing heroes, buffing henchmen with items and more.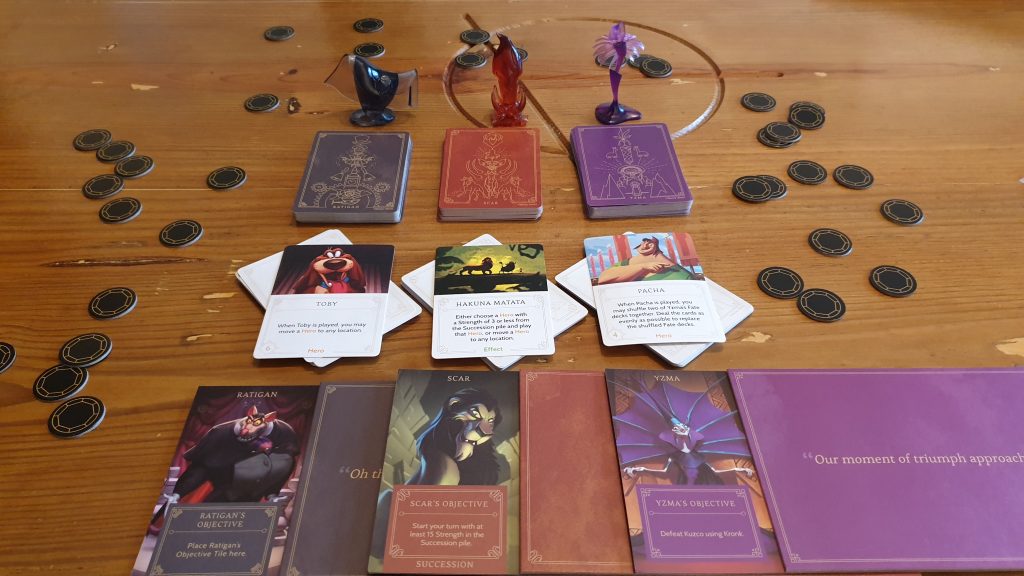 Players will have a unique villain deck to play cards from and a fate deck that their opponents will be playing on them from. With these unique decks themed around the film the villain is from characters, both good and evil, will appear. The villain deck is full of helpful cards, including henchmen and more. The fate deck will have the heroes of the films ready to provide obstacles and problems for the villain to overcome. Each villain wins the game in a different way, rounding off the uniqueness of each nicely.
For those with the base game this is and isn't more of the same. The expansion is three new villains to choose from. To that extent, Evil Comes Prepared is the same. More importantly though is that they play extremely differently. Scar is all about defeating heroes, building up his succession pile once Mufasa has been defeated. Players will be cycling through their fate deck, via card effects, to get Mufasa into play to defeat him – nothing groundbreaking. However, once this has occurred the Scar player will actively be playing cards to get heroes from the discard fate pile into play. Combine this with some interesting Hyena stacking mechanics and Scar feels ferocious.
The second dastardly villain Ratigan doesn't just have one winning condition, he has two. These objectives are not simultaneously available though. At the offset of the game Ratigan aims to get The Robot Queen to Buckingham Palace. However, if via fate cards opponents foil this plan – seeing The Robot Queen discarded – Ratigan goes from brains to brawn. At this stage his objective is to defeat Basil. While Ratigan's objective can switch part way through the game both are clear and obvious – making it an easy enough villain to teach new players.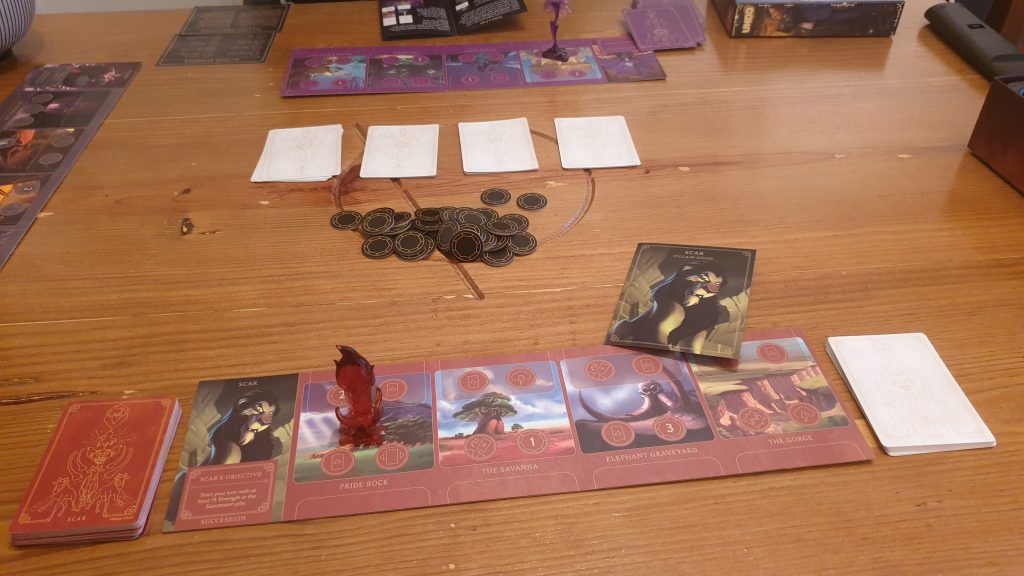 Yzma is the hardest villain to pick up, as it requires positioning and both a fate and villain card. Kronk features in Yzma's villain deck. However, if Kronk is moved too much he becomes a hero that must be defeated. Combine this with the fact Kuzco, whom must be defeated by Kronk for Yzma to win, is hidden in one of four fate decks and you have a complicated victory condition. As Yzma's fate decks are split it also makes playing against her more complicated as it isn't the norm. For this reason it is best to not use Yzma when playing with new players, even against them.
As a standalone set this may not be the best way to get into the Disney Villainous series. From a component point of view there is everything included that players need. Plenty of power tokens are included and the three villains – and all of their various components – are fully included. There isn't anything physically stopping this being an ideal starting point. The issue comes with Yzma. She is the most advanced villain in the box, potentially to date. As her fate decks don't fit the regular rules it is just one extra thing even for opponents to remember. This would limit brand new players to only two of the three heroes for a beginners game, ruling out a 3 player beginner game.
As with the base game there is nothing to fault on the production quality front. The player pawn models are of the same slightly abstract style. Still, they are of high quality and it is obvious whom they represent. The art, which is directly from the films, is not only glorious it will bring a smile to any Disney fan. There is certainly a spot of nostalgia included in the box. As I mentioned in the base game review, the power tokens are the weakest component but even they are decent.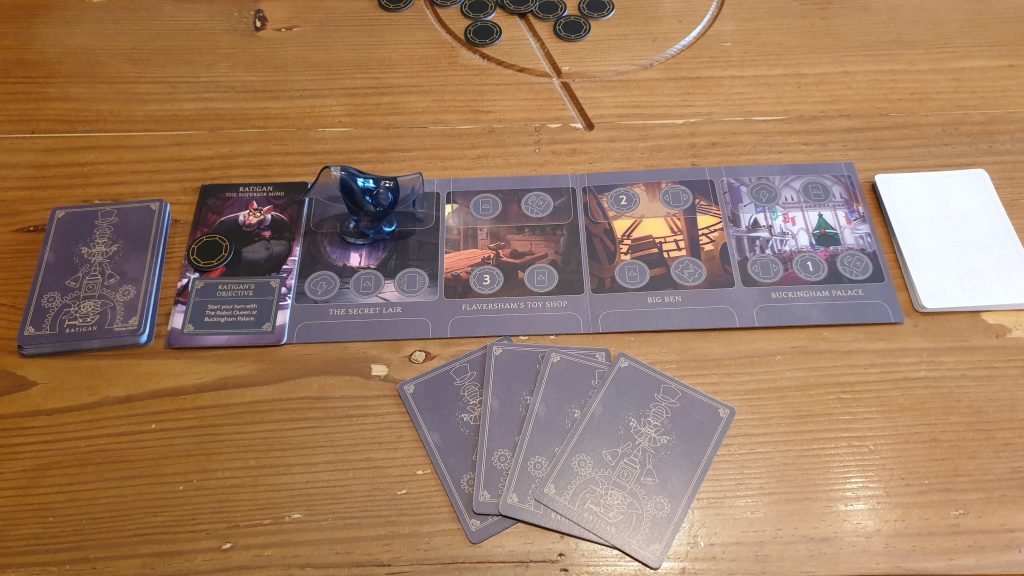 Releasing now the expansion is certain to benefit from the new Lion King movie being fresh in peoples' minds – despite the cards featuring the original animated film artwork. Disney Villainous: Evil Comes Prepared certainly isn't harmed by the fact The Lion King is probably my personal favourite Disney film. What this expansion shows is that not only can more characters blend into the core experience, that Prospero Hall can continue to make the characters feel unique. With Ratigan's objective changing and Yzma's being a bit trickier it presents new exciting challenges. It might not be ideal for new players, but for fans of the base game it is a no brainer expansion.
[Editor's Note: Disney Villainous: Evil Comes Prepared was provided to us by Ravensburger for the review.]