While I've always been a fan of Nendroids, I didn't get one until a couple years after launch. This resulted in my first figure being 266, Hunter: Male Swordsman – Lagia X Edition, a figure I vividly remember for his difficulty to put together. The sword was assembled in a weird way, he has really stiff joints, the helmet is awkward and even after obtaining 40+ more, he remains one of my most annoying to deal with figures. So, when I got 993-DX, Hunter: Female Rathalos Armor Edition, I expected similar problems.
But, similar to how much the Death Note Nendoroids have improved since the start of the line and the newly announced 2.0 versions, she was relatively easy to assemble.
The figure box has lovely background images and a wide array of potential poses and accessories found in the box. It's a good reminder that she can fight, eat, zip around and a variety of other things inspired by the game.
Inside is a nice backdrop that mimics the box itself. I don't know how many will actually use it, but it's a nice touch found on some of the more fun figures like Meta Knight and Kirby.
Inside, you can find the scoutflies behind the insert (sorry for no picture), along with two areas for the figure. The top is what you'd get if you buy the normal version, with the second area holding all the deluxe content. Given GoodSmile's recent push for smaller boxes and cheaper designs, I'm happy she got plastic to hold all her stuff, unlike, say, Jojo and most of his accessories being in plastic pouches inside.
Since most of the deluxe accessories are meant for scenes, something that will be far more exciting when I get the other one in the line, they'll stay in the packaging. Though, for anyone wondering, the thing to the left of her hair is the ponytail part of her hair.
Once everything was taken out of the box, I marveled at how much they've changed since my last Monster Hunter Nendoroid. Not only is her helmet easy to remove, it wasn't anywhere near as hard to put on her blade as I was expecting. The unique stand also makes her stand out, not as much as Steamboat Willie or some of the really old circle base figures, but certainly the average figure.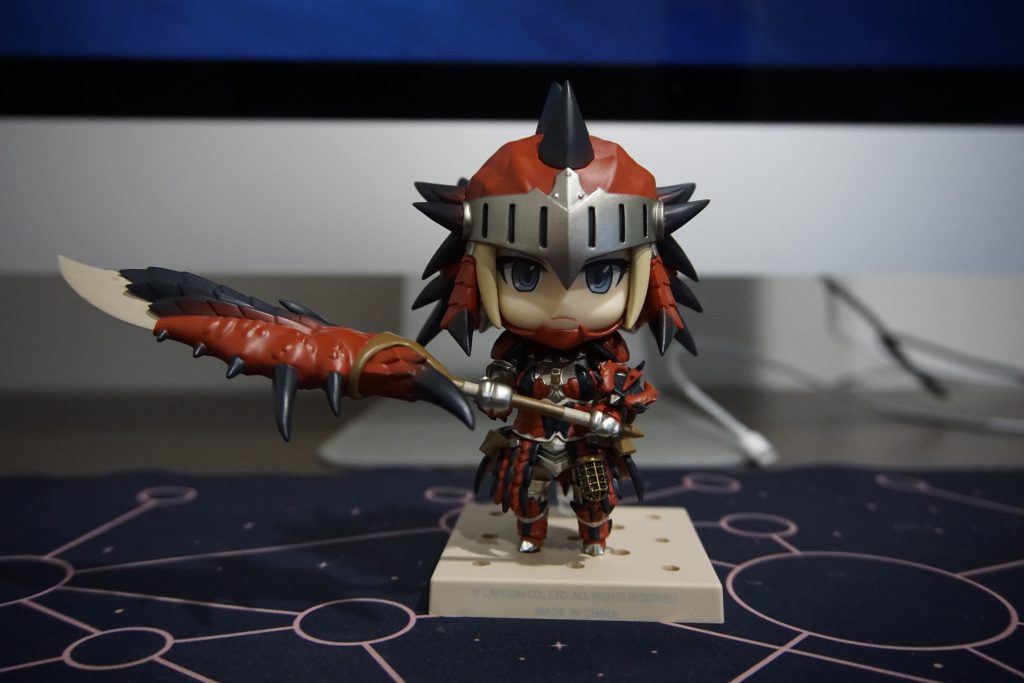 The only real downside to her relates to her helmet and certain configurations. Due to the size of my raiser, I have to put the base together a specific way. This conflicts with her helmet, as two points in the back prevent her from moving too much. This can be solved by changing how she stands or removing the helmet, it just depends on what you can accommodate.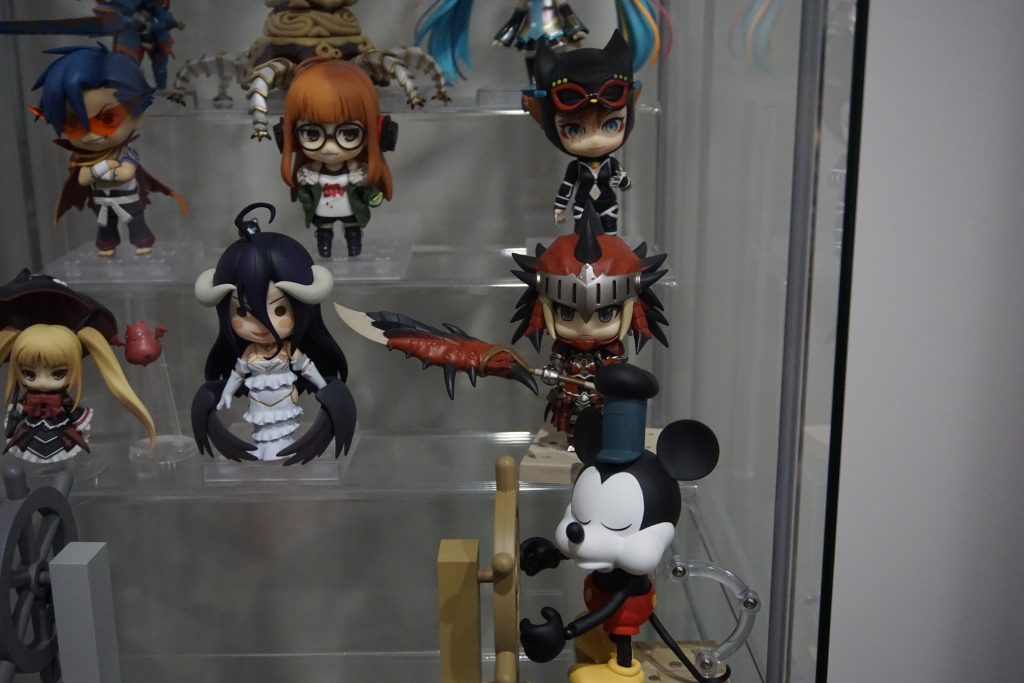 Like most, she is a fine addition and makes one of the more fun designs. Using some of the weirder or crazy faces makes for a fun contrast, along with plenty of accessories to bring the game to life.