Ticket to Ride Europa 1912 is the 2009 small expansion for Ticket to Ride Europe – one of the franchise's base games – from publisher Days of Wonder. Designed by the series creator Alan R. Moon, the expansions leaves the 45 minute play time and 2 – 5 player count of the base game untouched. Unlike many expansions from the series it is not a map pack, with new cards, warehouses and depots added in instead. However, are journeys to the Big Cities across Europe enough to make this expansion worthwhile? Let's find out!

Included in Ticket to Ride Europa 1912 are over 100 destination tickets, the objective cards used in the Ticket to Ride series. Not all of these are new though, with 46 of the cards being copies of the original destination deck. The remaining cards are split into sets. 19 new destination tickets make up a Europe Expanded variant. 30 cards then make up a Big Cities variant with a final all in Mega variant including all expansion cards.

At the start of a game players choose which variant to play, shuffling in the associated expansion cards with the basic 46 cards. Europe Expanded doesn't change any rules merely adding new cards to the destination deck; effectively the default option for playing with the expansion. Big Cities changes the dynamic slightly towards, you may have guessed, the big cities of Europe. This sees players drawing from the Big Cities destination deck during setup and during the game – with 5 dealt initially and at least two kept. This is an interesting change as players are more aware of what cities may be connected, often seeing stations deployed.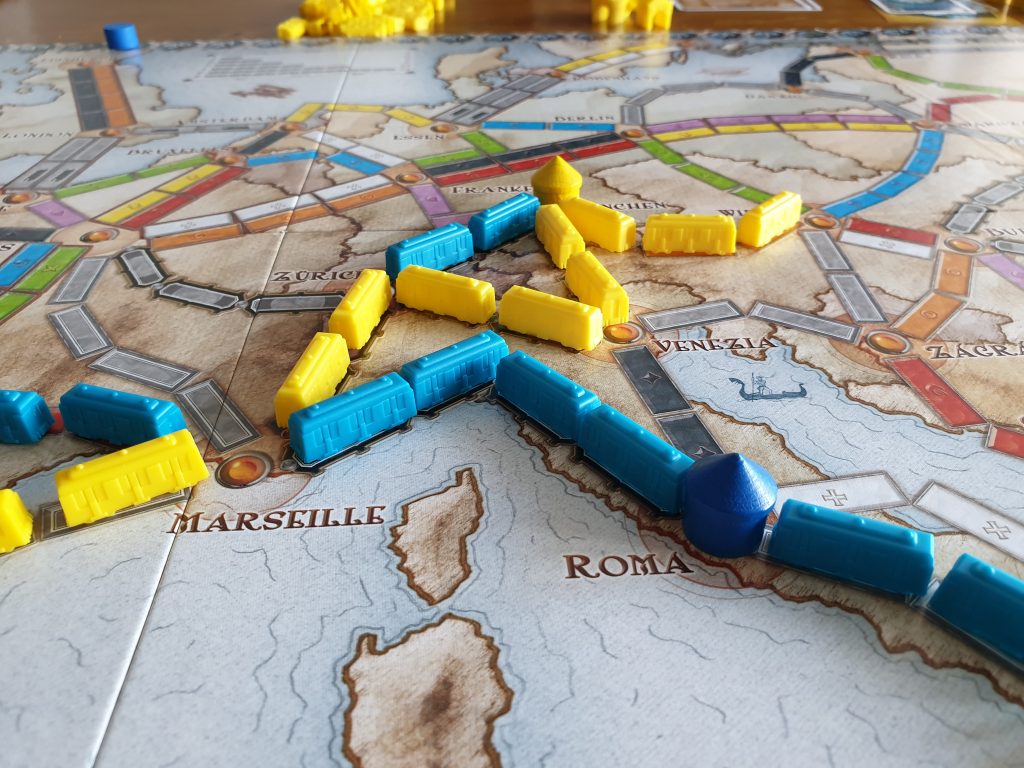 Mega Europe sees 12 special long routes shuffled, with 2 dealt to each player. These are routes that score 20+ points, and players can keep up to one of these. The base game included only 6 of these long routes. The unused or discarded long routes are then removed from the game. All other destination tickets are then shuffled with 5 dealt out to each player. Everyone must now keep a minimum of 3 routes – including the long route if they choose one. I anticipated 12 long routes would cause players to swiftly learn and block them. However, as they are only part of the destination cards in use it is easy to be thrown off by other routes players are claiming.

Increasing the amount of cards is ideal to giving more variety however it does have a side effect. Players are more likely to draw routes that involve specific cities. If a single player draws a number of these cards they can very easily find some routes completed as part of others – giving effortless points. This can lead to a bit of a hollow victory. At other occasions though this sees everyone around the table attempting to get into one city and a rush to grab routes begins.

It isn't just new routes, a new way to gain Train cards is also brought in via the Warehouses & Depots module. If including warehouses and depots, during setup each player takes the warehouse and 5 wooden depots of their player colour. After selecting destination tickets, in reverse player order, each player then adds one of their depots to an empty city on the board. Players then put their remaining four nearby the board for use during play. Warehouse tiles simply sit in front of players.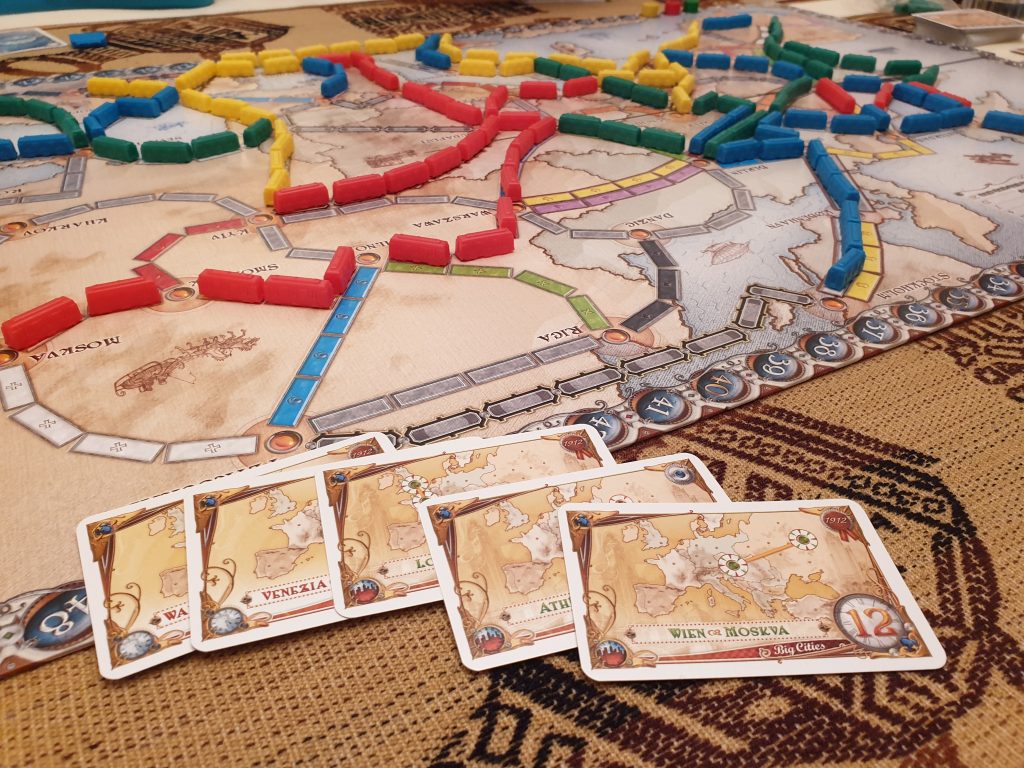 During play, whenever a player draws train cards they must first draw the top train card from the deck and add it to their warehouse tile. If anyone claims a route to a city with a player's depot they can discard one of their spare depots to take all the train cards from that players warehouse. Note it is from whomever owns the connected depot – regardless of if it is theirs or an opponents. As a free action a player may choose to place one of their spare warehouses onto an empty city on the board. At the end of the game the player(s) with the most depots left scores a bonus 10 points.

This pairing drives a new angle of interaction between players. With the chance of earning cards – and in a way taking them from another player – it becomes more common for players to grab small routes near depots. In practise this results in accidental route blocking as players are incentivised to deviate from their destination ticket. Suddenly even those that hate the idea of blocking find themselves unknowingly doing it for a flurry of cards. The biggest problem with this is a game can be won on the cards earnt in this method – increasing the luck of the draw that is already prevalent in the game. It just exaggerates the worst element of the Ticket to Ride series too much for me to use it moving forward. If this isn't something that bothers you then you'll probably love this module.

From the reverse it is impossible to tell the expansion variant cards apart from the basic destination card set included in the expansion. Interestingly, it is possible to tell the difference from the original destination deck – with slight difference to their backing image – and a new front design. The variants can be differentiated, with a small 1912 logo or big cities text written on them. Nevertheless, once shuffled in I'd struggle to warrant separating them – just have a huge draw deck!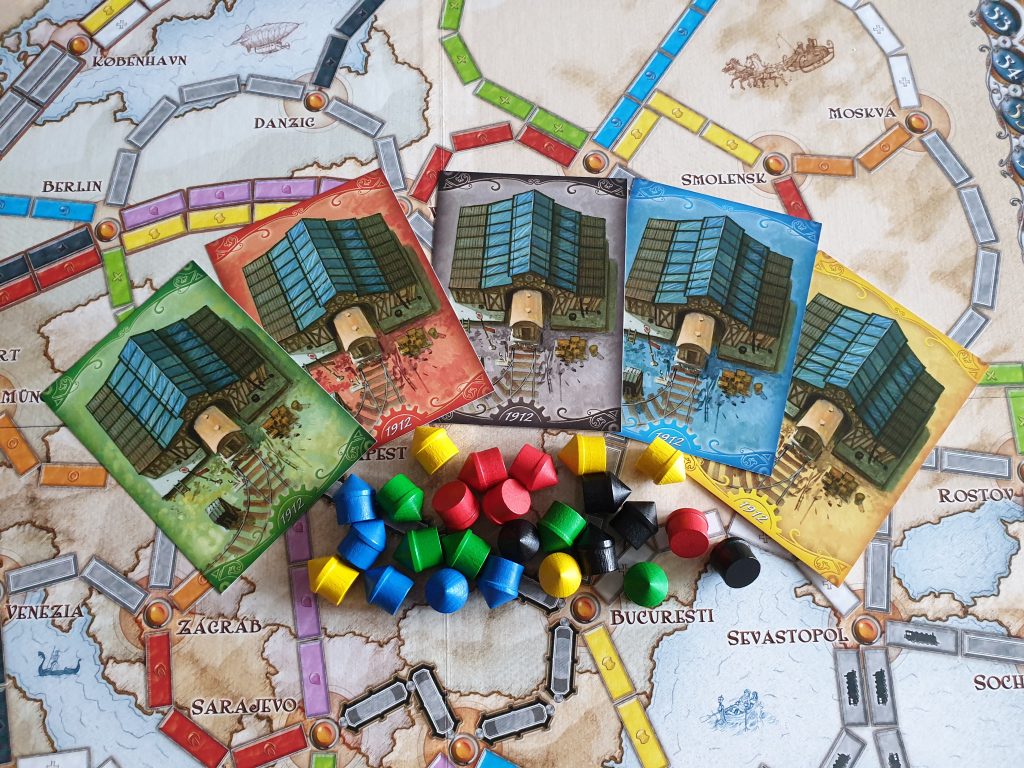 For those that will actually use the warehouses the production quality is a little lacking – being thin card rather than cardboard tiles. While they are glossy more robustness would have been better – to allow them to be used again and again worry free. The cards included and the wooden depots are of solid production, making it more of an odd choice for the warehouses. Perhaps this is most surprising as production quality is normally something Days of Wonder is known for.

Ticket to Ride Europa 1912 is one of those small expansions that can go a long way. Not only does it get Ticket to Ride Europe back to the table but it also allows for gamers to use the warehouse and depots module across a range of the map packs. The new routes go a decent way towards making the base game of Ticket to Ride Europe less repetitive. For me it is a simple choice that the variants will never be unshuffled from the deck. Warehouses may not be for me but for fans of player interaction it may be worthwhile trying out!

[Editor's Note: Ticket to Ride Europa 1912 was provided to us by Asmodee for review purposes. The game is currently available on 365 Games for £13.99. It is also available from local board game stores, find your local store here]