Dinosaur Island is a thematic strategy board game, which was Kickstarted back in 2017. Published by Pandasaurus Games, the game has since hit retail stores and a new print run has just come in. Designed by Jonathan Gilmour and Brian Lewis, the game sees 1 – 4 players spend around an hour and a half building thrilling dinosaur parks and vying for visitors. However, will these Parks of Jurassic beasts contain entertainment or has it broken free through electrical fencing? Let's find out!

There is quite a bit of set up: with piles of dinosaur meeples and coins to make, stacks of attractions and lab upgrades to shuffle and gameboards to place. A market of attractions, lab upgrades and specialists is then created adjacent to the phase 2 board. Each player chooses a company and gets their respectives player boards, tokens and worker meeples from the box.

A number of amber DNA dice are randomly chosen – the amount equal to double the player count plus one. Dinosaur tile piles are formed by type and the visitor bag is filled with meeples. The level of game is decided upon and the respective objective cards shuffled, with 3 being selected. Two plot twists are then drawn, affecting different aspects of the game each time you play. It sounds a lot, and it isn't a small amount, but with a couple of players it can all be done, shuffling and all, in a couple of minutes.

The game is broken down into rounds, each made up of four phases – "brilliantly" named phases 1 – 4. In phase 1 players will take it in turns to place a scientist token onto action spaces, with the DNA dice rolled by the starting player. Each player has a scientist of level 1, 2 and 3 – with the level often seeing the return multiplied. To claim DNA a player places a scientist below one of the DNA dice – with the type of DNA and amount shown on the die multiplied by the scientist level.

It is possible to take too much DNA as each player has a cold storage limit for each DNA type. Sending a scientist to work on cold storage in phase 1 allows the player to up these limits equal to the scientists level. Three dinosaur paddocks are available each round, a Herbivore, Small Carnivore and a Large Carnivore. Respectively they require a scientist of level 1 to 3 to be claimed, seeing the dinosaur paddock added to the player's park. The last place scientists can be placed is the, slightly misleadingly named, pass action that sees them instantly added to your worker pool for a later phase.

In phase 2 players get only two actions with the ability to pass either action to gain 2 coins. This is essentially the market phase: with DNA (both basic and advanced types), attractions, lab upgrades and specialists available for purchase/hire. Each park starts statistically the same – only different visually. Via these upgrades players can tweak their options or gain on going abilities. Note, it can also be incredibly helpful to pick up DNA during this stage if they types needed didn't come up on the DNA dice in phase 1.

Phase 3 is when workers come into play. As standard players have 4 workers whom can be sent to gain money, upgrade security, enlarge a paddock, refine DNA or create a dinosaur. Creating a dinosaur is always a fun aspect, with each dinosaur tile having a unique DNA recipe that needs to be spent. This in turn makes your park more exciting – so more visitors will want to visit. Alas, it also ups the threat level your security must deal with. As players buy lab upgrades new worker placement slots become available – with players also able to increase their worker pool.
Finally it is time for visitors to flood into your park, with the arrival of Phase 4. Based on their park's excitement level players pull a number of meeples from the meeple bag. Visitors come in two forms: normal yellow paying patrons and sneaky pinky purple hooligans. Unfortunately, hooligans get into the park first and they don't pay an entrance fee. On top of this you must place them first, taking up valuable park slots for actual park patrons. Next, patrons fill the remaining attraction slots at rides, shops and dinosaur paddocks. Any remaining guests wait in a queue outside the park, with those that got in paying a coin.

It is at this stage security comes into play. Players compare their threat level plus the highest dotted unclaimed DNA dice with their security. For each step that threat is higher a park visitor – starting with paying patrons – gets eaten. Each victim costs the player a victory point. Only after this stage are visitors scored – normally 1 point per patron though some spaces can instead earn coins.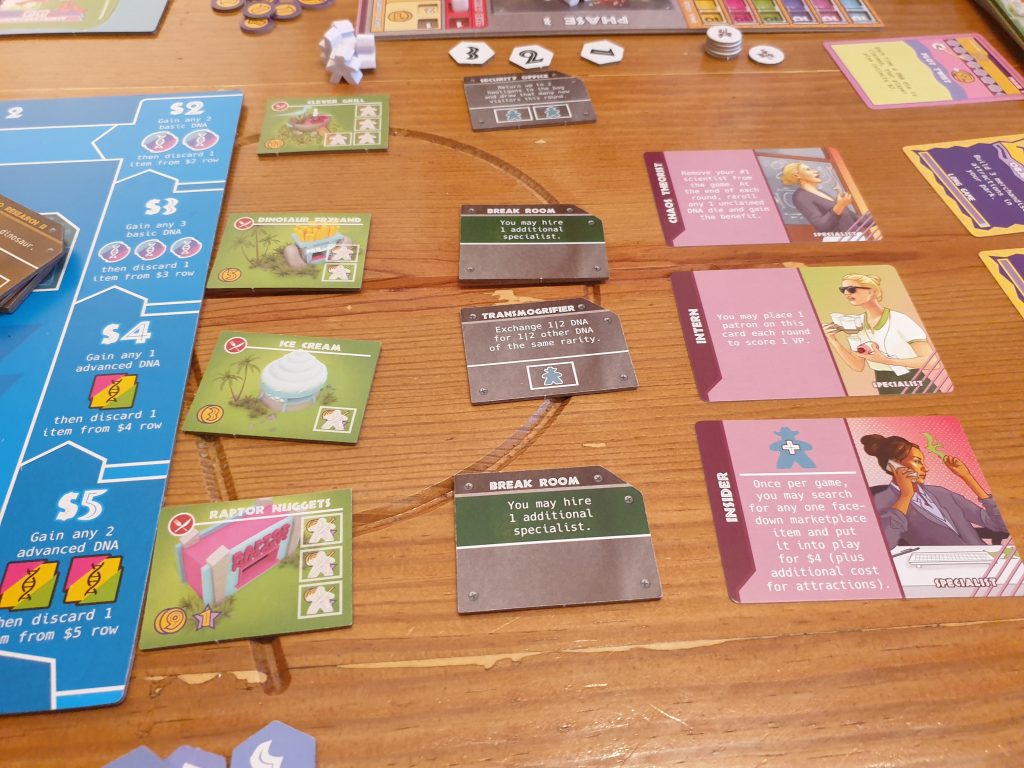 A clean up phase then occurs, effectively putting visitors back into the bag, restocking the markets and returning scientists and workers back to their respective pools. The game continues until all of the objective cards have been claimed. This can occur whenever a player fulfils an objective and once claimed that objective is only available until the end of the round. At this point the current round is the final one and then points are added up. An interesting twist is any empty paddocks, dinosaur tiles with no dinosaurs at all, lose 10 points – giving more weight to choosing to taken them later on. Whomever has the most posts is then crowded the dinosaur king or queen, or at least the winner.

The neon 80's like colour palette isn't for everyone. It helps the game to distance itself from the IP it sneakily tries to be, with realistic darker artwork replaced with brighter cartoony styles. While I warmed to the style in the shorter brother Duelosaur Island I'm more on the electric fence about it for this longer more thinky title. Perhaps due to wanting the seriousness of the gameplay to be matched by the artwork – and having more recently rewatched Jurassic World. The colour creates a visually vibrant title and one that grabs attention, perhaps the wonder has worn off slightly from playing the 2 player spin-off first.

Crazily coloured dinosaurs aside, the colouring at least, and Dinosaur Island is an incredibly thematic title. Players will need to follow a number of routes the Jurassic Park films journeyed down, including finding DNA, housing the dinosaurs and avoiding visitors getting eaten. Each dinosaur is different making the parks grow in different ways. On the whole, as you progress from herbivore through to large carnivore the threat, excitement and DNA cost all increase. This gives plenty to balance when filling your park.

Going through the rulebook the game seems to be full of long turns with a lot going on, but this isn't the case. After only a round it became clear Dinosaur Island isn't complicated due to individual actions. Each available action makes sense and is on its own simple to perform. It is how players choose to activate them, the ordering and combination of available actions, that can determine how well a phase goes for the player that adds difficulty.
The game mixes in a number of my favorite mechanics in the form of worker placement and tile placement – mixing them with something I feared dice rolling. I'm unsure why I feared the inclusion of dice – they worked in Stone Age and Duelosaur Island. Once again I was glad to be proved wrong as there are ways to mitigate the luck. Players can upgrade their DNA refinement, purchase specific lab upgrades and even some specialists will open the door to more DNA – and if that all fails there is always the market in phase 2.
As is often the way with any game that was originally Kickstarted there is an air of missing out for retail version owners. Whilst it appears at least most of the cards made the cut the variety of dinosaur meeples did not. While the single pink dino meeple is perfectly acceptable it doesn't quite have the same impact, being used for each and every type. Thankfully, this doesn't impact the gameplay at all. Still, it is an aesthetic extra touch that could have made every copy feel special not just for those that crowd funded the game.

Dinosaur Island sparks all of the joys of the iconic Jurassic Park/World franchise. When you finally get a brontosaurus or velociraptor in your park it feels epic, though sometimes this can be at the expensive of a park guest or two. There is a brilliant balancing game to be made between upgrading different elements of your park and having enough money to create dinosaurs, all whilst making sure security is up to scratch. After a few games it is slightly detrimental to the game that the shine of the included dinosaurs starts to fade, a larger range would have helped this. Nevertheless, this is a solid and thoroughly enjoyable dinosaur themed game where the official Jurassic logo is surprisingly not missed.

[Editor's Note: Dinosaur Island was provided to us by Asmodee for review purposes. The game is currently available from local board game stores, find your local store here]