Satisfactory is the newest release from Swedish developer Coffee Stain Studios, best known for their last game Goat Simulator. Satisfactory is nothing like Goat Simulator. The closest comparison to another game is to runaway indie success Factorio but there are dramatic differences from that game not least of which is the fact that Satisfactory is a 3D first person game rather than a 2D top-down one. The game can be played either solo or with up to three other players cooperatively using a drop in/drop out system.
The core gameplay in Satisfactory, as in Factorio, is extracting raw resources from deposits in the world then refining these resources and combining them to make useful items. The key which makes this loop interesting though is that except at the very start of the game you don't do any of this by hand. Instead, players construct machines to do all of these tasks and link them together to create fully automated production chains.
In Satisfactory the extraction/refining/production tasks are performed by machines configured to perform a specific task, which can be connected with conveyor belts. These conveyors link to input and output points on machines rather than the Factorio approach of using inserters to move objects on/off of conveyor belts. The Satisfactory conveyors can be split into three or three can be combined with small machines which allow you to spread resources out from extraction nodes or funnel slowly-made products from several constructors together.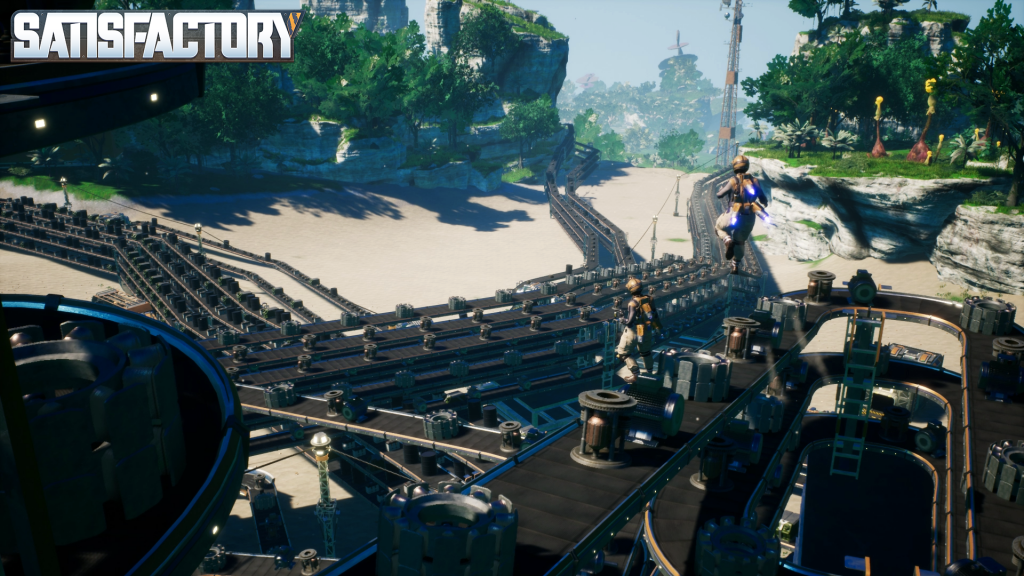 Balancing input and output quantities through production chains is something that needs to be kept in mind as you construct your factory. Early on managing such considerations tends to result in a nightmare mess of conveyor belts – which does not sit well with my deep seated need for neatness in this type of game. To begin with machines are placed freely on the ground with rotation configured manually which unless you are very careful will probably result in an untidy looking factory. Fortunately tools to enforce order upon your creation come swiftly, firstly with the ability to build foundations on which to build rather than the terrain.
Accompanying foundations are walls and walkways to let you build proper factory buildings, complete with ports to allow conveyor belts through the walls or run along them. Foundations form a grid machines snap to as you build them, which is particularly helpful for placing conveyor stands neatly. Initially conveyors are only placed between machines and the floor-level stands, but later stackable stands become available which open up many possibilities for laying out the factory vertically as well as horizontally.
The research system which allows you to unlock these options is based on providing resources to your hub building which you are directed to build shortly after starting a game. These requirements start simple and build up to requiring large quantities of items which are complex to create, requiring you to build a large factory to produce them in sensible timescales. Research is also set out into tiers, which are sequentially unlocked by providing an orbital elevator (which you need to build the base/anchor for) with more resources. In the current early access version there are six tiers, including production chains involving iron, copper, coal, stone and oil.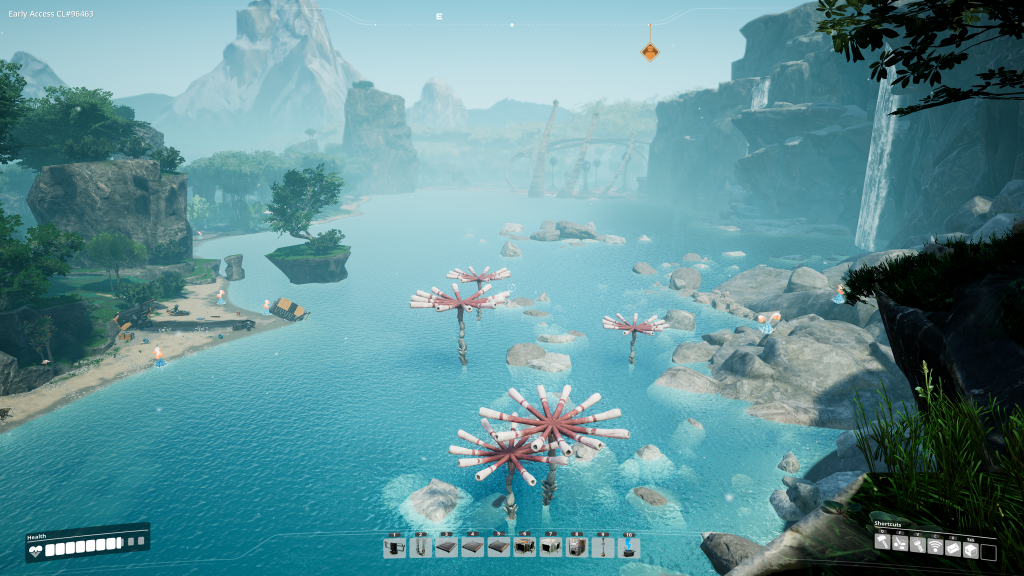 On top of this technology tree there is a research system which requires you to place unusual objects you find in the world into a chamber for analysis. A particular highlight of this system are the hard drives which can be found in crashed vehicles – these need to be unlocked which may require some components to be inserted or the crashed vehicle be powered which makes exploration more interesting. Once you research the hard drives though you are presented with a choice of new options which can include new recipes for existing materials – potentially letting you spend fewer raw materials at the cost of needing more stages in the production process or vice versa. Unfortunately, with the current version of the game resources never felt limited enough to warrant using more complex approaches like those unlocked by hard drive research, but that is a matter of balance which may be adjusted in the future.
An interesting alternative to conveyor belts is offered with the truck system. These are vehicles which you can drive around to get to places more quickly, with their own inventories to expand the amount of material you can take with you. More interestingly though they can be used to set up automatic routes between truck stops which you place, allowing them to transport goods from distant extraction sites back to your factory. To set this up you have to set the vehicle to record and manually drive the route you want it to follow; this may seem a little clunky but it means that you can get the automatic route to do exactly what you want, letting it traverse any terrain you can drive through successfully yourself without relying on AI pathfinding. Watching trucks move around in the distance is very satisfying and the process of setting it up acts as a refreshing change of pace from factory construction.
The art style is vibrant and exotic, with weird and wonderful flora and fauna populating the alien planets through various biomes. Some of the fauna are not entirely friendly so you do have some aggressive options including a couple of melee options and a gun, but while it is well implemented and entertaining combat is not the focus of Satisfactory by any means. The pretty scenery and occasional combat, combined with the need to find resources and research materials, makes exploration feel both interesting and rewarding.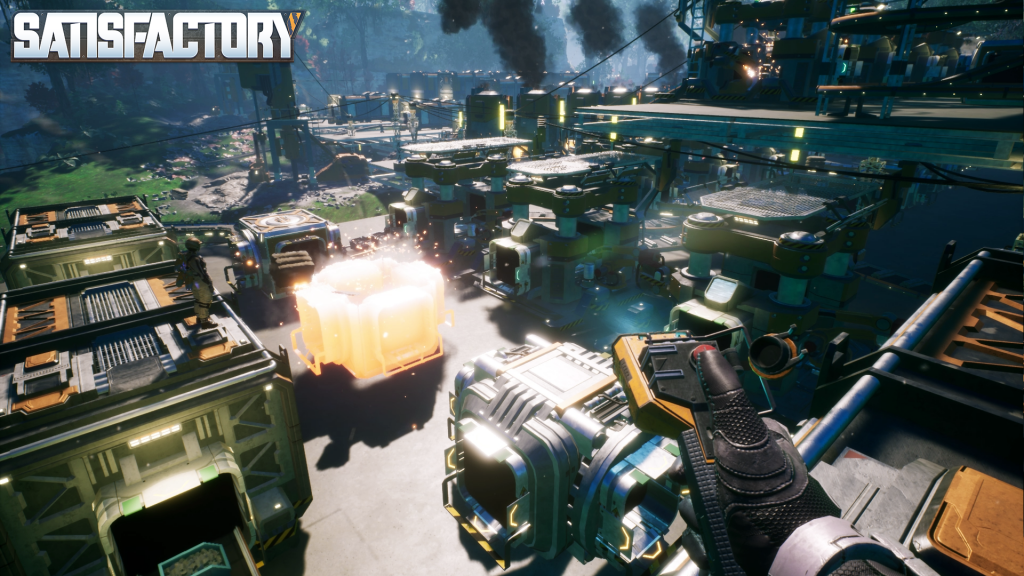 The world in Satisfactory is hand-crafted, though large, which has both upsides and downsides. On a positive note it means there are some interesting nooks and crannies to explore, but the ways up to them may be somewhat artificially obvious, with the cliff being clearly constructed in such a way as to provide players a path up for example. Overall the maps, of which there are currently three to choose from, seem well-made and interesting but it remains to be seen how it feels to be exploring the same territory again and again on repeat play-throughs.
The game performance remained good even once you get relatively deep in and have a reasonably impressive factory. Obviously this will vary greatly with different systems but it is encouraging that even large bases didn't cripple the frame rate; at least 30fps was maintained even in the heart of the factory on a 3840×2160 monitor with a GTX1080. As one might expect from the complex 3D nature of the visuals it is the GPU which seems to be the bottleneck in most situations, but this has been managed by extensive use of level of detail transitions. Unfortunately LODs do visibly pop in which can be somewhat distracting in certain circumstance but I remain hopeful these transitions will improve as development progresses.
The vast majority of the game time for this preview was in cooperative play which worked near-flawlessly throughout. There were a couple of instances where some floor or wall pieces were not visible to the client player (though they were present in regards to collision) but these were easily fixed by disassembling and replacing the offending sections. One game crash was experienced by the second player only which isn't too bad for an early access game over some 16 hours of coop gameplay.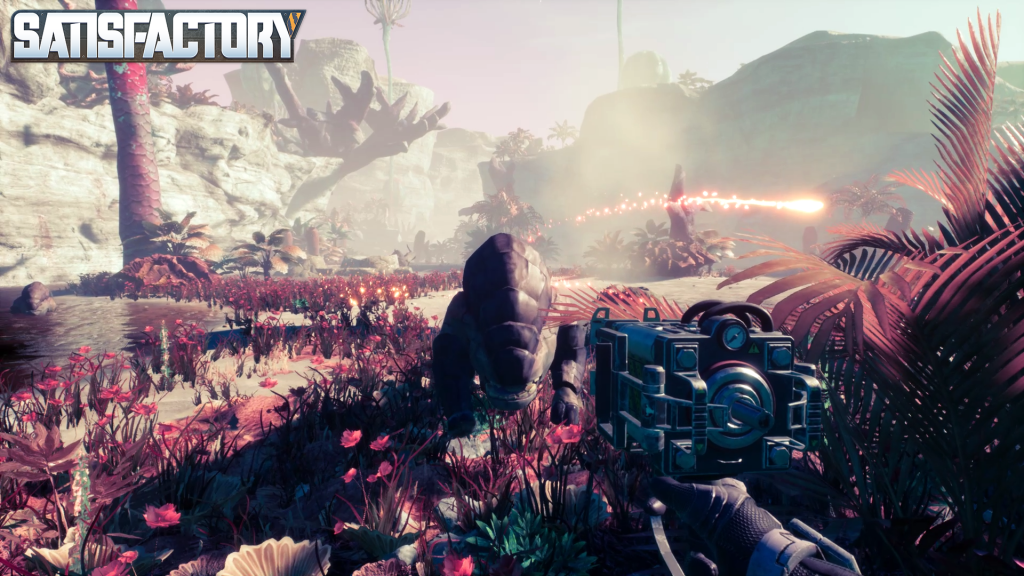 The roadmap for ongoing Satisfactory development is impressive, including new research chains, another tier of research including nuclear and aluminium production chains and more logistics systems like conveyor lifts and trains. In general, more of basically everything is planned along with support for dedicated servers and modding.
As it stands now Satisfactory is a pleasingly polished early access release with a good amount of content to get started with. There are already numerous quality of life features which make it feel like a more complete game than many early access releases, perhaps the best of which is the ability to queue up production tasks for yourself. This system lets you make a shopping list of materials you will need to construct a variety of machines or equipment, which is very helpful when you're planning on heading out to set up a remote outpost. One curious thing missing in Satisfactory is the lack of any ability to crouch which can lead to some frustrating situations where getting around in the tight confines of your factory can prove difficult – hopefully this as something which will be added to the game as the developers continue to apply polish.
Satisfactory is already a good game, with satisfying building mechanics driven by interesting production chain requirements as well as pretty and rewarding exploration. Importantly for me it also stands on its own as a distinctly different experience to Factorio with both bringing different things to the table; Satisfactory is at a much more intimate scale and the three-dimensional nature of the gameplay makes it inherently more intricate – your creations will be smaller but no less rewarding.
There's something unique and rewarding in walking through layers of factory that you have put together, watching conveyors laden with materials passing below and above you. The prospects for the future of the game are great and if the planned additions live up to their promise then Satisfactory will grow into a truly great game. Satisfactory is available in Early Access exclusively from the Epic Games store for £26.99 or regional equivalent.
[Editor's Note: Satisfactory was provided to us by the publisher for the preview.]