There have been a lot of complaints about Mortal Kombat 11, most of which are directed at the Towers of Time. The issue is actually rather simple. Here you have a mode that actively discourages deep or complicated play and throws in arguably cheap mechanics to further enhance difficulty. I personally had a lot of combos, attacks and moves ruined by one of these mechanics. 
While most fights are not so bad or hard they absolutely require insane skill, paid consumables or any of that -I finished 21 without either-, they're still pretty annoying. However, thanks to another equally confusing mechanic, there is a way to make a lot of them easier.
Set up
Before going into this mode, set up a new character. I personally suggest Noob Saibot, as he his move set works very well for this mode, though it can be done with literally anyone. Select items you want to level, as matches will increase experience of equipped items and go into AI behavior. Change the stat distribution to rushdown and "kombos," since that will make the AI more likely to rush and when they get a hit in, make the most of it. Next, set this character to be the default and go to the Towers of Time.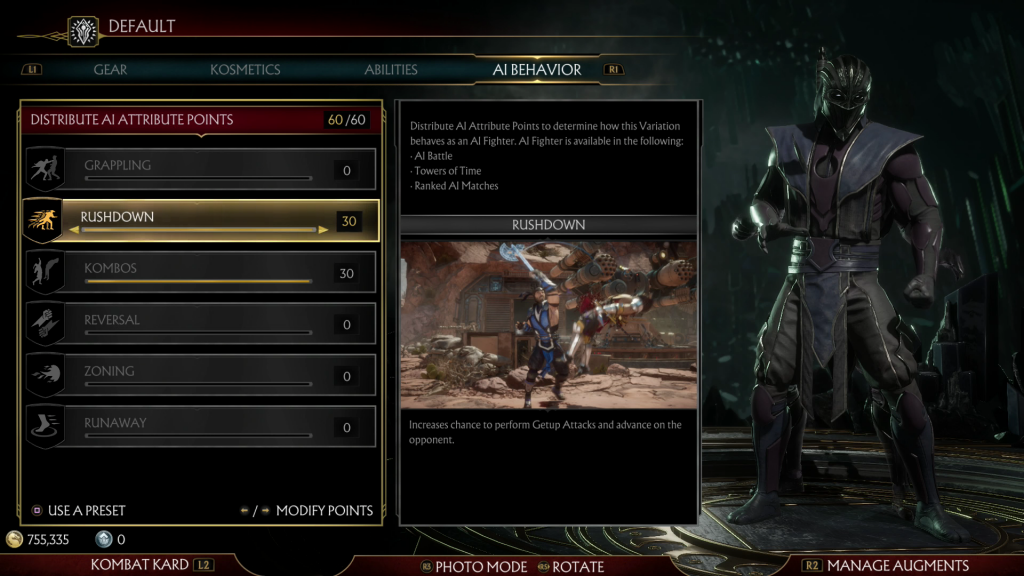 Easy Towers
At this point, see which towers are currently being offered and select one of them. As long as the tower itself is not overly demanding, select Noob or whomever you just made and make sure to toggle AI fighter on (it's at the bottom). The toggle button is whatever input is to the left of it.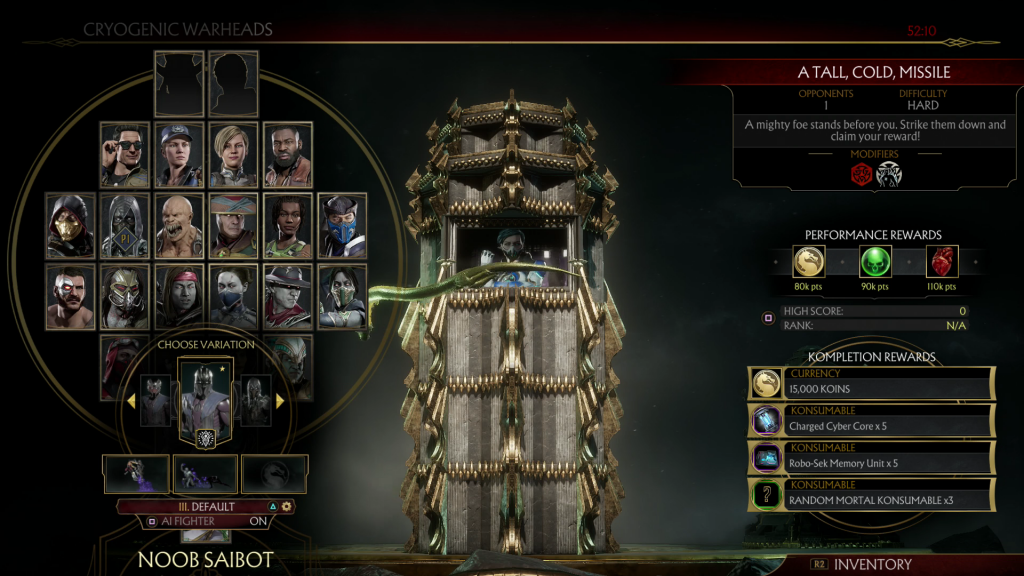 From here, the AI should fight for you and win a good percent of the time. It, like real players, only really struggles with bosses or events that require a lot of precise play. You should also note this method does not work on towers that involve team based battles (two opponents is fine, it's when you ask for help online that you run into an issue), brutal difficulty and things of the like. The AI also tends to fall short in regards to score based bonuses, though it seemingly always does a fatality, meaning you'll earn hearts, coins and more from using them. It will also cycle between the two different fatalities, meaning you could theoretically earn every character fatality trophy doing this.