Pebberley Island is the second piece of downloadable content released for Two Point Hospital. As with the previous DLC from Two Point Studios, Bigfoot, new locations with a distinctive theme have been added to the game. This time around a tropical island is the destination for players, with illnesses such as Blank Look and Camel Toe to treat. However, does the entertainment of the base game continue throughout the DLC? Let's find out!

The first of the three locations is the visually idyllic Pebberley Reef, surrounded by beaches and floating huts. The hospital here needs an upgrade to even be classed as a hospital though. Like other levels, where staff must be trained, Pebberley Reef has a practise of only ever accepting untrained janitors. For players with low cure rates the training room certainly comes in handy, as otherwise the ghosts cannot be vacuumed! This level introduces a range of new illnesses into the mix, such as a psychiatry needing football crazy illness and false tan that requires a DNA machine.

The whole island comes with weather based quirks, with Pebberley Reef being the first time players will encounter them. Lightning strikes damage hospital machines, frog storms (where instead of raining cats and dogs it rains frogs) litter the hospital, tornados and more will cause random disruption. A number of these weather effects, including scorching rays, will result in fires. For the first time fire extinguishers started running out left, right and centre. To combat this I ended up building a long line of them to form a sort of dwindling gauge. To make this less of a micro and manual action, it would be an improvement if janitors could replace them automatically at a cost.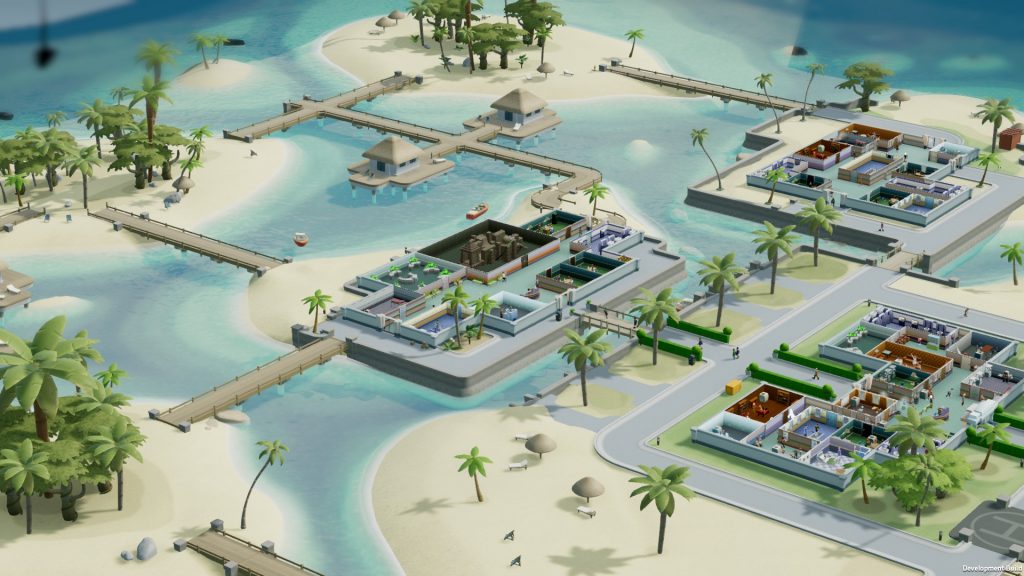 After the sandy beaches players venture deep in land, or at least deep into the jungle. Through the vegetation players will find Overgrowth. With budgie smugglers and patients falling victim to Escape Room style illnesses, this hospital is rather unique – and not just from the visual appearance. Starting with an extremely small outdoors hospital area, slowly the plot expands. Extension plots in Overgrowth are not purchased. Instead, plots become available to build on once a task like 1000 research points or watering 30 plants has been completed. Go 100 days without a death, is probably the hardest of the lot and will stop many – including myself – getting to the third star hospital rank.

If the only way is up then it is right that the third and final level of the DLC is situated on the island's Topless Mountain. Being a wave survival hospital, there will be a quiet before the storm moment before each flood of sick arrive. Thematically this is like big tour groups sprinting in and is a nice spin on the wave survival genre within Two Point Hospital. Timing training correctly and forcing staff to go on breaks is a big part of this wave based mode – as there is rarely a good time for staff to wander off when a horde of patients arrives. It would be interesting to see this style applied to future hospitals – or current levels having a second mode akin to this.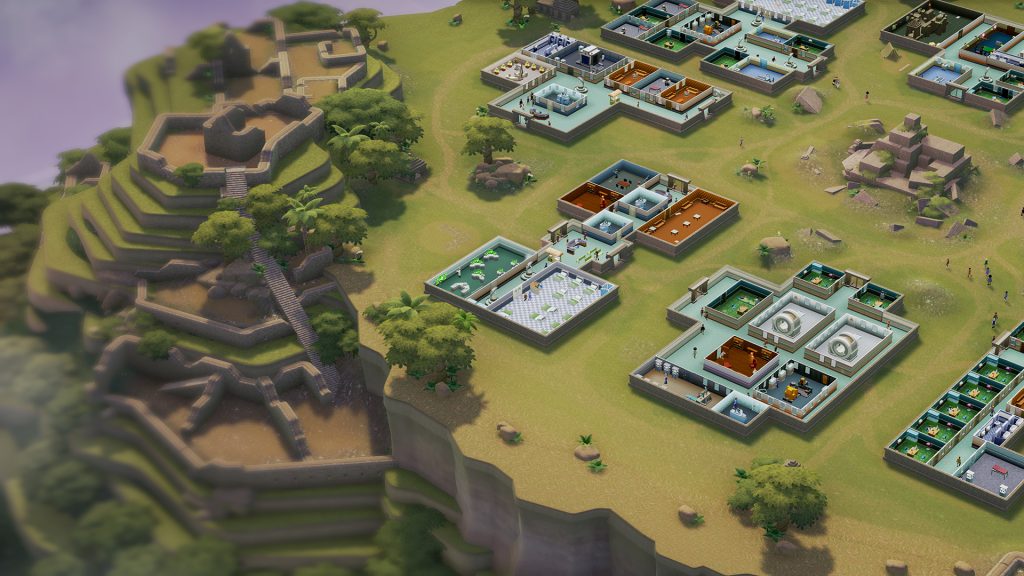 A whole host of new illnesses will fill the hospitals, alongside some of the classics. 10 new illnesses have unique visual differences, though over 30 new illnesses made the cut. From patients wandering around being electrically charged or with no face, a range of new machines can be researched, unlocked and built. With all the illness types possible the list of rooms is starting to become a long list. Nevertheless, it is worth it for the variation and sprawling hospitals.

Providing many hours of new challenging gameplay, it is nice to return to Two Point Hospital for the three new levels. Pebberley Reef, Overgrowth and Topless Mountain are, like the Bigfoot DLC, a nice visual change – with location appropriate new illnesses to contend with. The weather effects are an interesting twist for players to deal with, though after a few hours in, with an army of janitors, their effects are minimal.

The levels are once again only available when past the Femington hospital, though unlike the Bigfoot DLC the challenge posed makes this more sensical – with this being the first time I had struggled to keep a hospital profitable. Simply put, if you are looking to extend the base game's awesomeness and have a new challenge then Pebberley Island is the location you should travel to!

[Editor's Note: The Pebberley Island DLC for Two Point Hospital was provided to us by the developer for the review.]