Devil May Cry has been one of Capcom's most popular franchises, so it's no surprise fans are eagerly awaiting the sequel to 2008's Devil May Cry 4. With a little over a decade between releases, Capcom has finally decided to return to the original storyline with new faces and beloved characters alike. With a lot going for it, including a firm grasp of what made the originals so popular, Devil May Cry 5 has plenty of promise. With the series moving back to the over the top and extreme nature fans love, I'm delighted to say this sequel does a fantastic job of highlighting what made the franchise so popular.
The story of Devil May Cry 5 takes place several years after the events in Devil May Cry 4. It starts off with V, Nero and Dante having an intense fight with the Demon King Urizen. Just as they are struggling in taking down Urizen, the story then shifts into several flashbacks on how the three of them lead up to the fight with the Demon King. Without spoiling anything, the story is told in a timeline fashion where you will have to go through different dates and times as the game conveys different sides of the plot. With V being the new guy introduced in the game, many are interested in knowing just who is. Luckily, the game will leave no character's story unattended and all will be explained in the twenty missions available in the game.
Along with the three main characters in Devil May Cry 5, they will be joined by series veterans like Trish and Lady, along with a new recruit named Nico. In the twenty missions that you will have to go through, you will be switching very often between the three main characters. Each of them have their own unique play style that makes playing the game refreshing in every mission.
Controlling each of the three characters can be quite challenging at the beginning and could take some time to get used to as they each have their own unique specializations. With Nero, his play style is more aimed at using sword, guns, and his Devil Breaker arm that packs power when used as a Special Attack. Just before the mission starts, you will have an option to choose what kind of Devil Breaker Arm to use where each have different effects. Think of it as ammunition whereas it gets used up after repeated use. Since there are a lot of devil breakers to use, it's best to try them out first and see which matches your style as each has different effect to enemies and bosses that you fight. Remember, the Devil Breaker arm gets depleted after repeated uses and you will want to save them for tougher enemies or bosses. For his Devil Trigger, it won't get unlocked until later in the game, but once you unlock it, it will be playable across all missions you previously played.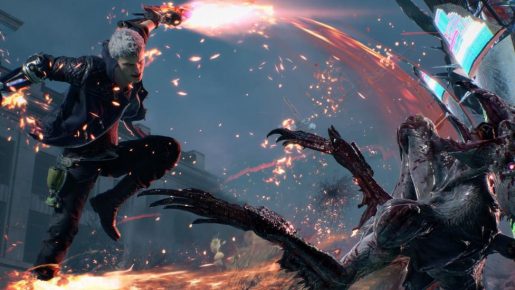 For V, he relies in using his two minions to fight for him and his cane that he gets to use in delivering the final blow as his special attack. From the three characters that are playable, V is the preferred choice and the easiest to execute a triple S combo. His power is unimaginable when you manage to execute a combo between his two minions together along with a Golem he can summon when using his Devil Trigger. It's quite easy as there are only a few combos that you can execute in the game.
As for Dante, he's somewhat similar to Nero as he uses both swords and guns. The only difference is his devil trigger where instead of using a devil breaker like Nero, he transforms into a demon and uses a variety of swords and guns he can equip. Between the two, Dante is more easier to control and use to execute a triple S combo. For his special attack, you get to choose from four of his famous playstyles from previous games – Trickster, Gunslinger, Sword Master and Royal Guard. Each of these playstyles yield a special attack when used such as when using Royal Guard, Dante goes into a defensive stance mode, and Gunslinger makes Dante use his more powerful guns. For series veterans, his combos from past games make a return, thus making him somewhat easier to use than Nero.
Red Orbs and allotting them on skills play a huge role in Devil May Cry 5 to make the three main characters stronger. Just like in previous Devil May Cry games, enemies and bosses will drop Red Orbs that you can collect and at the end of each mission, you will be able to spend them and purchase different skills. Other orbs like Green, and the ones you have to collection a certain amount are also back- thus involving you to really spend time and search every nook and cranny in the game.
Compared to Devil May Cry 4, traversing through different areas in the game will be quite challenging and will require thorough searching. There will be no mini-map this time around to help you navigate, so expect to get lost at some points. Those who would want to collect all fragments that adds an additional vitality, or devil trigger bar, it's important that you search the somewhat linear path of the game. Not to mention, there are secret missions hidden within the twenty missions that only appear if you thoroughly search each mission area.
For veterans of the series, Devil May Cry 5 will feel like familiar territory. From its menus, soundtracks, and controls, the game feels like a Devil May Cry game and that's not a bad thing. Capcom however improved certain aspects in controls like in executing combos, it's more connected now with one another compared to previous games where combos feel so hard to chain with others. The signature moves and combos of previous characters like Nero and Dante manage to retain them, with of course many improvements.
Difficulty-wise, Devil May Cry 5 feels much like an easier game compared to previous titles and it's somewhat more linear. From the first mission all the way to the end, you will feel that enemies and bosses are easy compared to previous entries. Also, there is a lot Gold Orbs scattered throughout the game that you get to collect that allows the three main characters to be resurrected at anytime. So really, if you are worried about dying, then you shouldn't as there are Gold Orbs waiting for you to save the day. Not to mention login-bonuses daily gives out one Gold Orb a day.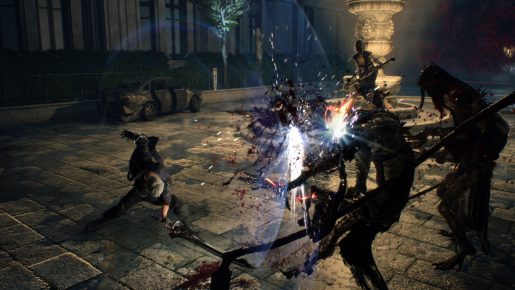 However, those who want the real challenge in Devil May Cry 5 will have to beat the game first to unlock the Son of Sparda mode, which provides the real challenge veterans are looking for. With the new mode that gets unlocked, the enemies deal twice the damage. It's imperative that you master the combos successfully to be efficient in each mission. In addition, Secret Missions from previous entry makes a return. There are about ten secret missions in the game that gives a specific objectives in clearing them. It's quite challenging and if you don't have time to finish it while doing the campaign, you can do them at a later time to unlock more items that the characters can use.
In terms of visuals, I must say that Capcom did a phenomenal job with the RE Engine this time with Devil May Cry 5. The environment and the characters look very much alive. Even the monsters from previous entries look scarier than ever as they are recreated. As far as voice acting goes, you can switch between the English and Japanese language but to be honest, I have no problem whatsoever with the dubbed version. As for its performance, I played it on Xbox One X and I was astounded with its fluidity and smoothness. I have not encountered any hiccups in my playthrough and I am happy to say that it looks really good in a 4K display. Not to mention that the game is running at a native 4K resolution at sixty frames per seconds. Unfortunately, we didn't had a chance to try it on a PS4 Pro to do a comparison.
What I like about Devil May Cry 5 the most are the cutscenes. The action and the intense fight scenes between characters are well directed and performed. I must say that Director Hideaki Itsuno really took the time in polishing the game and making sure that every scene is really enticing to fans. For the most part, watching the cutscenes makes me feel like I'm watching a blockbuster movie. As for its soundtrack, the game manages to retain its heavy metal genre.
Verdict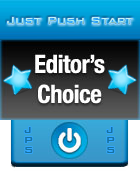 Devil May Cry 5 is the sequel fans have been waiting for. Once again Capcom has set the bar on how an action-game should be. Sure, it may feel somewhat easy, which is fantastic for newcomers, but there are always higher levels for more hardcore gamers to find the challenge they seek. Between a well-written story, one that ends in a shocking revelation, to interesting characters and everything else, especially the combat, Devil May Cry 5 is the total package and a must for hack-and-slash fans.
[Editor's Note: Devil May Cry 5 was reviewed on Xbox One X platform. The game was provided to us by the publisher for review purposes.]