Remedy Entertainment and publisher 505 Games are pleased to announce today more details of the pre-order bonuses, launch day bonus content and expansion pass for the much awaited Control.
Gamers who will pre-order all versions of Control will include a voucher code to download the "Tactical Response Gear" costume and "Crafting Resource Pack". Those who will pre-order on PlayStation 4 will include a PlayStation Network avatar and the "Shifting Place" dynamic theme. Unfortunately, there are no exclusive bonuses for Xbox One and PC versions.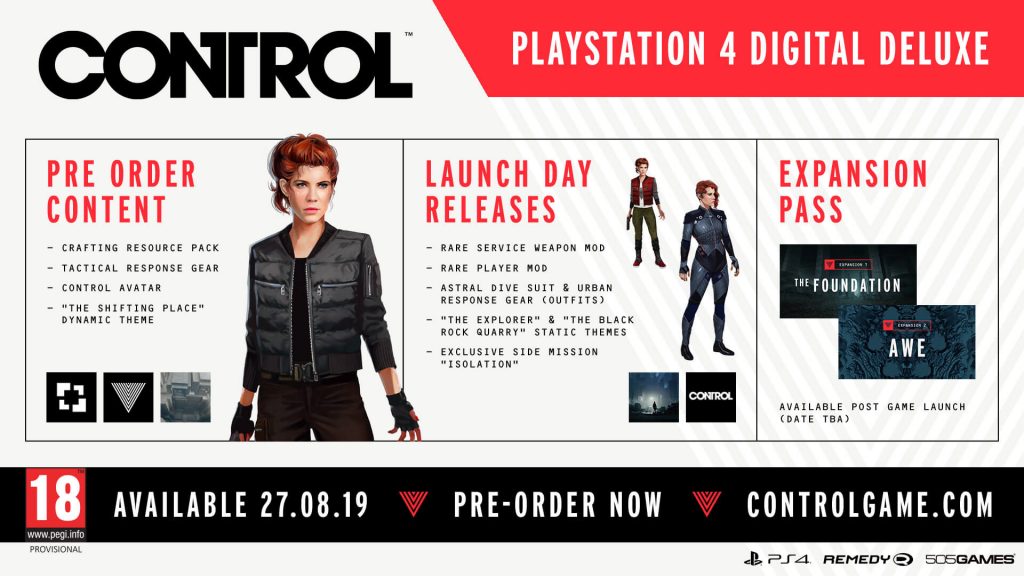 When the game launchces this August, all launch day copies of the PS4 version of Control will include a code to download the "Astral Dive Suit" costume, "Rare Player Mod" that is used to upgrade Jesse's abilities in-game, a "Rare Service Weapon Mod" that is used to upgrade Jesse's main weapon, and the "Black Rock Quarry" and "Explorer" static themes for the PlayStation 4. Again, no exclusive bonuses for Xbox One and PC.
As far as Digital Deluxe Edition goes, PS4 gets another exclusive content- a side mission "Isolation" and the "Urban Response Gear" costume as bonus content.
For the physical version of the Deluxe, both PS4 and Xbox One will include a FuturePak metal packaging and five art cards.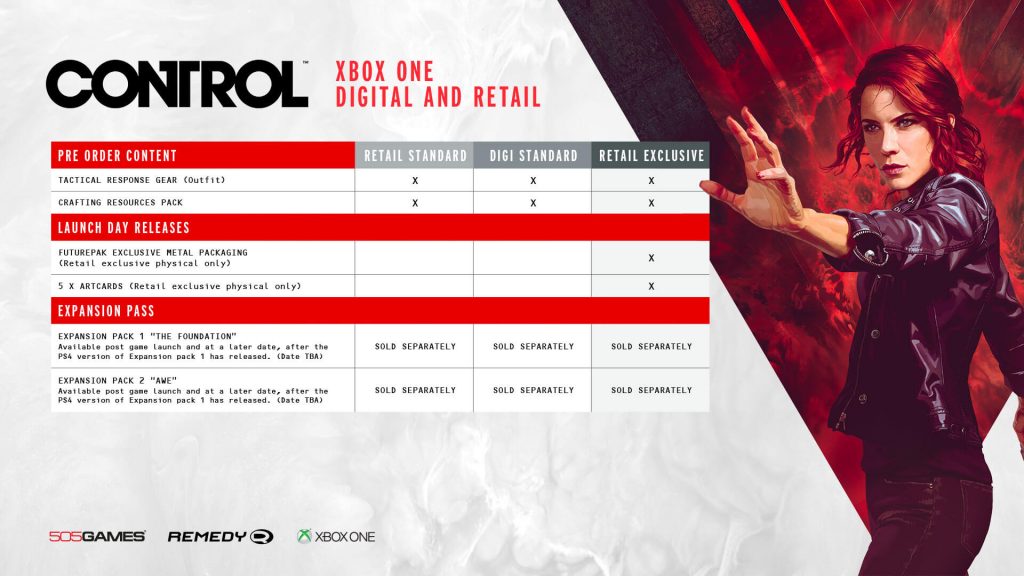 Following the release of Control, Remedy Entertainment will be releasing two post-launch content- "The Foundation" and "Awe"- containing new story content, side missions, and new mods. These expansions are available for purchase as part of the PS4-exclusive Digital Deluxe Edition or can be bought separately as an Expansion Pass.
Again with the exclusives, PS4 version will get The Expansion Pass and Individual expansions first, then will arrive on Xbox One and PC at a alter date.
Control will be available for PS4, Xbox One, and PC on August 27.
Watch a few new trailers that Remedy released today:
Control – Gameplay Trailer
Control – Pre-Order Bonus Trailer