My Little Scythe has had an interesting journey to becoming a fully fledged board game, starting life as an award winning print-and-play title. Based upon Scythe, the incredible alternative history title by Jamey Stegmaier, gone is the My Little Pony theme but the game has now received a retail release from publisher Stonemaier Games. Designed by father daughter duo Hoby and Vienna Chou, the title aims to be a family friendly version of the more complex Scythe. My Little Scythe sees 1 – 6 players, spend around an hour, controlling two animal miniatures, earning trophies and even participating in pie fights! However, does this theme and tweak to the Scythe rules work? Let's find out!
Converting from the original, instead of trudging round the old battlefields of an alternate 1920s, players are whisked off to the colourful kingdom of Pomme. Mechs and heros are replaced with animals, from the United Bear Kingdom to the Kingdom of Boarland, with no sign of workers. Popularity and Military power return under a different guise of friendship and pies respectively. Even quests return and to some extent unique factions.
At the start of the game each player takes the two miniatures, a turn pawn, a home base tile and player board of one of the factions. At this point none are unique until everyone draws a personality card, giving each player a special advantage towards one of the eight objectives. Based on the player count a layout for home bases is determined and players can sit round the board accordingly. A setup tile is placed in the central hexagon and, based upon where starting bases are located, apple and gem resources are added to the board. Finally each player puts a friendship marker at three on the friendship tracker, a pies marker at three on the other tracker and 4 trophy tokens on their player board.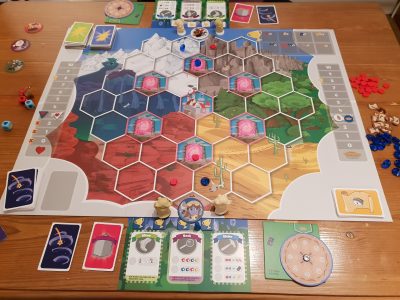 On a turn players can choose to take any action, other than the one covered by their turn pawn from previous turns. This is similar to regular Scythe, however the same type of action can be taken just not the exact action. There are three types to choose from Seek, Move and Make. Move, by default, has only one option to move both miniatures. Players can choose for each miniature individually to move it up to 2 spaces without anything or 1 space carrying with it any resources on its hexagon – classed as resources under its control.
Seek sees new resources added to the board via rolling dice. There are two options here, both including a quest die, with a split of 2:1 apple and gem dice being the choice. After selecting the action the active player rolls the indicated dice and adds the resources to the board from what is denoted on the dice. Rolling the red dice with apple symbols always adds a apple resource to the board, with the region it is added to indicated by the colour of the apple on the rolled face. Each region has multiple hexagons and it is up to the player where to place it with only a couple of restrictions such as not covering portals or doubling up quest tokens.
The trick here is it can be possible to add resources on to hexagons where your miniatures are, or your opponents. Gifting a gem or apple resource to an opponent moves you one space up the friendship tracker. This can be incredibly important not just for the friendship trophy but also as when you have below 3 friendship you cannot score any trophies.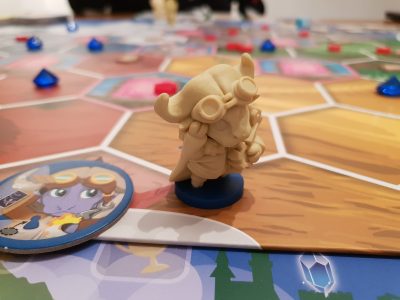 The final action type is Make. This allows the active player to do the depicted trades, spending resources from hexagons their miniatures are on for pies, spell cards or even upgrades. Upgrades come in two types: Move & Make, with the Seek action never changing. Taking three upgrade tiles from the associated type draw pile the player gets to overlay the upgrade covering the basic action type. These small upgrades can be extremely powerful, such as different ways to gain friendship or allowing special movement.
Pies and spell cards become important when pie fights break out. Whenever movement sees two miniatures from different players on the same hexagon the movement is instantly ended, for that miniature. Both involved players then take a pie dial and secretly set it to a value. This value can be between 0 and 7 on the dial. However, players cannot put higher than the amount of pies they have, based upon the pie tracker. For each of their own miniatures involved a player can add a spell card, these feature bonus pies to be added to their total.
Once both players are happy they reveal their dials and played cards. Regardless the instigator of the fight loses 1 friendship, before both players spend the number of pies on their dial from their pie tracker total. The winner gets to claim a trophy for a first pie fight victory, if not done already. The loser is then rejuvenated, which sees their miniature(s) set back to their home base before either drawing a spell card or nudging their pie tracker up two spaces. The loser also gets to remove their turn pawn from their last performed action, enabling the player a completely free choice next turn.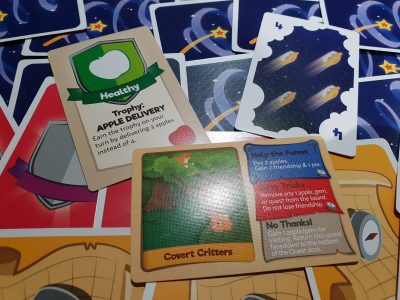 The game goes clockwise around the table until one player has scored 4 trophies. On a normal turn players can only complete 1 trophy at a time, until the final turns of play. A total of 8 trophies are up for grabs for things such as delivering 4 apples or gems to the central castle hexagon, following 2 quest card actions, gaining both action upgrades or even stockpiling apple pies! Whenever a player reaches 4 trophies the remaining players get one final turn to score as many trophies as they can. The winner is the only player with 4 trophies after this, if it ever occurs. Quite commonplace are draws, with ties broken by the friendship trackers, followed by control of gem & apple resources.
It might sound an unusual plus point that games often end in ties, with wins split via tiebreakers, however it is ideal for the target audience. My Little Scythe is aimed at families or for casual gamers. If you think putting a specific player into a complex game will see them only receive a crushing defeat this could be an alternative. There is some randomness from the dice rolling that can make strategies falter but it only enables a more balanced playing field between those whom would normally comfortably win and giving someone else, be it a partner or child, a chance. This all results in ties making each game feel close, with victory not out of reach – perfect for introducing new players too but not great for those wanting something with ample depth.
If pictures are worth a thousand words the plastic gems and apple tokens in My Little Scythe are worth a thousand cardboard chits. Not drawing the line at 14 miniatures of 7 unique different models, which are stunning and of great quality, the game looks like an already upgraded edition. Every single component comes together, working in harmony in design and art to sing. This does wonders for attracting players to the game, with even those normally shying away eager to ask what the game is about. My Little Scythe may be design for families but it could be an entry level game for a wave of players, with a natural progression onto the title's big brother already laid out.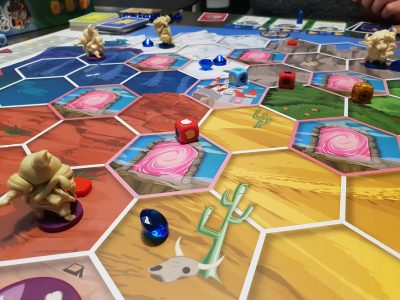 So many games come with bad inserts or the issue that once opened the lid never fits back on flat. I'm not normally drawn to the wonder of the Game Trayz inserts but they do a great job in My Little Scythe at keeping everything organised. On top of this when unboxing the lid is slightly lifted but once everything is popped and in the inserts it closest perfectly. It might not sound like much but given the amount of games that do this wrong it is worth praising Stonemaier Games for yet another aspect of the production of the game.
Vienna and Hoby Chou have geniously simplified the main game of Scythe. The basic way of choosing actions, the interactions between players and even the trophy system have been brought across smoothly. A lot of the more complex elements like scoring and combinations of actions have been left but this is not a game aiming to be a sequel. It is firmly targeted towards new gamers or family members too daunted to dive into the "full" experience, yet My Little Scythe offers a full but different experience. My Little Scythe could certainly be used as a stepping stone or enjoyed as a much lighter game, which can hit the table with a much wider variety of players. For me it might not stay on my gaming shelf inevitably however for those with young kids or daunted partners this could open the door to deeper games in the future.
[Editor's Note: My Little Scythe was provided to us by Asmodee UK for review purposes. The game is currently available on 365 Games for £33.29. It is also available from local UK board game stores, find your local store here]