The River is a brand new worker placement game from Days of Wonder, the publisher behind the incredibly popular Ticket to Ride franchise. Designed by Sébastien Pauchon and Ismaël Perrin, featuring art from Andrew Bosley, the game sees 2–4 players take up the role of mayors – as they attempt to develop land and build a settlement. With resources to collect and buildings to construct, this is a worker placement title aimed towards families. However, will earn it's placement on my gaming shelf? Let's find out!
Setup is highly dependant on the number of players, starting with a double sided board featuring one side for 2 players and one for 3 or 4 players. An amount of terrain tiles, resources, bonus tokens and buildings, again depending on the player count, are added to their sections of the central board. Each player takes a river board, which acts as a personal player board, and a boat full of pioneers. A starting player is randomly decided and play is ready to begin.
Players will take it in turns to place a single pioneer at a time, from their boat, onto the central board. When someone runs out of pioneers, often referred to as workers or meeples, they are out of the round with future turns skipped. Before placing a meeple the player is allowed to do a trade action as many times as they wish, swapping any 3 resources for a wild resource of a turkey.
Each worker spot on the board grants the player a benefit and these spaces come in three types. Some will be usable by only one meeple, being blocked for the rest of the round. Others will have spaces for two meeples from each player colour and a final type can be visited as many times as players wish. Once played the pioneer meeples stay on the board, only being returned at the end of the round back to the boats.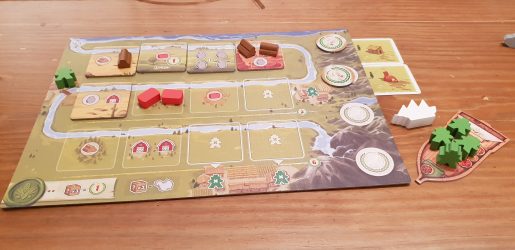 Action spaces available include claiming a land tile, producing resources, reserving a building, constructing a building, take the first player marker and swapping land tiles. Claiming land allows the player to build one of the faceup Terrain tiles onto the next free slot on their river board, snaking down the river. Players can only do this twice a round and a maximum of twelve times in the game, as this would see their board full.
Why would you want to take the claim land tile action? When you place a meeple to take the produce action you gain the amount of wood, stone or clay, depending on which action space is chosen, as the symbols of that resource type on your personal river board. However, you must be able to store resources by having warehouse symbols on your river board. If you don't have enough room you can choose what to discard to make room. Food is a bit different. Going on the food action space grants only a single turkey resource, though it can be used as either wood, clay or stone when spent. In The River resources can run out. Thus, whenever you want to produce a resource type the maximum you could ever get is dictated by the resource pool on the central board.
Buildings are going to score players both points and bonus points. Reserving a building, of which the player can have up to two reserved, allows a player to construct it later on – plus it'll be cheaper to build by a resource of their choice! Sending a pioneer to the construct action space allows the player to build 1 building from their reserve or the main board, paying the associated costs of wood, stone and clay, with the ability to use food as any resource type. To keep the victory points earnt a secret players should slide the building under their river board. Then, the player takes the top most building bonus token, also adding it to their river board. When a player constructs a second building it unlocks an additional meeple for them to use straight away. While bonus tokens start at 6 points they do dwindle down to some even scoring zero.
Taking the first player marker is somewhat of a self-explanatory action, allowing the player to start the next round. This is important in worker placement games, where specific spaces can be claimed and blocked for a round. The final action space to send pioneers to lets the player swap two terrain tiles on their river board. This won't have any effect during play but is vital for end game scoring. Therefore, this is often an action space left empty at the start of the game but is heavily fought over towards the end.
When everyone is out of pioneers, potentially at differing times, the round is over and cleanup begins. All terrain tiles are removed from the board and new tiles added – filling the required spots. The building cards are not discarded this way but purchased buildings are now replaced. All pioneer meeples are reclaimed from the board, though if you have covered one of the four framed terrain spots on your river board one of your meeples is discarded from game – settling there in the game's lore. Then, the first player begins the next round.
Play continues in this fashion until one player has earnt their 5th bonus token (reduced to 4 in a 2 player game) or has filled all 12 spaces on their river board. When this is triggered the current round ends, including the cleanup phase of returning pioneers. Players now reveal the points earnt from their buildings and bonus tokens. An additional point is awarded per three resources a player has in their warehouses. Looking at each column of their river if players have two matching terrain types they gain 2 points, but if all three match this is upped to 6 points. Finally, points from meadow tiles, a terrain type, score. These can range from 1 point per tile of a depicted terrain type to 1 point per pioneer in your boat. Whomever has the most points after summing all this up is the winner, with tied victories shared.
The art of the tiles in The River is decent, making it obvious what terrain type they are and leaving the symbols on them very clear at a mere glance. It is relatively uninspiring though, with not much flair to mention. Thankfully, some details minor are included on the player boards and central board to instal some life into the game. Acceptable as it might be, more is expected from a Day of Wonder title. Making matters worse the artwork doesn't reach the heights of the box art on any of the components.
Aside the the obvious trailing line of blue on the player boards and the ships there link to a river in anyway is minimal. This is as much a town building game, which could be down a winding street, than anything close to a journey down a river. This creates a disconnect between actions and the theme that makes it feel rather added on – more to give a visual difference than anything gameplay related. It gives some sense to why players would lose pioneers as buildings are constructed, via settling down. Though surely as a town grow more than one additional pioneer would be drawn in.
Agricola introduced sheeples (sheep meeples) to me and The River has now introduced Turkeeples/Teeples (turkey meeples) to the world. They are an unusual choice but one that gets players talking. Alas, everyone has been in agreement that as a wild resource they make little sense – I've not heard of buildings being constructed with food based bricks before. They will be remembered fondly but not 100% for the right reasons. In spite of this, having the ability to trade resources to gain a wild resource makes things a bit friendlier, for when you require a resource type, at least while there are some turkeys available.
The worker placement genre isn't really known for being super light nor for there being many pure entry level games, but that is what The River is. For those hooked on the genre this could be something to get excited about, not to panic. There is a golden opportunity to use The River to teach the basics of the genre or just enjoy some simple, hardly cutthroat, worker placement moments. For those with younger players The River might be a good weight, otherwise they will need to really like the turkey shaped meeples to want to play over and over again. Despite the general negativity I can see myself playing occasionally when non-gamers want to try something out, without daunting them with something more complicated.
[Editor's Note: The River was provided to us by Asmodee for the review. For board games check out 365 Games. The game is available from local UK board game stores, find your local store here]