Pikoko is the recently released bidding and trick taking card game from publisher Brain Games. Designed by Adam Porter, the man behind one of our favourite party games Doodle Rush, the game features art from Reinis Pētersons. Pikoko sees 3 – 5 players spend just under 30 minutes playing each others cards, from a plume of peacock feathers. However, does the game do enough to stand out? Let's find out!
At the start of the game each player takes a colour of peacock card holder, matching confidence cards and bidding tokens. Each round each player will receive 8 cards, with another card being flipped from the deck to represent the trump suit. The way tricks are won is unchanged from the norm, yet there is one very important difference in the way cards are played. As normal there is a trump suit or in Pikoko's case colour, which changes each round. On a turn the starting player chooses a card of any colour to be the in play colour. Each following player can then try to beat it. If you have a card of matching colour it must be played, with higher values winning.
However, if you don't have one of that colour you can choose to either play a card of any colour. This can be seen as effectively discarding it, unless it is a card of the trump colour. If you play the trump colour you beat the base colour regardless of number, winning the trick unless a higher valued trump card is played. In a normal game you get to pick what card you play, but not in Pikoko. Not only can you not see what any of your cards are, the player to your left chooses the card you play – winning or losing the trick for you.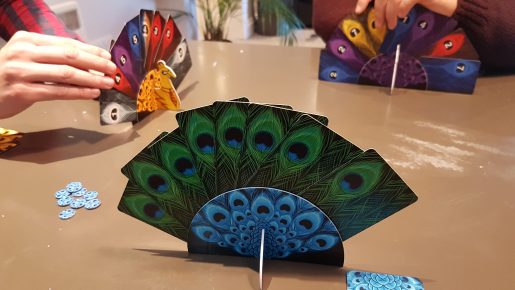 After explaining this the common question is, why would you help someone else win a trick? The bidding element is the answer. Players don't actually score points for the tricks they win, instead gaining points for correctly predicting the number of tricks that players will win. At the beginning of each round, post dealing cards and revealing the trump colour, this is done in two parts: tokens and confidence.
Each player starts with nine tokens of their own colour. After nominating a starting player that person is first to be bid on by other players, then going clockwise around the table. In this bidding phase you cannot vote on yourself. Once everyone has been bid on by others you can then choose to bid on how many tricks you think you'll win, armed with only the knowledge of everyone else's cards and their bids on you. After this each player must play a confidence card. These cards feature either another players colour with +3/-1 or a simple +1, during play these don't impact anything – coming into effect during scoring.
As the round plays out, tricks are won by the owner of the cards – not the person playing them. At the end of the round (all 8 cards being played) players will earn points based on how close they were in their bids. Being exactly right about the number of tricks any player, including yourself, won scores 2 points. Being 1 trick off, including from zero, will score 1 point – while being further off scores nothing. This is when the confidence cards come in. If the bid you made for colour of peacock shown on the card was exactly right you gain 3 points, while being even 1 trick off will see you losing 1 point – unless you played the simple +1 point confidence card. The game continues with a total of 3 rounds being played, with the winner being whomever has the most points at the end of the game.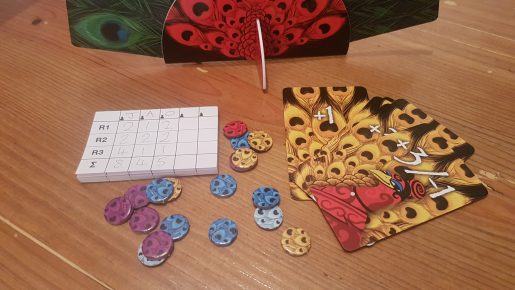 A small percentage of the deck are multi-colour cards. These add a bit of additional mystery into the information available, despite being on show. Not only do they have be played as a colour if they can be, so you can be forced to use it, until used they stick out as an opportunity for winning a trick. When played first the person choosing even gets to use a multicoloured card to set the colour, between one of the three depicted colours. This can be a powerful way of getting specific cards to be played by opponents, though due to not being able to see your own cards can backfire (#PersonalExperience).
After a few games the bidding can fall into patterns of the same bids being made on others from similar minded players. This is when the certainty cards truly give players different things to aim for. Much like the blind bidding in your first game the confidence cards are an unknown, at least until you've seen a full round play out. This results in a lot of gamers choosing the safe option of +1 point in their first round. Perhaps, a rule for players to use confidence cards after a learning game would make more sense and allow players to understand their impact ahead of using them.
Players that have played a trick taking game pick up the game swiftly, though still make an uneducated guess when it comes to round one bidding. This isn't as much of the case for those new to the genre to begin with. Having to explain the way a normal trick taking game works to then explain how Pikoko differs is an oddity. To the extent it might be worth playing a round of normal trick taking, with the cards in hand as normal, before attempting the rules. This isn't too much of a deterrent from bringing the game to the table with new players – as it can be done quickly with a small dummy hand. It is just noticeably faster to teach the simple rule twists to those whom know the genre.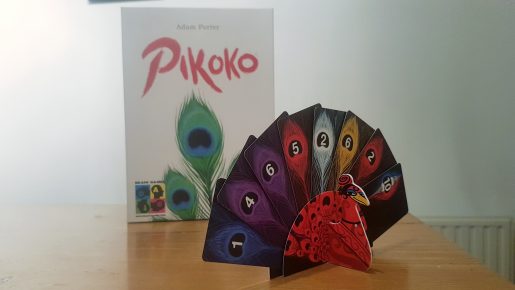 The card stands slide together easily and really give a visual pop to the game with the peacock concept with a full plume of feathers shining through. There is a slight awkwardness to setting up the card holders each round. While trying not to see the front of the cards, you often end up having to ask if the cards are fanned the right way for others to see the numbers. The cards themselves are of decent quality and the colours seem to be distinct enough, though the purple and blue did momentarily tripped one player up. The only possible detractor when it comes to the component quality are the tokens. Being on the small side they can be a bit fiddly. The game doesn't need poker chip like tokens, which would have been epic, though a token with more presence would have been nice.
For a fan of trick taking games Pikoko scratches an itch I didn't previously know I had. It is different enough to stand out from the busy genre, and not just because of the brightly coloured peacocks. There can be an experience gap issue when new players, especially new to the genre players, join in. Thankfully, this ebbs away quickly into a level playing field. It took a full game to warm to the confidence cards but these do add a lot extra tension and meaningfulness to the exact number of won tricks. Either way there is enough entertainment provided to easily earn Pikoko a space on my gaming shelf!
[Editor's Note: Pikoko was provided to us by the publisher for the review.]