There is a certain excitement that comes from something new. There are new things to learn, stories to explore and just so much to see. Omen of Sorrow takes this idea and tries to inject notable characters and portray them in a new way. From Quasimodo to Frankenstein's Monster to even the Headless Horseman, there is a lot of familiar things in this strange new world. With so much to be excited for, does Omen of Sorrow live up to these expectations or do these characters boost an otherwise underwhelming experience?
The best way to describe Omen of Sorrow's story is to imagine trying to understand a later episode of a mythology heavy series. Even if all the characters' act like these things make perfect sense, much of the backstory needs to be inferred through various interactions. So, Caleb was some kind of angel, Dr. Hyde is working for Vladislav III and he use to lead a powerful organization before being cursed and it goes from there. It can make things hard to follow and at times confusing, especially since it relies on a fairly common literary element.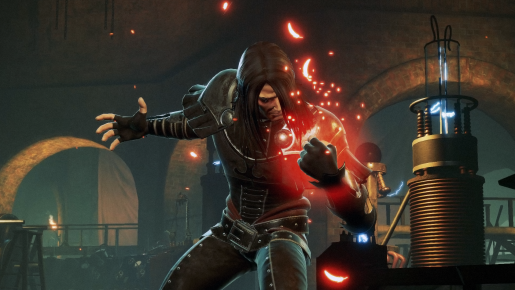 Throughout the story there are references to a specific person and book. While they have different names, it eventually leads to the realization that they're ultimately the same person and book. It makes the two forces far more interesting, especially given the the outcome could lead to our doom, without ever really adding the information of why these things are so fearsome. That isn't to say there is nothing to gain, just that it looks like there is a lot of story left to be told. Thankfully, there is more to it than meets the eye, though it really isn't worth the investment, something that can also be said about the gameplay.
One of the biggest problems fighting games face is getting people interested. Typically, the cost of entry is pretty high, so the past decade various franchises have included rather robust tutorials. These range from simply explaining how and what to do to giving players a variety of combos to use. Unfortunately, Omen of Sorrow does neither.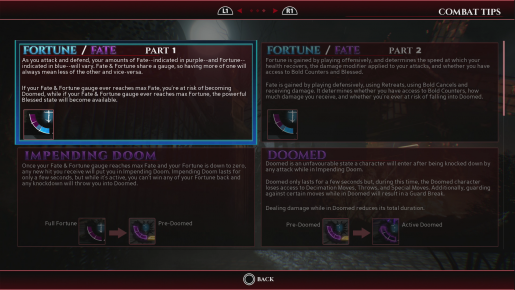 Practice is broken up into quick guide and training. Quick guide focuses on the absolute most basic elements, such as button inputs and reading the screen, with the last one touching on mechanics. While it's great to know how the fortune and fate system work, it doesn't give players enough information to make the experience accessible.
Since training is nothing more than fighting a dummy, with the option to change how it behaves, there doesn't seem to be anything that explains deeper mechanics. For instance, Dr. Hyde has a wonderful unique brewing system. The idea is you put in the input, he does a brief animation and then his potions change. While the command list says one is gila, another fulda, and there being three more, I don't actually know what any of these moves actually do.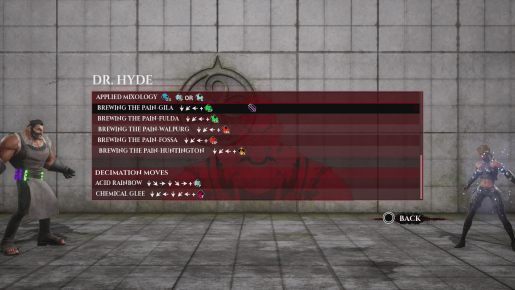 Through trial and error, I know gila is poison, fossa inflicts slow, fulda is explosive, walpurg does something and huntington seems to attempt to force players afflicted players in the doomed state. Likewise, the first mixture makes the next three that specific type, with any additional ones being added to the list and the type, order and power can all be seen by looking at Dr. Hyde's belt, yet all this stuff is seemingly left out. Worse yet, every character has mechanics like this and you either figure them out through practice, experience, loading screen images or something of the like.
Once you move past the unique mechanics, there is rather fast paced fighting game that favors the bold. The main idea is to know when to attack, punish any mistakes and understand both you and your opponent's unique elements. Obviously if you know how Dr. Hyde's brews will impact you, it's easier to avoid than not realizing Quasimodo can actually crouch walk below Valdislav III's range attack. This means there is a lot of depth in Omen of Sorrow, even if it just seems like a lackluster experience.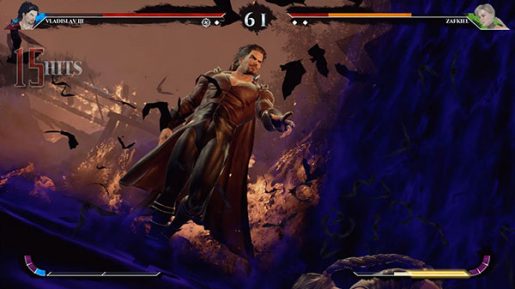 That being said, even if gameplay features some finer things, it has a lot of immersion breaking elements. Throughout the story and various levels, you'll notice things and elements that highlight the lack of budget. These include the bell tower not giving the ringing bell an actual sound, certain characters will say random things during interactions, yet laughing and howls will go unvoiced and other small details that mean very little, yet seem out of place without.
Verdict
Omen of Sorrow is basically a fighting game with a fair amount of depth, without the structure to support it. In addition to a confusing story, there isn't much to do besides online and that hinges on the games success. Without players you're left with story, versus, survival and arcade, which are fun, though they'll never fully bring out the finer points. This is disappointing, as there is a lot to see and mechanics to master, it just doesn't do itself any favors. So, unless you're willing to put in the time and hope for the best, I would hold off until things improve or the online community grows.
[Editor's Note: Omen of Sorrow was reviewed on PS4 platform. The game was provided to us by the publisher for review purposes.]