One of the most interesting mobile games I've ever played is ZooKeeper Battle. There is nothing particularly special about it, in fact, it's the same match three game it has been for over a decade, but what makes it interesting is how the idea evolved. After starting as an arcade game where players raced to achieve the highest score, it moved to a PVP game centered around quickly matching and scoring. Guns, Cars, Zombies Turbo attempts to do the same thing.
The original game, Guns, Cars, Zombies, is a fairly straightforward single player experience. You have a car, you run avoid wreckage and defeat zombies through a variety of levels. The core experience doesn't change in Turbo, as much as the motivation behind every action. Instead of trying to achieve the best possible score or unlock items, your goal is to beat another player.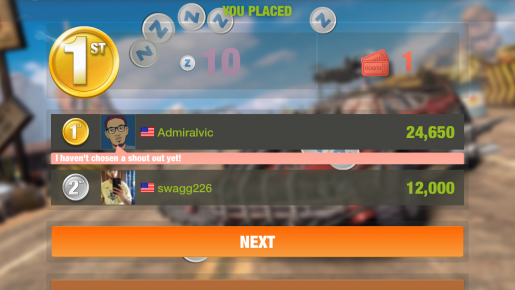 Since high scores are no longer important, it makes every match intense and exciting. Even a bad run can result in your win, assuming the other person is worse, just like other times your best might not even touch another person's bad. Much to the games credit, the simple gameplay makes it easy to play and hard to master.
All you need to do is drive a car, by pushing it right or left, around obstacles and into zombies. And, when you think the moment is right, you can shoot a gun for additional kills/clearance or simply turn on the boosters and plow your way to victory. The challenge becomes harder arrangements, poor choices and other people simply playing better than you.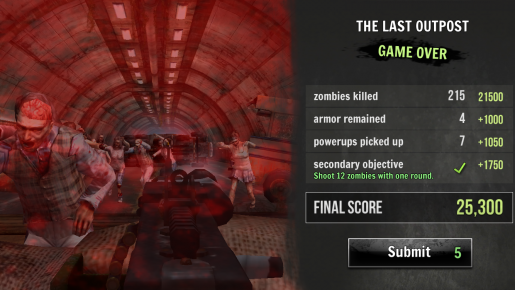 Since this is a free-to-play game, the whole free experience exists to entice players to pay. While the model isn't terribly different from, say, poker, it's downright terrifying how easy it is to get sucked in.
Players are given tokens, which can be used on a variety of races, each offering a prize relative to the cost of entry. So, one token will give you two upon winning, where as better 60 could give you 100 coins. The hook is very simple. Skillz, which is the paid platform Guns, Cars, Zombies Turbo uses, is all about betting on yourself to win. So, if you win 10 straight of the 100 coin "practice" races, this could've easily been $100 ($40 profit).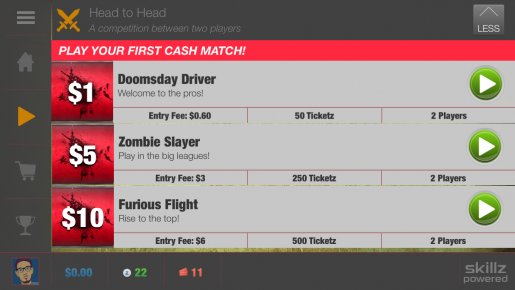 While this is far from the worst paid model I've seen, an honor I'd ironically give to ZooKeeper Battle, it at least has theoretical value for those who win. Even if 40 percent profit isn't the most amazing amount, it's enough to see the value in doing it.
Regardless of where you fall on the practice, the concerning thing is less skilled players being suckered into spending money. It's easy to beat free players, as they're likely less skilled, motivated or maybe even interested, so you're lulled into a false sense of certainty. The initial bet comes from confidence, which could quickly turn into desperation to come back, ultimately leading to a fairly large loss. Since this is the basic idea of how casinos work, it shouldn't be surprising, as much as something to consider.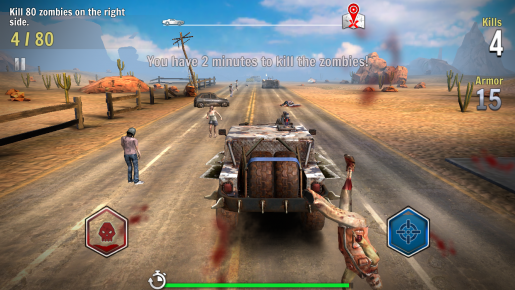 Besides suckers getting conned out of their money, sustainability is a pretty big concern. Winners will continue to play, since they're simply going to make more money, but without the constant stream of low skilled players, there will come a time when either no one is betting or the relative skill hits a point where the average player will win as many matches as they lose, something that will eventually lead to a them going negative.
Even if I come off rather critical of Guns, Cars, Zombies Turbo, it's simple enough to be fun, with the betting mechanic appealing to a certain demographic. Nothing here is different from betting on games of chance, so if these two interests overlap, this will be a no brainer. Likewise, currently, the paid elements are not aggressive enough where anyone has to pay. Sure, the idea is constantly bombarded, but with minimal skill you could theoretically play as much as you want without paying a cent.