Gingerbread House is the brand new tile placement, set collection board game from designer Phil Walker-Harding – the man behind the epic Barenpark and Sushi Go! Published by Lookout Games, featuring art from Andy Elkerton and Klemens Franz, Gingerbread House sees 2 – 4 players spend around 40 minutes being witches, whom are trying to entice fairy tale characters via tasty gingerbread. However, is the game memorable just because of the inclusion of characters such as Alice and Puss in Boots? Let's find out!
Setup has a number of elements but nothing that is fiddly or time consuming to do. Each player gets a unique double-sided player board, of which they can choose which side to build on, and a single staircase tile. Upending the box the domino like building tiles are shuffled and each player gets their own stack of 15 tiles, forming their personal draw pile. The deck of character cards is shuffled and a market of four available characters are flipped face up. Without refilling the market each player, in reverse play order, gets to reserve a character for later. Once this is done you can refill the market, the rest of the tiles are returned to the box and piles of tokens are made within reach.
Each player has their own unique draw pile and these do not interact in any way. Each player flips over the top 3 tiles and these are their available tiles. On a turn a player chooses one of these available tiles and adds it onto their board. There are a couple of placement rules to follow: the tile must be placed flat, if being placed over other tiles it must be over two tiles not just one and it must stay within the boundaries of the house. To help out players are staircases which are small tokens that players can use to build up below a tile, to make it flat.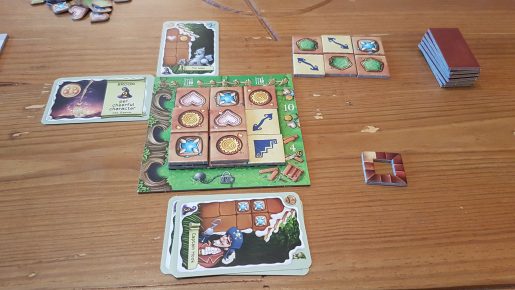 It doesn't instantly matter what symbols are on the tile that is placed, instead what symbols are covered. Symbols include 4 gingerbread colours, staircases, cages and a swap symbol. The aim is to collect sets of gingerbread colours used to trap characters, effectively purchase cards, either from the market or your reserved cards. Covering gingerbread symbols earns you the matching tokens, perfect for the main objective, while the other three will help you towards the goal. Covering a staircase gains you a staircase to use on future turns, helping tile placement. There is a limit of 4 staircase tokens for player supplies – though as many as you want can feature in your house.
Cage symbols don't directly trap a character but they do enable the player to reserve a character for later, making them unavailable for others. Each player can only have two reserved at any time but players are free to discard previously reserved characters to gain a new one. The swap symbol enables the player to swap one of their gingerbread symbols for one of another colour, helpful to get the colours you require faster. There is some additional planning to be made. If you cover two identical symbols instead of performing it twice you get to do the action three times: be it claiming gingerbread tokens or reserving characters – though limits still apply.
After placement and the actions, the player gets the opportunity to trap as many characters as they can by spending gingerbread tokens that match the card requirements. It isn't mandatory, allowing you to build up your tokens for higher scoring characters, though you do have a limit of 10 gingerbread tokens. Whenever you trap a character you instantly get a wild single square tile to add to your house, receiving the benefit of whatever is covered. When covered a wild symbol can be classed as whatever action you want, though it only counts as an identical symbol to other wild symbols. Trapped characters give you points but also come with traits that are used in non-learning games for bonus cards.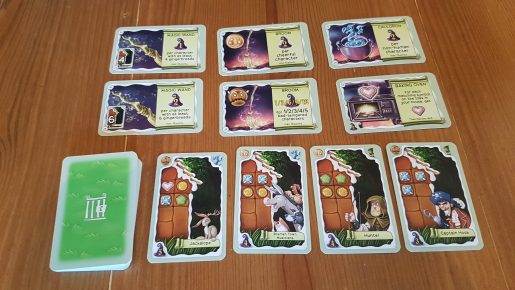 Throughout the game player's gingerbread houses will grow in size. Each time you complete one of the first three levels you can take a bonus card. In the learning game these are direct victory points. In the normal game these will offer points based upon the types of characters you trap or your house design. For example, a bonus card could award a point per non-human character you've trapped or a flat amount of points if at the end of the game your house reaches a certain level.
Play continues clockwise around the table with the market refilling only at the end of a players turn not during. Each turn you flip over the top most tile from your draw pile to have three available to choose from. Once players have placed all their tiles onto their gingerbread house the game is over. Discounting the reserved characters, players count up the points earnt from trapped characters and bonus points awarded from bonus cards. Whomever has the most points wins the game of Gingerbread House (and can be called the creepiest witch in town).
Being aimed at families most would expect that the rules should be easy to follow. Nevertheless, the rule for wild placement is easily forgettable, or mixed up. Having a symbol on the characters to indicate once captured they gift a wild tile would have just helped in the first couple of games. While it is fairly commonplace for tile placement games that involve stacking, Gingerbread House also does little to remind players that when building up you must cover more than one tile. Once remembered both are easy rules to follow and are brilliant at structuring the game and opening up low point scoring character strategies, respectively. Alas, neither rule is intuitive for new players.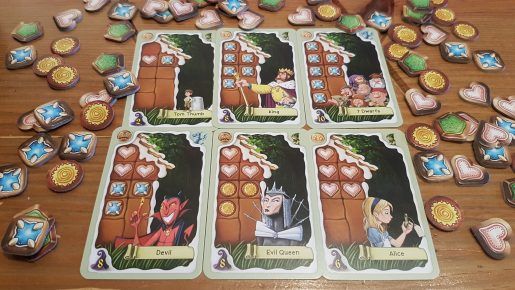 When unboxing Gingerbread House the thickness of the tiles was a nice surprise, to the extent I had to double checked that I was only popping one punch sheet at a time. The double thickness doesn't necessarily represent double robustness but they do stack nicely and make it much easier to determine the heights from only a glance. Each tile is clean in design making it obvious when covering symbols what you are gaining. Art wise the tiles do little to sell the title, with the epic little character illustrations on the cards more than making up for it.
The player boards upon initial inspection are a tad busy but when in play they help to constantly remind players of the various limits; for staircases, gingerbread tokens and more. The deck is almost the main attraction. It is full of a huge range of fairy tail characters, with even a few special extras such as Bremen's iconic stacked animal statue and the devil. This is ideal to captivate those new to gaming, knowing many of the characters – something which wouldn't have worked if they were just generick creatures.
Gingerbread House does a lot of things right. It captures players attention from the get go with the character cards. The available actions are short and simple making it extremely quick to pick up and play. The end objective is clear while there are multiple ways to score big. Yet, despite all of these the core gameplay is dangerously close to uninspiring. The use of staircases and the wild tiles, opening up opportunities for combinations, saves the game though – making it one to play, especially if the theme grabs you.
[Editor's Note: Gingerbread House was provided to us by Asmodee UK for review purposes. The game is currently available on 365 Games for £29.99. It is also available from local UK board game stores, find your local store here]