Between Two Castles of Mad King Ludwig is a tile placement and drafting board game released in 2018, as part of collaboration between Stonemaier Games and Bezier Games. Designed by Matthew O'Malley and Ben Rosset the game mashes two previous titles, Between Two Cities and Castles of Mad King Ludwig, together to make a new experience. The game sees 2 – 7 players spend just under and hour building a castle for the king, room by room. However, does this mad combination work? Let's find out!
Setup is as quick as taking the insert trays out of the box, passing everyone a pile of 9 tiles and placement/bonus reference card and placing a starting throne room between each player. The game is played out over two rounds, with each round lasting exactly 4 turns. On a turn players look at their pile of tiles and from it choose one tile to add to their adjacent castles. Once chosen, then players can discuss with their neighbours where to add it to their jointly owned castles.
Rooms come in a variety of types from food or sleeping rooms to corridors or downstair rooms. From tall towers to gardens players will place one tile onto their left castle and one onto their right castle, following a few placement rules. All rooms must be added adjacently onto previously placed tiles. While most rooms must be at least on ground level or above, particular rooms such as corridors can be placed below ground – forming elaborate basements.
Each type scores points somewhat differently. For example, utility rooms score per connected rooms of a specific type, while living rooms score a point for each surrounding room of a specific type. A few rooms such as outdoor rooms must be above ground and cannot be built on top of. It is intuitive when you look at what the tiles are, often being outdoor tiles. Nevertheless, they also have blue borders making them stand out.
While discussion with neighbours can provide ways to score big, the tiles are yours to place, so you don't have to listen to others. Whenever a third room of the same type is added to a castle it instantly receives a bonus – based upon the room type. These range from an additional room tile to royal attendants, that provide points at the end of the game depending on the amount of a defined type of wall hanging symbols in the castle. Getting to a fifth tile of a room type provides a further bonus of a specialty room, which come in three designs: fountains, towers and grand foyers. While fountains will simply score 5 points the other two have scoring conditions which are guaranteed to score some points. So, none are exactly bad to have in your castle.
Once tiles are placed everyone passes their pile of tiles clockwise and the next turn begins. Everyone is making these decisions simultaneously keeping the downtime of the game down, unless particular players are prone to analysis paralysis. When the pile being passed on gets down to only one tile it is discarded and the round finishes. Round two takes the same form as the first, starting with nine tiles and two being selected each time, the only different is that the tiles are passed anticlockwise. This time when the pile of tiles passed on reaches only one tile the game is over and it is time to see who won!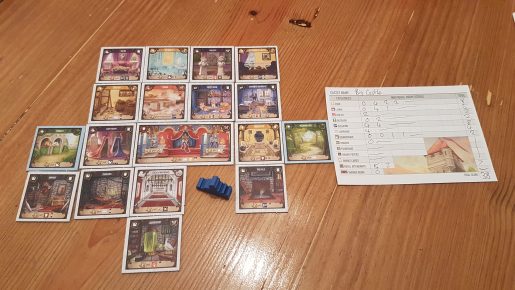 Scoring is definitely not a super quick experience, with a range of room types and a number of rooms to work down. Including the throne room castles will feature at least 17 rooms by the end of the game and each and every one can score points. Using a system of top to bottom and left to right, to be sure not to miss any, can help smooth this process but it still takes time. Once the points for the jointly built castles are totted up players get the score of their lowest adjacent castle, with the player with the highest score winning. Ties are broken via the higher castle scores, with the number of specialty rooms being a secondary tie-breaker.
Two player rules are included in Between Two Castles of Mad King Ludwig. Alas, they are simply a three player game with a dummy player. Not just that but a dummy player whom can win… This isn't actually the biggest issue with the lower end of the player count. As less people are around the table the amount of discussion for cooperatively building drops off. This is only exaggerated when the only other player to discuss with is your only real life opponent. This leads to a very quiet experience that lacks even the minor interactions the game can create.
It is almost impossible to fault the production quality of the game. The normal room tiles are all unique; each with different names, artwork variations and ways to score points (following similar trends yet being different). This variation can produce entertaining narratives with Hidden Lairs being placed underneath a less sinister hat room, something that wouldn't have been created to the same extent if half the rooms were identical. The only niggle with the tiles is the iconography is on the small side, it is clear but it isn't always easily readable glancing across the tiles of a complete castle.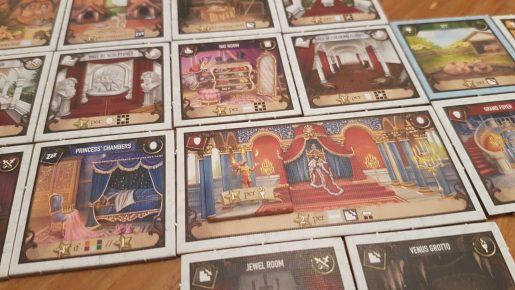 When it comes to the custom inserts the game sets an incredible benchmark for other games to strive for. Designed in such a way, each pile of tiles is easy to get out of the box and are already in stacks of 9, ready for players to take and start playing. This results in a game where setup time, when not having to explain the game, can be done in under a minute. Tear down time isn't drastically long either, though it is well worth the couple of extra minutes it takes to shuffle and properly organise the tiles in the inserts for the next play. Effectively, it is like Between Two Castles of Mad King Ludwig comes with one of the £20/$30 inserts available for other games automatically in the box.
Complimenting with a caveat, Between Two Castles of Mad King Ludwig is one of those special titles that can cater well the 4 – 7 player count, featuring little downtime even with the full player count. From 4 players upwards the game benefits from the room debates and discussions between neighbours, that isn't present at the lower end. While each turn players will be playing only 2 tiles, the discussions make every decision carry more weight – only making it more entertaining when someone goes against what their neighbour is strongly suggesting they do.
There is a great balance to building as players need to pay attention to combos for both neighbouring castles with plenty of scoring opportunities available. For the times when 4 – 7 players are around the table, wanting an experience that feels as tight as a 2 – 4 player title, with plenty of meaningful decisions, Between Two Castles of Mad King Ludwig deserves its space on my gaming shelf.
[Editor's Note: Between Two Castles of Mad King Ludwig was provided to us by Asmodee UK for review purposes. The game is currently available on 365 Games for £27.99. It is also available from local UK board game stores, find your local store here]