Reef is a brand new abstract strategy board game from publisher Next Move Games. Designed by Emerson Matsuuchi, with art from Chris Quilliams, the game sees 2 – 4 players play as a growing coral reef. Taking around 20 – 30 minutes to play, players must use colours and patterns of coral pieces to score points. However, does this feel like watching coral grow over thousands of years, or does time fly by? Let's find out!
Setup for Reef takes no time at all. Everyone takes a player board from the box, is dealt 2 cards, takes 3 point tokens from the box and a coral piece of each colour. Just before playing you create a shop of 3 cards in the center of the table and form 4 coral piles based on colour and the game is ready. In this time it is even possible to run through the rules and restrictions. Note that, 4 is a commonly used number in Reef. The player boards are 4 x 4 in size, players have a hand limit of 4 cards, there are four coral colours (red, yellow, purple and green) and coral has a height limit of 4.
On a turn the player has two options to choose from. Either you draw a card or play a card. When drawing you can for free take any one of the 3 shop cards, replacing it from the deck. It is also possible to blindly draw a card from the top of the deck but this costs a point token, which is placed on the lowest value card in the shop. If you perform this action, once you have added the card to your hand the turn is over.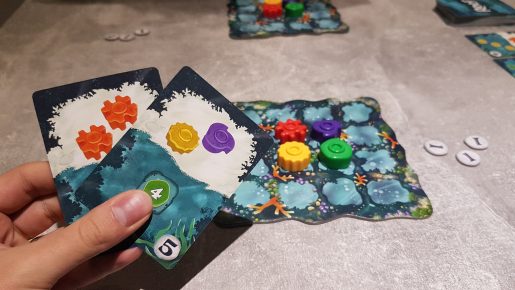 If a player instead choose to play a card from their hand two things occur. Each card has 2 parts, the top half offering a total of 2 coral pieces of denoted colours. Once the pieces are added anywhere on the player's board the bottom half triggers, potentially scoring points. A range of objectives are on the cards, from patterns of coral pieces to specific heights of coloured coral. It is important to note that coral can stack up regardless of colour and it is only ever the top piece that can be used for scoring. It is possible to score the same objective multiple times, if it features more than once utilizing completely different coral pieces.
The order the card plays out is very important as the gained coral pieces rarely match up with the coral colours of the objective. It is entirely possible for a player to cover the wrong coral piece and end up not scoring anything for the objective. Scoring is not a necessity for playing a card. However, playing the card and gaining both coral pieces and points is a combo you'll want to be pulling off – at least if you want to win.
The game continues around the table until a single colour of coral is depleted. At this point the current round of play is finished and a final scoring phase occurs. Each player is able to score the objective half of the cards in their hand once. This is an important distinction as it can result in a lot less points being earnt. After this scoring phase the player with the most points wins, with ties split by the most covered spaces, followed by most 4 stacks of coral.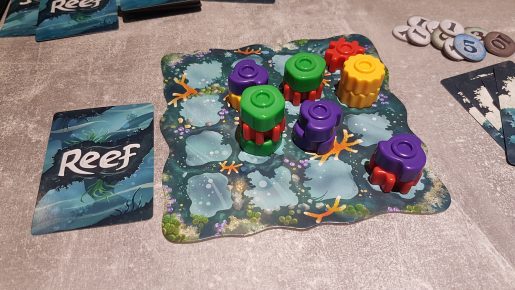 Reef is a surprisingly decision lead game, despite having such limited choices. Going in expecting to just play cards and score points will see your opponents swiftly pulling away. While the game is somewhat dependant on the cards that come up, comboing the cards from one turn to the next can see huge point gains as the game progresses. For example, in one game a player started with a card that scored 5 points for a green on level 4. While it took a large portion of the game to build up to this, scoring others along the way, the player gained a whopping 30 points in one turn by fulfilling the objective 6 times! As the player count fluctuates the final scores do change, something that is counterbalanced by more or less of each colour coral being in play. Regardless of player count, 30 points is a huge jump in Reef, with the highest score I've seen to date being 79 points (during a 2 player game).
At one end of the player count, with 4 people, the cards on offer can completely change between turns. It can be somewhat demotivating seeing three cards you'd deem as great all be snapped up before you get a chance to take one. Conversely, with more players chances are more cards will be taken, resulting in the shop feeling less stale over the game. At the other end of the spectrum, the 2 player game is shorter in length and also has a slight cutthroat side. It is entirely within your power to take a card you think would benefit your opponent, just to deny them getting it. Something just as possible with more players around the table but harder to spot.
The coral pieces are solid, robust, colourful and stack perfectly. This is exactly what you need for these components to make the game feel right for the gameplay, though I am left wanting more coral-ness. Some minor variety, from them rather than the repetitive shapes, would have allowed the game to still be just as accessible but also look as wonderful as a coral reef should. While they are done like this for the gameplay sake it does distance itself somewhat from the natural look the theme could have portrayed and what is depicted in the box artwork.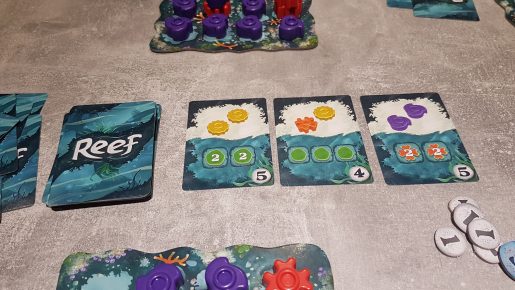 The cards are of good quality and the design is exactly what Reef needs. It is a clean UI design with the available coral pieces and objectives being extremely clear from only a glance. The card is even coloured differently at the top and bottom to fully distinguish the order and the two sections. The player boards, which are of decent thickness, continue this design style – giving the game a consistent clean look. The point tokens are in keeping too, though aren't exactly over or under-whelming, just functional.
On the surface Reef may look like a title aimed at children, from the vivid colours used, however can easily be for all the family. With simple choices to be made, players of all ages and experience levels can enjoy this fast to learn and play title, while those looking to combo cards can score big. 2-player games can speed by, though even at max player count Reef isn't bogged down. Due to this, it is easy to squeeze in a play or two in a lunch break or in a gaming session. Overall, if someone offers you a chance to become a coral reef and grow over time, it is an experience worth taking!
[Editor's Note: Reef was provided to us by Asmodee UK for review purposes. The game is currently available on 365 Games for £28.99. It is also available from local UK board game stores, find your local store here]