Usually when WWE wrestlers are in the video games, they are based on the costumes they wore in real life. Well WWE 2K19 is different as Lana will be wearing something she never wore outside of just one photoshoot.
Anyway, 2K Games announced Lana will be playable in WWE 2K19 for the first time ever. In previous games, she was only selectable as a manager. This year people can actually choose her to wrestle which is cool to see.
However, the only problem with Lana's character model is that she wears an attire she never wore inside of the ring. 2K Games decided to choose an outfit she wore only once during a photoshoot when WWE were parodying Oscar nominated movies. In this case, Lana was playing Margot Robbie's "I, Tonya" movie based on the ice skater Tonya Harding.
Lana went on Twitter to voice her disapproval of the character model. She said: "Who is this ?????? Never have I worn that gear or wrestled with short hair so I am very confused who this women is."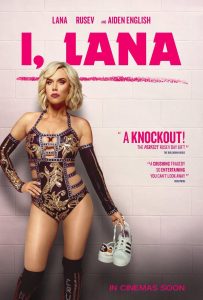 She also tweeted this about her rating score of 70: "Don't worry @WWEUniverse the #LanaDay score is not low because this is actually Tonya Harding the professional figure skater making her in ring debut on the @WWEgames ! Can't wait to see the #RavishingRussian".
Fans and Lana herself may not have to worry too much because gamers can always change her attire in the game. Gamers usually update ring attires during the create modes, so everyone can use something different outside of ther default costume that 2K Games used.
It will be interesting to see if 2K Games updates her character model just prior to WWE 2K19's release on October 9th, 2018. The game will be available for you to purchase for the PC, PlayStation 4 and the Xbox One.