Danger Circuit is the brand new, hot of the press, expansion for the brilliant racing title from 2017, Downforce. Published by Restoration Games, and designed by Rob Daviau, JR Honeycutt and Justin D. Jacobson, this expansion looks to add two new tracks to the game, as well as 6 new player powers. Both new tracks still see 2 – 6 players racing for around 30 – 45 minutes. However, not even coming in a box does this add enough? Let's find out!
The main feature of the expansion is obviously the double-sided game board that features two tracks. The first, Crosstown Speedway, adds something into Downforce that when initially announced blow my mind; not just one but two crossover loops. This creates a new style of potential choke point where cars in the lead, or trailing behind, can be used to block the crossover point. As expected players do have to be careful when orienting their cars in this area, but the spaces are big enough, and obvious enough, not to cause a problem.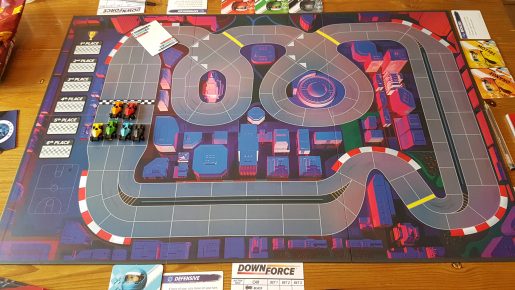 Adding even more choice into the game on Crosstown are two dual lane sections of track. After the loops there are two sections where the track splits in two, offering a shorter, single space width, track and a longer normal width section. Tuck a car into the single width track and you can effectively block it off or force others to move that car along. These can be brilliant areas for sending opponents on a long route, potentially making them unable to finish if some crafty blocking is employed.
The rocky desert like Switchback Pass track is apparently not that well maintained. There are spaces along the track so dangerous that drivers only dare to use for overtaking, being unable to finish their movement on them. This creates an interesting dynamic where players cannot be completely blocked but may find the cards they want to play offer less beneficial moves than hoped for. These sections can be ideal for saving your 8 movement cards for, to zoom past the rest of the field. These dangerous spaces are handled by only one minor additional rule that does little to change the difficulty of playing Downforce: especially, for those whom play with the powers. Conversely, for families that ignore the powers it will be something they need to teach ahead of play and remind younger players about.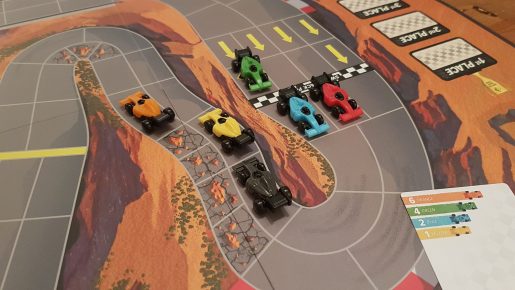 These tracks maintain the tempo seen from the base game in a perfect fashion. Just like the originals, not all cars are guaranteed to cross the finish line and players will see dwindling hands as they approach the end of the race. This helps let players switch back and forth between any of the tracks, without having to remember special setup rules for the deck. This does mean that the expansion will do little to change peoples mind about the game, in terms of length and gameplay.
Six new player powers are included to help spice up the gameplay from one game to the next. These cards blend with the original set by having the same backing for shuffling, though are recognizable with slight different background artwork – in case you want to remove them. Like the original powers they are all very situational, with some seemingly triggered more frequently than others. One stand out power for racers whom like to bid on a single car is Defensive, which allows the player to move one of their cars 3 spaces if none of their cars moved on a turn. This means you can actively push an opponent's car round the track to win on the betting front, and continually nudge your car forward too!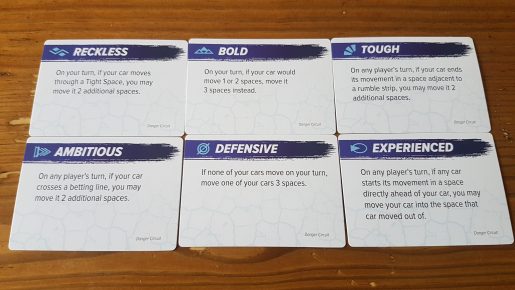 For players whom get blocked a lot Experience would be your ideal power. If a car starts its movement from the space in front of one of your cars it can move into that space, sort of slipstreaming along. There is a decent range and the strength of the powers seems to match the originals. Unfortunately, the do little to reduce the difficulty added into the game via players having to remember what their unique power does, and what other players' powers do. A shame as it means when using Downforce as a family game I still ignore powers for ease of play and a perceived level playing field between all involved.
While the Formula 1 style vehicles worked on both original maps they do somewhat stick out on both the neon and rocky race tracks of Danger Circuit. While something like this might not sound like much some players have commented that it looks odd, starting an unfortunate disconnect, breaking the immersion of the game. It is certainly true that neon styled arcade/drift car would have suited Crosstown better, with rally cars for Switchback. Without the expansion coming in a box including these would have been hard, so for the sake of keeping the price down perhaps the right decision was made.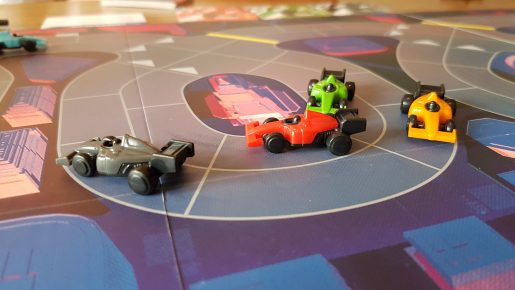 Overall, the Danger Circuit expansion is an incredible excuse to get the phenomenal game of Downforce back to the table. Adding a few unique elements track-wise the double sided board adds in even more variety than what was included in the base game. I'm still not entirely won over by the unique player powers for playing with family, and the included expansion powers have done little to change my mind on them. Yet, if you enjoyed them in the original there is more to play with! If you own Downforce, you might have to plan ahead on the scoring sheet front as the expansion will only help you to burn through the provided pads quicker. So, ditch the insert from the base box and make room for the new tracks!
[Editor's Note: Downforce Danger Circuit was provided to us by Asmodee UK for review purposes. The expansion, and base game, are currently available from local UK board game stores, find your local store here]