One of the hardest things to talk about in a review is difficulty. On a basic level, it's one of the most subjective things and something a lot of people won't even notice. For instance, I think Destiny's raid have always been super easy (for reference I got Flawless Raider in Vault of Glass before The Dark Below released), yet I still hear about how hard X or Y were. As a reviewer, my issue isn't capturing what I think the majority thinks, as much as making sure I myself am doing things right. This was the case with Metal Gear Rising: Revengeance, since it does a poor job of explaining the parry, a tool that is invaluable at higher difficulties.
Even if this proves problematic, I find a lot of games shine at their most difficult. The tactical challenges made me fall in love with Vanquish, I really needed to think outside the box to defeat Baal before release in Disgaea 5 and my platinum run of Rogue Legacy was meticulously planned. Since Next Up Hero ascribed to be a difficult game, similar to Enter the Gungeon or Spelunky, I was both excited and afraid to see what exactly was required to beat the Champion Trials.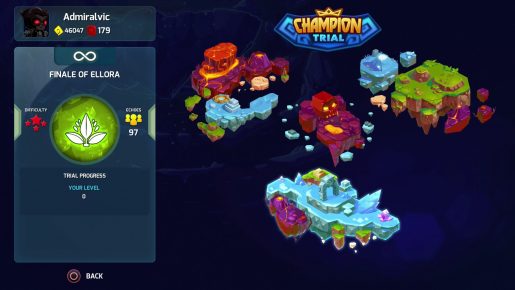 Having beat half of them, I find it fascinating how this mode highlights the best and worst aspects of Next Up Hero. Generally speaking, what makes these stages hard is the same things that make the base game hard. Any level with a decent modifier has a significantly better echo number than stages with a brutal one. A great example of this is the second stage, one with a darkness modifier, has 415 echoes compared to the following stage, with the standard kill enemies' modifier, coming in at 95. The next time an awful modifier comes around the numbers jump to 280. After that one all the numbers plummet to around 50, likely due to how unenjoyable these stages are.
For those not versed in Next Up Hero, the hardest two modifiers are darkness and the sky is falling. Darkness cloaks a good portion of the screen, forcing players to not only locate potential threats, but do so without really understanding what they're up against. As an added bonus, a lot of enemies are alerted before players come within visual range, meaning it isn't uncommon to have an unexpected attack appear and hit/kill you. The sky is falling sucks for two different and distinct reasons. If you want to survive, your focus needs to be on the ground where rocks will potentially fall, a fact that is accentuated by the protective bubble not working on these attacks, and this causes a lot of lag or at least does on the PlayStation 4.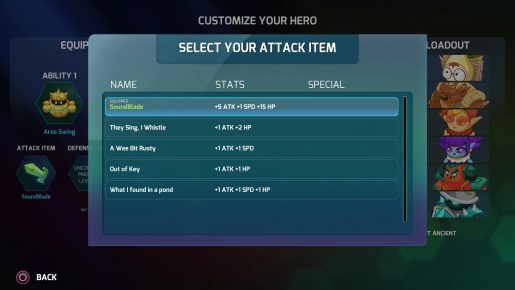 Where this can cause a lot of stress, especially if you see Friendzy, a monster that might not be considered the most-deadly, but has easily put an end to more of my runs than everything else combined, it also creates a certain thrill. I started paying more attention to where others died and planned ahead or changed my build to overcome a certain threat. I found using invincibility and alerting a lot of monsters, so I can prevent unexpected friendzy attacks, made quick work of otherwise frustrating areas and allowed me to improve to the point where most of these stages, even those with a staggering 200+ monsters to kill, were more than doable within a couple attempts.
Unlike a lot of games, the journey is much better than the reward. Of the two I finished I was award two unique items. A sword for Paladrin and defense item belonging to Symposer, neither of which I use. While I can't see what the defense item does, Paladrin's sword gives five attack, one speed and 15 HP. To put this in a different metric, it's an increase of around 10 percent attack, .3 percent speed and about 7 percent health, though even with easily found items you can get one attack, one speed and one hit point, which makes the reward a little underwhelming.
Despite Champion Trials highlighting some of the best elements of Next Up Hero, it also highlights the worst. When you're basically doing 15 of the hardest stages, which is at least an hour or more investment, just to get an item that increases your stats by a couple percent, it probably isn't worth the headache. Especially when the difficulty makes no sense, to the point where both of the final stages combined were easier than the very first stage.