Deckscape: Heist in Venice is the brand new escape room style board game from publisher dV Giochi, designed by Martino Chiacchiera and Silvano Sorrentino. This is the third title in the Deckscape series, though there is nothing stopping gamers jumping into this version first, which pits 1 – 6 players against the clock. With puzzles in their way players will be participating in a heist. Taking up the role of thieves the mission is "simple" to sneak into a Venice based casino and pocket a 1 billion Euro chip. However, does Deckscape: Heist in Venice offer a lucrative gaming experience? Let's find out!
A deck of 60 cards and 1 secret plan are what the game offers players upon unboxing. For those used to Unlock! there is no app, let alone one which is required to play. Removing the contents from the box players setup the escape room experience by grabbing some paper, pencil, and a clock – be it a smartphone or not. In front of you isn't a normal deck of cards, so for the sake of ease do not start by shuffling the pack! Sorted into a specific order, the deck is placed within reach/reading distance of the players and the mission is nearly a go. Note, like with other escape room games it can be beneficial for players to be sat next to each other, rather than across a table, so everyone can read the cards the right way up.
You may have noticed a rulebook was not included in the contents of the box and this is because the first few cards step players through what to do. So players simply start off reading the front of card, number 1, and follow what it instructs, with cards indicating when to go to the next or when to flip them over. From here on it becomes hard to describe the gameplay without spoilers or examples, thus for the sake of the experience this will be extremely vague.
Cards are all double sided, with it being important not to peak at the face down side. Once players have completed a short starter puzzle and the introduction cards the scoresheet card appears. This is where the adventure truly begins, with players writing the current time onto the card starting the clock ticking: this scoresheet card also is where players will mark X's for penalties. Often players are instructed to a split out the next few cards into separate piles to work through, helpfully broken down into different colours. The use of colour doesn't seem to follow a logic other than to makes it simple to separate the cards but it works well for this process.
In Deckscape: Heist in Venice players will come up against a lot of small puzzles. These will come in the form of visual details on cards, using provided information and some pattern recognition. When the team has decided on the solution, the card is flipped over to reveal if it is the correct answer. This means that there are no second attempts of puzzles, if you fail a penalty is awarded and the solution is revealed.
Like the rest of the genre players will get two final times. Firstly, players will be able to see how long it actually took them to complete the mission. Secondly, players will know their time after penalties that are picked up during play, with each X mark adding 5 minutes to the clock. There are score breakdowns but for the sake of a mild spoiler let's just say there are multiple brackets to fall into with varied levels of success. Completing is completing no matter what you score, and you can always just tell your friends you forgot the number!
Listing the contents of the box seems harsh on Deckscape: Heist in Venice, as it sounds like too little content to fill an hour but it can. The artwork used, with hasn't been imaged for spoilers, is of a good standard and consistent throughout the deck; so you can draw some rough expectations of the visuals from the character cards. On top of this, the card design makes the gameplay a breeze to follow and even to reconstruct the deck at the end of the experience. This is a one time game, so if you have issues with buying a game for only an hour of gameplay the whole escape room genre won't be for you. However, with only the scoresheet card being actually written on/edited in anyway gamers are able to pass the experience on, to friends or family.
The puzzles are, on the whole, not quite as brain burning or head scratching as those seen in other escape room franchises, like Exit or Unlock!. This isn't nessacary a negative though, as it feels good to think a little but topple some puzzles, and the game keeps flowing. This opens up the opportunity for those that were put off escape rooms by struggling with others to give the genre another go. By extension this "ease" would allow younger audiences to get involved and get a sense of contributing.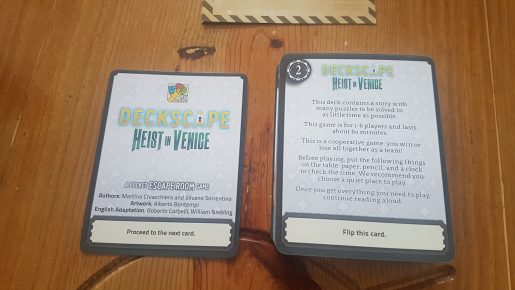 Many couples or even solo gamers enjoy escape room games but the way Deckscape: Heist in Venice is structured you'll miss out a little bit. This is due to players getting secret information. It isn't game breaking that you don't get the information, in fact the opposite is the case. When playing with a lower player count gamers will have to double up or more on characters. This opens their eyes to more information and potentially negates some of the communication and working together that the secret information mechanic would otherwise had driven. Playing with 2 players there was at least one potentially complicated communication based puzzle that was effectively skipped due to one player having the two halves of the puzzle.
The mission concept and characters make for a nice change from the usual escape room writing, though it is a shame that the location of Venice wasn't utilized more. The different characters each coming with their own information or "skills" spices the roles up somewhat, driving cooperation and stopping quarterbacking at specific points. Fans of the genre may be somewhat mixed. It's great to have an alternative style escape room adventure available but the puzzles are on the simpler side. Production-wise I cannot fault Deckscape: Heist in Venice, the cards are big and of good quality, something almost unnecessary for a game you'll only play through once. Whether you can justify spending part of your gaming budget to cover a game that is a one-time play is a personal decision. Nevertheless, look at Deckscape: Heist in Venice as a lightweight escape room experience and you won't be disappointed in this small package, which is a fun way to pass an hour together, something incredibly important for a cooperative title.
[Editor's Note: Deckscape: Heist in Venice was provided to us for the review by dV Giochi.]