Venus Next is the second available expansion for FryxGames' incredible science fiction themed, card drafting, hand management board game Terraforming Mars. Released in 2017 and developed by Jacob and Isaac Fryxelius, the Venus Next expansion adds in a segment of a new planet to start terraforming. The World Government wants Venus' atmosphere to be somewhat more hospitable and so the new parameter is added into the mix. However, does this take away from the red planet experience? Let's find out!
The first thing to note from the box is a new side board depicting a segment of Venus' atmosphere. Featuring a new parameter that ranges from 0 to 30%, this is how much of Venus can be terraformed (deemed a longer project than Mars). Unlike the regular parameters of oceans, oxygen and temperature, Venus' terraforming percentage does not need to reach the end of the parameter track, it doesn't need to be moved even once for the game end to trigger. This helps to not add bloated time to the game, being an optional extra for players to dabble with and not something that'll affect each and every game.
Alongside the new board and parameter tracker are tokens for a new Milestone and Award. For the milestone, called Hoverlord, you'll need a total of at least 7 floater resources on your cards before you can claim it. The award, called Venuphile, is similar to Scientist from the base game and awards points for the most Venus tags in play at the end of the game. Both of these new opportunities are added to the pre-existing ones. This results in 6 milestones and awards being fundable from the start of the game, however only the same number (3) of each can be funded.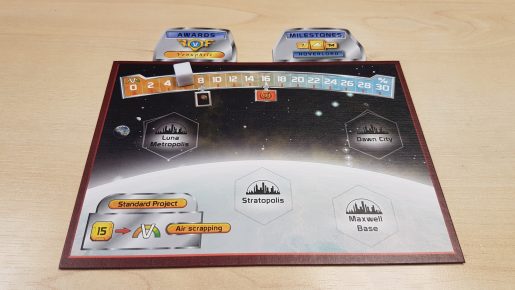 You're going to be shuffling in around 50 new project cards into an already large deck. This can mean even in a full game, especially with only 2 players, that only a mere handful come up. It can be a problem if you've picked up a corporation that revolves around the new Venus parameter, but no more than being a corporation that thrives on cities being built and there being limited numbers constructed onto the surface of Mars.
Venus Next adds to Terraforming Mars a new type of resource, Floaters, that players can acquire to gain points. In a similar way to animals or microbes, these Floaters are obtained by playing specific cards that allow you to store Floaters in return for points, often at a 2 Floaters: 1 Point ratio. Unlike animals and microbes there are no "take-that" style steal Floaters cards introduced. Therefore, once earnt there is no way of denying the opponent those points, like Fighters from the base game. Therefore, ending the game earlier is the only way to affect the way the points play out. By no mean do all of the new project cards follow this logic but a chunk show a lot of interactions between the new card set, with effects such as adding a resource to any card specifically from the Venus set.
Five new corporations are added into the mix in this expansion, with two available to always have shuffled in and three requiring the Venus Next cards to be included. The reason is that these three specifically refer to content added by Venus Next, the Venus parameter or Floaters. With only a few additional corporations some new strategies are opened up, and despite them seemingly viable option this will only be 100% determined after countless plays, with differing combinations with the original corporation cards. On the surface, after at least a game with each, none seem massively over or under powered. This being said, the Viron corporation, whom can use a single blue card action twice a generation, sounds strong on paper.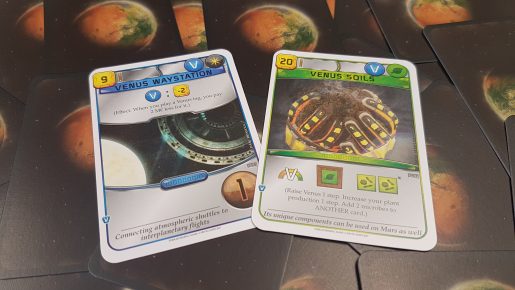 The Venus Next cards can easily be likened to the advanced cards included in the box. The new cards are marked in the same position on the cards, but this time with a blue V, to allow them to be removed from the deck. This is something I would advise for with new players, more so than the advanced cards. The expansion adds in a few more concepts rather than just expanding upon existing ones like the advanced cards do. On top of this with the base experience of Terraforming Mars being so enjoyable, why not spend that extra game introducing players into the base experience.
This enables new players to understand the importance of generational production and helps them gain some knowledge of what cards may become available, before other new projects are added into the mix. This isn't to say that the Venus Next expansion massively increases the difficulty of the title but let's go easy on new players… at least for one game.
With extra content comes a way to slightly speed up the game, through the inclusion of The Solar Phase. Note that while it is in the Venus Next rulebook there is nothing stopping this variant rule from being included with only the base game or with the Hellas & Elysium expansion. If when a round ends all the core parameters are maxed, then nothing special occurs. Otherwise, the current first player gets to advance one parameter a single step, gaining no benefit in terms of triggered track bonuses or tile placement bonuses for oceans. After this World Government step the play continues as normal starting with a new round. It speeds up the game so it gives players a choose whether or not to have a long or shortened game.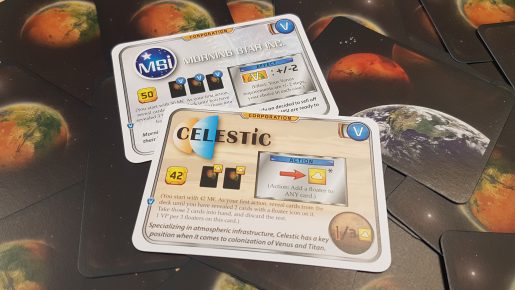 From a small box Venus Next offers exactly what I'd want from a Terraforming Mars expansion, despite being based around another planet. Yes, the project cards could be Mars orientated but by adding in a new non-crucial parameter, with cards featuring a new tag and resource type, different avenues and options are opened to players. While I'd not introduce new player directly into the experience including Venus Next, it spices up the gameplay enough without harming the core experience, and as an added benefit works harmoniously even when the previous expansion is included.
[Editor's Note: Terraforming Mars: Venus Next was provided to us by Asmodee UK for review purposes. The game is currently available on 365 Games for £24.99. It is also available from local UK board game stores, find your local store here]