Istanbul: The Dice Game (Das Würfelspiel) is a standalone dice rolling game from designer Rüdiger Dornin and publisher Pegasus Spiele. Released in 2017 the game sees 2 – 4 players spend around 30 minutes returning to Istanbul's bazaar, in an effort to collect rubies. Via dice, players will have to collect and utilize resources and money: however, has an injection of dice-based luck made the markets a better place to visit? Let's find out!
Setting up the game the main board is filled with rubies covering indicated slots, with the side of the board decided by the player count. Each player receives an action summary aid and a crystal, no player boards are needed. On a turn players will get 5 dice to roll, though this can be increased as the game progresses. Each dice is identical and features the four resource types (cloth, fruit, spices and jewellery which are red, yellow, green and blue respectively), a Lira symbol and a card symbol. After rolling the player can choose to spend a crystal to re-roll any dice they wish.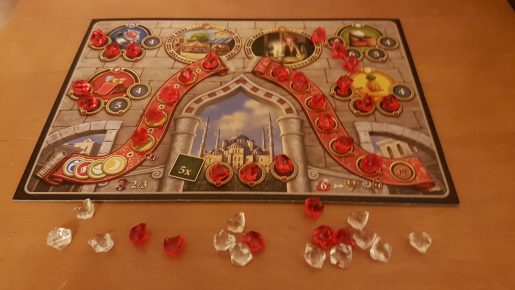 Once the dice have been rolled the player can perform 2 actions. Most of the available actions unsurprisingly revolve around the dice that have just been rolled. A player can decide to spend the symbols on the dice faces to purchase Mosque tiles, cash in all the Lira faces for 2 Lira each, take a card action or use the dice faces to purchase an available ruby. Players can also decide to use rolled resources to bank tokens for future turns or spend earnt Lira for available rubies.
Mosque tiles and cards work in a very similar way to the original, with mosque tiles giving permanent benefits, while cards only give an instant reward. At any one time 6 mosque tiles are available to purchase, with each offering special abilities; such as rolling addition dice, being able to perform additional actions or having an income of resources each turn. The cards are slightly different as when the card action is taken that number of cards are drawn and the active player is allowed to choose to instantly play only one of them. To make them slightly more interactive the majority also have a lesser benefit for all other players. For instance, the active player might gain 3 Lira and a re-roll crystal whilst other players gain one or the other reward.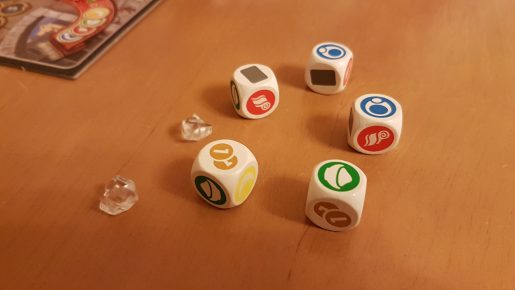 When buying a ruby there are multiple areas of the main board to purchase from. Each resource type has its own allowance, a central marketplace has rubies available for a mixture of resources and then there is a Lira only ruby market. Each time a ruby is purchased it is removed from the board and given to the player. The space where the ruby is removed from is always the next slot of a track, and once removed adds an additional cost or updated higher cost for the next purchase from that specific market. Therefore, being first to a market bags yourself a better price!
The general tactic of the game sees players grabbing a quick cheap ruby or two, depending on the player count, by saving up resources for a couple of turns. After this to increase their odds the Mosque tiles are purchased, with additional die tiles often snapped up quickly! Additional dice do not guarantee victory, still they can certainly help player to keep their options open. In a 2 – 3 player game the aim is to get to 6 rubies to win, while in a 4-player game you'll only need to gain 5 to be the best merchant. Once a player has the indicated amount the game end is triggered and finishes at the conclusion of the round. Ties aren't too uncommon, and these are split by Lira.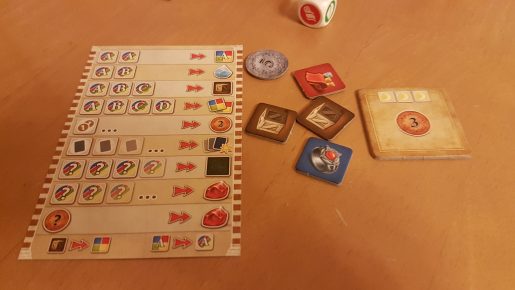 Players have a variety of options available to them. Whether they want to spend resources that could be used for rubies on Mosque tiles to play the long game or save a few resources in one round to spend on rubies in the next, both seem viable strategies. Cards have seemed to be an underused commodity in the games I've played to date, yet I don't think they can be ruled out either. Perhaps it is the perceived benefit of them is just reduced by the fact others are also gaining something on your turn, but you are gaining more.
Randomness has entered the markets of Istanbul with the genre shift to dice rolling. It is entirely possible that all a player needs is a couple of Lira to win the game, they roll the dice and get not a single Lira symbol come up. This is inevitable with dice, though thankfully there is a decent chunk of luck mitigation available to players. Extra dice increase the odds you'll roll what you want, some actions allow you to save resources for later rounds (making it almost impossible to get nothing from a turn) and the re-roll crystals have the potential to change a bad roll into a good one.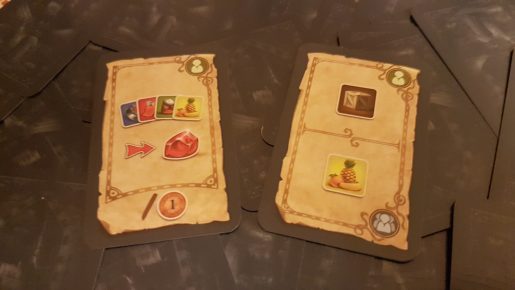 For the most part the use of iconography is brilliant at keeping the game clear what player have and can use. Like with the original Istanbul this does somewhat faulter when the cards get involved. While after a game or two these will also have been easily picked up, as they are not consistently used, there are still times where you'll have to dive to the rulebook to check what exactly it means. This can disrupt a learning game and is somewhat of a pet peeve when it comes to iconography.
Despite the name, aim of the game, the same art style and the iconography this is a completely different game to Istanbul. The shift from the unique worker placement, drop off and delivery mechanics to dice chucking constitutes a jump that is just too big for gameplay similarities. Gone are route choices but this doesn't mean players are unable to make decisions. Players will still be able to choose whether or not to go for Mosque tiles, that give them ongoing benefits, and what actions to take from the available dice. There is enough luck mitigation that even for those whom are seemingly hated by dice can have an enjoyable experience, just don't go in thinking it'll be the Istanbul many know and love.
[Editor's Note: Istanbul The Dice Game was provided to us for the review by Pegasus Spiele.]