Over the years we've seen a number of games based off The Walking Dead. Where Telltale found success, The Walking Dead: Survival Instinct is one of the lowest scoring games last generation. With Overkill, the company behind Payday, developing, there are reasons to be hopeful, especially with a strong showing at E3.
What stood out about the demo wasn't anything shown per se, but the fact things became difficult, even while playing with someone associated with the game. Typically, these people act as guides or sources of information to ensure you see the whole demo or at least limit frustration. Yet, in this case, they could only do so much before our squad was killed.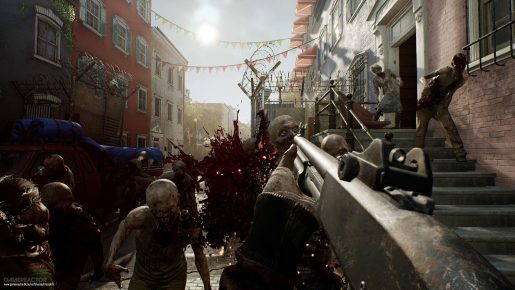 Before talking about the fall, let's look at the rise. Overkill's The Walking Dead is about managing resources, playing smart and assessing risk. After opting to go one way, we went through a zombie infested building for better loot. This started bumpy, everyone had to learn controls, ultimately leading to a smooth experience.
The first couple of rooms were cleared by bludgeoning zombies, collecting loot and being sneaky. Upon existing we found some traps, enemies and more, all of which were quickly dispatched. The fact these can be disarmed and teamwork is a must shows what Overkill learned from Payday, making it more than a mindless shoot and move experience.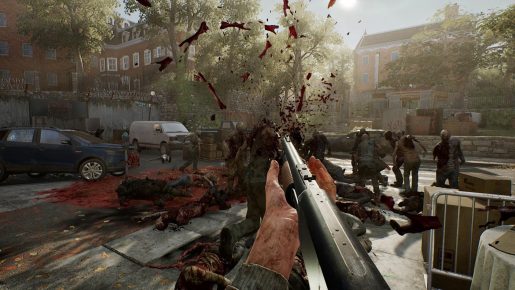 Issues started to appear when we reached a hostile building. We were told to snipe their sniper, though a missed shoot essentially caused us to fail the mission. Since their sniper was now aware of our presence, this quickly became a shoot out.
A few allies fell, we revived, some enemies rushed, but we defended, ending with most of us expending our ammo, taking several injuries and making a lot of noise. Unfortunately, we exceeded the amount that was safe, resulting in a group of walkers appearing. Without a way to quickly dispatch, others falling and a lack of resources, our journey came to a close.
While the final game will likely have better team composition, some kind of tutorial and a better understanding of the underline mechanics, it won't eliminate the consequences of playing recklessly. This will potentially make online frustrating with random players, though really fun with the right people. With a strong emphasis put on having different classes, utilizing their skills, fulfilling certain roles and more, Overkill's The Walking Dead looks to be a solid zombie survival game, over just another title set in The Walking Dead universe.