If you read our reviews, then you've no doubt read one or more of mine and, if there is one thing I consistently do, it's ignore graphics. There are a variety of reasons for this, with the only important one being the fact I use to have a 1080p television. Recently I upgraded to a Sony A8F, with the Z9F soundbar, and have marveled at how amazing everything looks. Seriously, anyone who says HDR makes a significant difference is not lying.
Anyway, when I go to E3 I like to visit some of the more unusual booths to see the latest headsets, keyboards, accessories and things of the like. One of the most intriguing was mCable, a device described as an "Image Enhancing Smart HDMI," since it suggested that I might be able to further enhance my experience without upgrading expensive hardware.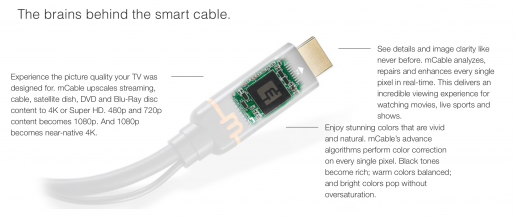 Surprisingly, their hotel demo was quite convincing. There they had two Samsung TVs, which I believe were NU8000s' (they weren't sure themselves), showing the same picture, with the one using mCable being noticeably better. This wasn't some kind of placebo effect or people being lead to believe it, nor was it simply using settings to their advantage (based off my experience with the product I don't think this is the case), it just offered a better picture. After the presentation I was given one of each cable, one for cinema and the other gaming to try out.
When I arrived home I was excited to try it out and spent a fair amount of time testing them out. One of the first things I noticed was the difficulty in examining images without having a second television to compare. There were a lot of times when I thought it made a difference, other times I didn't, ultimately ending with me concluding there is, in fact, a difference, after messing with older tech and other televisions.
Since I had a mere three feet (1 meter) to work with, I used a lot of my external devices to make up the difference. Whether it was my Game Capture HD, Z9F or the TV directly, the picture quality was improved. Unfortunately, it had no impact the quality of my captures, something that was extremely easy to verify, so don't buy one expecting it to change that.
As per the site, I was actually surprised and delighted to learn that you can maximize value by using a receiver or compatible soundbar. This means you can connect multiple devices, in my case two, and have both receive the benefit without buying as many as three cords.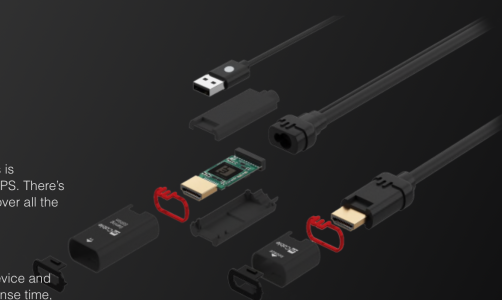 While it's clear the product works and the website indicates it's meant for everyone, I ran into some issues. First and foremost, the cable does not support high dynamic range (HDR), potentially Dolby Atmos (Dolby says the cord should support it, yet the sites FAQ says otherwise) and, despite saying it supports ARC, I could not get it to work.
As near as I can tell, my PlayStation 4 with just my 4K HDR Processor X1 Extreme and HDR was able to match or possibly even exceed what mCable offered. Disappointingly, the cord simply does not support it, since all I had to do was swap my mCable for the included HDMI to get HDR working on my PS4. Interestingly enough, this also resolved my issue with sound too. As mentioned above, the cord supports ARC, yet I could not get sound from an external source with the cable, with a simple swap instantly resolving my problem. It's possible something is wrong with the cable, as my other one stopped working after a couple days, but that isn't good regardless of what the answer is.
Despite the mixed reaction, mCable seems geared towards the more, let's call it budget conscious audience. In some ways it's unfair to use a $119.00 cable on a $3,799.99 television and act surprised it didn't perform as well as it did on a $800 one, but it says a lot that it still made some kind of impact. Like, when I use it on my Apple TV, the colors are noticeably better, not to the point where I'd suggest a cord that costs almost as much as the device itself, but certainly to anyone looking to put off upgrading, did not spring for a high end (or something like the X900F, a television that is considered mid tier, but is on the cusp) or has a set up where multiple devices will benefit.