Recently we've seen Hitman return to both critical and commercial success, making it an easy choice for a sequel. With so many elaborate situations, tense tasks and difficult objectives, it's hard to standout, yet Hitman 2 tries.
For the demo we needed to assassinate a race car driver, a task that has a number of concerns. Like all Hitman games, this can be done through a series of stealthy tasks, costume changes, well timed moves and more or you can skip a lot of that and just kill them. Given my lack of patience, I choose the latter, a choice I was told stood out next to other players.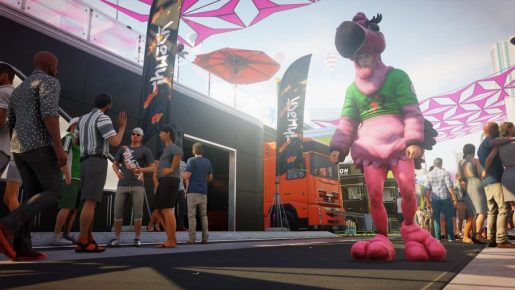 My hit started the same as any run. I needed to sneak inside, obtain a security guard outfit and make my way to the other side where a briefcase with my gun was waiting. It wasn't terribly difficult to avoid getting caught, it was actually a matter of avoiding a couple enemies, all of which had a handy indicator above their head, and using things like crowds or cover to my advantage.
After the fairly easy journey, I obtained my gun and was perched on the roof. The challenge here was killing the driver while they were moving. Thankfully, I was told to look for a specific car, as the target will always be behind them and to aim at the front of the car. Following a terrible shot, I got the kill, which came with a crash and fiery outcome.
Even though I am not the most well versed Hitman player, the run had enough action and stealth to keep interested. I was told the stealthy path is about twice as long, which, if it was as straightforward as this hit, wouldn't be bad either. Odds are later stages will be more demanding, or at least offer a greater challenge than a handful of enemies walking back and forth, but based off this I could see having fun, even though stealth is probably my least favorite genre.