Dice Forge is a dice rolling and dice building board game from publisher Libellud and designer Régis Bonnessée. Released in 2017, the game sees 2 – 4 players manipulating their chances, by altering the faces of the dice. Crafting the perfect dice requires sacrifice to the gods all in the hope of the right resources. However, are the dice gods favourable to play with? Let's find out!
The setup of Dice Forge is extremely fast, if you have followed the rather detailed storage instructions, something which is slightly time consuming but incredibly worthwhile. Rather than getting everything out of the box, the main board, feat cards, player boards and starting dice are retrieved and organised but the box stays in play, housing a crafted storage temple for the dice upgrade faces. Further limiting the setup is the fact that resources are kept track of on player boards, rather than tokens which limits the amount of piles to make.
At the start of the game players will have two basic dice, having a high probability of returning 1 gold, though there is a 1 in 6 chance on one die for the player to get 2 victory points or 1 moon shard and on the other a 1 in 6 chance to get 1 sun shard. Unusually, the starting player starts with more gold than the second player, whom has more than the third player and so on. This is because at the start of each players turn everyone will get a chance to roll their dice, twice in a 2-player game, earning resources even when not the active player. Therefore, the advantage of going first and having maximum choice is countered nicely by having less resources to work with on your initial turn.
As the active player after adding your newly claimed resources to your player board it is onto the action phase. At this point players have two choices: make an offering to the gods or take a heroic feat. Making an offering gains a dice face upgrade but is going to cost gold. By visiting the temple (the game box at the end of the main board) the active player may spend as much or as little gold as they wish. The only limitation is that on a single turn a player cannot purchase two upgrade faces from the same pool of identical dice faces, though players can buy more than one from differing pools. The early rounds will probably see a fair bit of offering to the gods as players upgrade their dice to better their chances of rolling shards or victory points.
Shards are vital as they are needed to take on Heroic feats, ranging from one Moon or Sun shard up to 5 of each type! Logically as with the dice upgrades the more a player spends the better benefit they gain, nevertheless getting cheaper feats or upgrades can help, and the choice is left up to players. To take on a heroic feat a player moves their pawn onto the designated pool for the feat they want to complete. If someone is already there they are ousted, set back to the centre and gain a free dice roll, so it is detrimental to oust others. Once there the player pays the denoted shards and takes the feat card.
While some of the feat cards offer an instant benefit, others trigger on future turns allowing a special ability such as an addition die roll or even spending gold for victory points. These abilities take place after rolling and before your action as the active player. In the introductory games a third type of feat card, featuring an hourglass symbol, is not included which offer abilities that trigger at specific times. An example of this is the Great Bear that rewards the player with 3 victory points when ousting or ousted from a location. All feat cards are beneficial, so players will have to determine what works with their dice.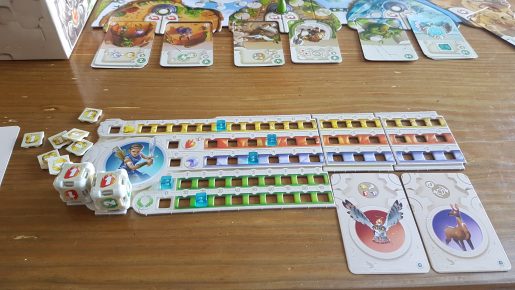 Play continues until the end of the 9th round, or 10th round for a 3-player game. At this point, points are summed from those earnt during play on the player boards with those awarded from feat cards. Unsurprisingly the winner is whomever has the most points, with ties splitting the victory. While 9 full rounds might sound a lot, the early rounds to fly by with players gaining limited resources. Thankfully, by the mid game players have often upgraded enough to start to see fruitful returns.
There is a lot of iconography used throughout Dice Forge that can be a lot to take in at once. This is especially the case for gamers whom haven't played games that use a similar level of iconography, such as 7 Wonders. For those players it might start out a little daunting and throughout their first game will see them inquisitively checking what symbols mean or diving for the rulebook. While there are a few edge cases, for the most part the symbols are intuitive and a lot are reused.
These repeated symbols will quickly become known by players; though the feats can still need double checking. Past a game or two though and players will have gotten a hang of them even without many previous plays of iconography-heavy games. As the game comes with a decent chunk of alternative non-introduction style feat cards the learning process can be minutely extended; nonetheless for the variability of the title it is a worthy sacrifice.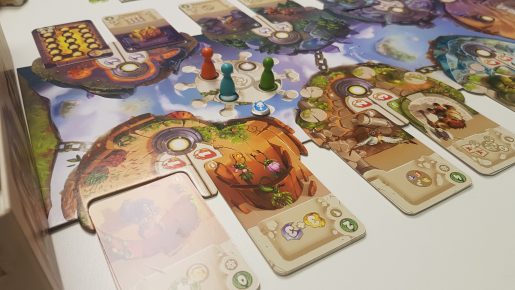 The dice faces give players choice and a way to mitigate luck. Nevertheless, as in any game based around dice randomness can still inevitably result in players experiencing an unlucky game, or even a swingy finish as someone manages to roll perfectly what they need. With an average game time, post a learning game, taking around 45 minutes, Dice Forge manages to not outstay its welcome, even if you're constantly rolling badly. The randomness also helps players to consistently feel like they are within reach of a miraculous turnaround of fortune, even against a more experience player with a "better" upgraded die.
A good insert is often something that goes unmentioned, a job done right that hasn't caused frustration. Dice Forge's insert, on the other hand, is one of the special occasions where it even deserves praise. Everything have an obvious place to be placed in the box and the components fit snuggly into the inserts. Most importantly of all is the fact that due to not having to muck around with a dodgy insert means Dice Forge has a super-fast setup and the most organised tear down I've ever seen in a board game, perfect for getting the game out in the middle of a gaming marathon or when squeezed on time. So, hats off to designers for the insert and the storage solution instructions included in the box; I can only hope other companies take note for the future.
Dice Forge is a perfect title for players looking to explore a "building" game with a difference, as long as they don't mind a spot of luck. It manages to perfectly fuse the concepts of a deck-builder, of purchasing better cards, with the fun of chucking dice. Cheers and groans will reverberate around the table on every players turn, not just from someone else grabbing that last upgrade die face you wanted but from your own dice rolling. The constant rolling is great for keeping players engaged throughout the game, having extremely little downtime regardless of player count. Being fast and fun is what dice are about, but Dice Forge manages to elevate itself above the rest offering amply choices and ways to alter your odds. This really is the best of both worlds and though the dice gods often punish me this is still an experience I'd recommend!
[Editor's Note: Dice Forge was provided to us by Asmodee UK for review purposes. The game is currently available on 365 Games for £28.99. It is also available from local UK board game stores, find your local store here]