Rising Sun is a brand-new area control and negotiation board game from publisher CMON, artist Adrian Smith and legendary designer Eric M. Lang. Set in feudal Japan the game sees Bushi, Shinto, Ronin, Kami (gods) and Oni (monsters) all being ordered around by your Daimyo leader. The game was Kickstarter in 2017, raising over $4 million, with the retail version recently being released. The retail version enables 3 – 5 players to form alliances, battle and control provinces, however does this spiritual successor of Blood Rage live up to the hype? Let's find out!
A game of Rising Sun is broken down into 3 main rounds (seasons) made up of three main parts: a tea ceremony, the mandate and worship phase followed by war. After setup of the province battle markers and season cards, each season starts with a tea ceremony which is effectively the time to make an alliance with a single opponent. This is often short and sweet but as the game progresses it can become more tactical whom you ally with.
The mandate and worship phase is where most of the gameplay, and build up, will take place. On a turn a player will draw 4 mandate tiles, choose one to use and return the other 3 to the top of the pile. There are 5 different actions that could be drawn, with 2 of each in the shuffled pile. When a mandate is selected it is commonly carried out by all players around the table, starting left of the active player, though with a bonus benefit for the active player and their ally.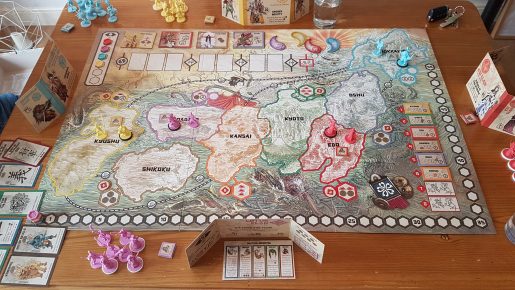 Recruit sees all players summoning a figure to the board at each of their strongholds, with Shinto able to be placed onto the board or Kami tiles; Allies taking this action can then summon an additional figure. Marshal means movement for all players, allowing each figure to be moved over a border or along a shipping route; this is followed by allies being able to build a new stronghold anywhere for 3 coins.
Train breaks the standard rule of who does the action first as the active player, followed by the others in turn order, gets to buy one season card; with allies able to pay one coin less. Buying a season card is one way for gamers to customise their clan to their playstyle: gaining perks, upgrades or monsters. Each season a different range of cards is available, and on top of this each game a different set of cards can be shuffled into each season for added variety. There have been some hotly contested cards including Way of the Shogun, which gifts the owner 3 coins going into the War phase, and Oni of Hate, which enables the player upon movement to remove a figure from the board from an opponent with less honour.
Harvest is non-eventful for the non-alliance players with everyone gaining a single coin; however, allies then get to collect the rewards for provinces where they have superior force. Force values are determined by the number of units a player has in a province, though season cards and some Oni see units having force value of more than one. Last, but by no means least, is Betray. This action sees only the active player able to replace two figures on the map, from different players, with identical figures. It then causes the active player to break the alliance they are in and if this has caused them to do so they lose honour.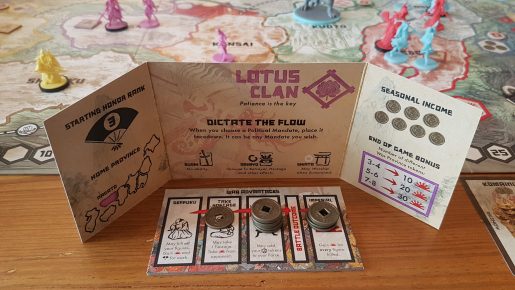 Honour is a key mechanic and doesn't come with a definitive value. Instead honour is always measured relative to the other players. For example, if you are top of the honour chart and you lose honour. This sees your honour token moved to second and the person in second place replace you as the most honourable. Therefore, whenever something causes a player to gain or lose honour it is all about swapping position rather than a distinct value gain. For the most part, high honour is beneficial as it splits ties. Though, when Oni monsters start to appear that it can even be detrimental to be top honour, with their abilities relying on having the least honour, giving another wave of possible strategies.
After the third, fifth and seventh mandates is a Kami phase. During these Kami phases whomever has most force (often Shinto only) worshiping each of the four Kami tokens gains a specific instant ability. These are small benefits, nevertheless they can build up if you control them for each of the three Kami rounds in a season. These bonuses include the ability to jump to the top of the honour track, gaining coins or even out of mandate movement, something which can be especially devastating just before the war phase. Note that regardless of player count certain players will get to choose more mandates than others, making them more attractive to ally up with, adding more important to the tea ceremony at the start of each season.
In the war phase the battle order of provinces is determined by the war province tokens randomly selected at the start of the round, with each battle occurring one after another. During the mandate phase players are free to march their troops about, from one territory to another. Players can trade Ronin and coins to bribe opponents or convince allies to make a decision. Once the war phase has begun nothing can trade hands and the regular 5 actions are gone. The action board is flipped over to reveal 4 combat abilities.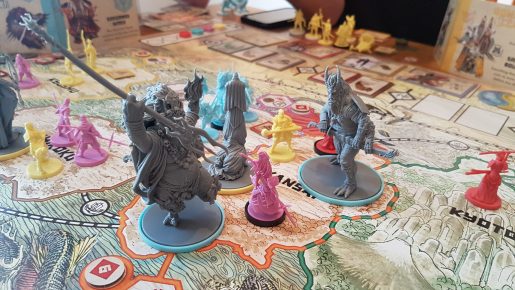 Think of the four available actions as a special ability you'll be bidding for. Taking your coins behind your player screen all involved players now bid coins for each of the 4 actions. Seppuku is the first to happen and will enable a player, if they want to, to kill all their figures in the province to gain victory point and honour per killed figure. The next action to occur is Take Hostage where the winner of the bid can take a single figure hostage, stealing a victory point from the owner and granting an additional coin in the next round. The third action, and the final one before battle, is to Hire Ronin, allowing the bid winner to place any Ronin tokens they have into the fight which add to their force.
Combat then takes place and is determined by whomever has the superior force in a province, with the winner claiming the province token. The figures of the losers of the battle get removed from the board, unless they are in an alliance with the victorious player. After the province has been claimed and figures removed the fourth action, Imperial Poets, takes place where the bid winner gains a victory point per killed figure, including those via Seppuku. The losers return any money spent bidding to the bank and the winner must then evenly distribute their spent coins among the losers. The next province battle now occurs and so on, therefore it is a perfectly logical strategy to get lightly involved in an early battle just to get a pay out of the coins for a later province.
Once all the province fights are over, it is onto the next season. Unintuitively all coins and Ronin which are left over are returned to the box, with a new income of coins then handed out based upon your clan. While troops and strongholds on the map stay from one season to the next, a benefit of winning battles, any figures placed on the Kami spaces are returned to your pool. If it is the end of the third season then scoring is initiated and the winner declared.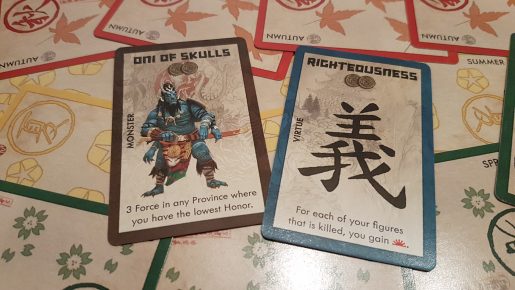 Rising Sun does perhaps suffer in a similar, but much lessened, way to Twilight Imperium where its scale will alienate potential players. With the scale of the board, the range of miniatures and the game length of 2 – 3 hours, some will look at the game and be daunted by the idea of playing. For all of its complexities Rising Sun boils down to lots of little simple choices. The mandate phase is full of only 5 different actions and the war phase boils down to bidding on 4 abilities that have consistent and straightforward actions. Get past the first round and it will have all clicked with players. After this point no longer does it seem complex, leaving the game to focus on what sets Rising Sun apart from its spiritual predecessor, Blood Rage, and that is the negotiation.
The negotiation isn't for everyone and due to this mechanic being slightly introverted could hamper your enjoyment of Rising Sun. If you might shy away from speaking up during the tea ceremony than you might come out of it without an ally. While it is by no means a necessity to participate in an alliance, allowing you to play Betrayal free of consequences, the benefits they can gift are at times glorious to receive. Just bear this in mind when working out whom you'd be able to play with, as getting everyone negotiating and interacting drives a lot of the enjoyment, especially when it results in a backstab or two.
It is hard to review a game such as Rising Sun, without mentioning the elephant in the room that is Kickstarter. This is the retail version, so comes without all the bells and whistles that backers of the over $4 million campaign received. Despite the smaller variety in Kami and Oni there is enough in the retail box to feel like there isn't something missing. The components are in places downgraded from the Kickstarter edition, which often replaced cardboard with plastic. Despite this the tiles and tokens are still robust and would be easier to celebrate as solid if it wasn't for the tantalising images of better quality pieces.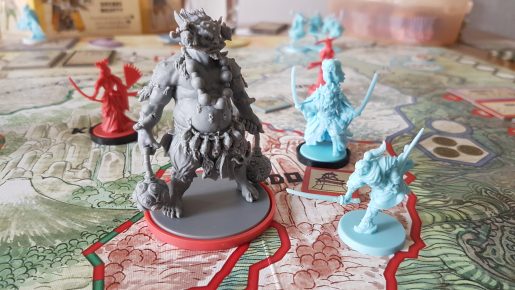 When it comes to the components the only major token improvement I believe would significantly benefited the retail version are the 3D strongholds as they would have more presence on the board, making them much easier to locate compared to flat cardboard tokens. The game is also less than subtle when it comes to the player count, which is reduced not just by an expansion but an unavailable Kickstarter exclusive clan. I'm all up for companies rewarding Kickstarter backers if it means games like Rising Sun existing but the exclusivity of an element like this that punishes latecomers leaves a somewhat sour taste to the experience.
Perhaps I am as culturally ignorant as CMON, with them accidentally naming one of the Kickstarter Oni after a man from New Zealand, but the components ooze Japanese style. The mythical monsters, the way the game board is almost more artwork than map, the coins and the terms all combine to make a fantastic visual experience on the table in front of you that feels like they are born right out of Japanese folk tales and culture. It captures the themes of what westerners perceive as Japanese, rightly or wrongly, to make something that is a fascinating, and awe-inspiring to look at, as it is carefully crafted.
Area control games often revolve around taking key locations and fighting to hold onto them until the bitter end. Rising Sun has area control mechanics, though players will constantly be flickering between regions not always to gain control. This is because players will actively sacrifice a unit, tossing them into a region where they have no hope of winning, simply to get a slice of the losers pie.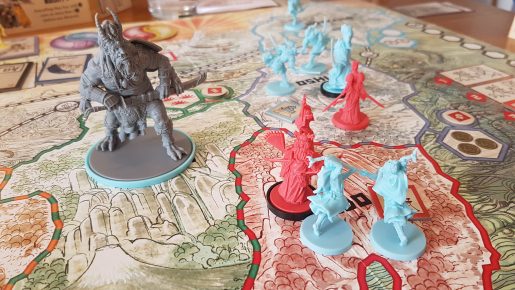 The fragility of the Oni, due to the hostage taking and other effects, makes them feel more like glass cannons, instead of the gigantic fear-inducing monsters they look like they could be. It is like they are sending mixed signals, like they are all for show. A brilliant, beautifully crafted show of plastic but for show nonetheless. This results in a game that will see players' hearts wanting to claim control of an Oni but their minds telling them that other options are better. Different strategies are available, alas it seems the more players want to win the less likely Oni are to take to the battlefield.
CMON have stated that a game of Rising Sun will take between 90 – 120 minutes. Especially for your first game, and probably subsequently with a player count of 4 and above, expect the game to go closer to 180 minutes than the denoted maximum. It is almost a case of as the time spent learning the intricacies decreases the amount of plotting and planning rises. Therefore, especially when including the setup and tear down time, I wouldn't recommend trying to squeeze a Rising Sun game into a time period of less than 3 hours. Rushing an experience like this would only lessen it for all involved.
With or without the Kickstarter bells and whistles, Rising Sun is a rather over the top looking game. The incredibly detailed miniatures are as awe inspiring as the beautiful illustrated map they stand on top of. Rising Sun is a board game that demands table space but offers back table presence that'll make players get not only interested in playing but excited from the very first time the lid is lifted. People may refer to Rising Sun as Blood Rage's spiritual sequel, nevertheless the connection is loose, this game is more about negotiating/bluffing than straight military might or area control. Making alliances and breaking them at the perfect times will see the game thrive, and if this sort of gameplay doesn't click with your group the game could fall flat. The game isn't cheap so make sure you have a gaming group that would fit that style of game, and then you'll have a great experience coming your way!
[Editor's Note: Rising Sun was provided to us by Asmodee UK for review purposes. The game is currently available on 365 Games for £98.99. It is also available from local UK board game stores, find your local store here]