Blueprints is a dice rolling, pattern building board game from Z-Man Games, originally released back in 2013. The game, by designer Yves Tourigny, sees 2 – 4 players become architects for around 30 minutes. Utilizing different coloured dice as materials, players construct structures based upon peculiar blueprints. However, is this game built on a solid foundation or does it all fall down? Let's find out!
Each round of Blueprints involves players gaining 6 dice to combine together on top of their blueprint card. On a turn, players will choose one dice, based on colour and pip value from the central pool. Once a die is chosen they must add it somehow to their blueprint structure. Each card has a different structure to copy, with differing heights and spaces not to build on, all of which utilize all six dice for the round. Once a dice is placed they must draw a new, random die from the cloth bag and roll it before play continues to the next player.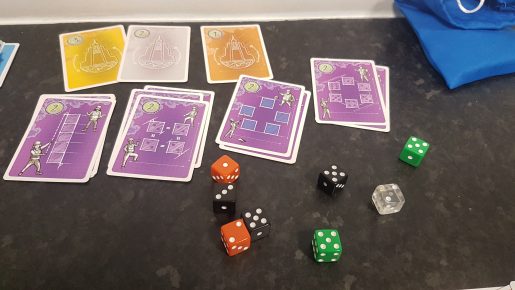 When it comes to placement, on top of the no-build spaces designated on the blueprint cards, dice can only be placed on top of another if the pip value is equal or greater. This means if a space has a die with a pip value of 3 on it another die of any colour with value 3, 4, 5 or 6 could be placed on top. This opens up some strategy when taking dice, making sure low valued dice go on the ground layer of a structure. In addition, it makes it particularly interesting when it comes to choosing glass dice, more on this when we get to scoring.
There are two ways to gain victory points, all of which are collected at the end of the rounds. Depending on the dice used and if they have completed the structure indicated by the card players will gain scoring points, with victory points awarded for first, second and third scoring point wise in a round. While building the structure is type independent and awards a flat 6 scoring points, player can gain a lot of scoring points via using the right types of dice in the right places in their structures.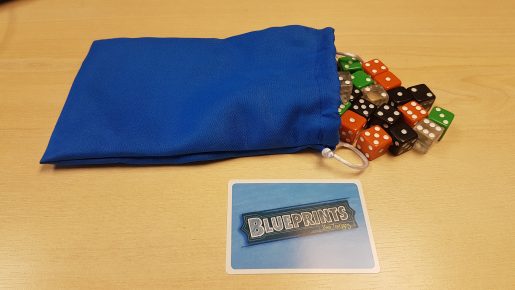 Green recyclable dice gain scoring points based upon the amount you've used; orange wood dice score 2 points per other dice adjacent to them, excluding diagonally; black stone dice score based upon their height and clear glass dice score based upon their pip values. It is best to remember that these are not directly victory points, instead they are trying to get you into the lead to claim gold, silver or bronze prizes for the round that award victory points.
The second way to score points will often see players disregarding the specific blueprints they are given. These point cards are awarded for a tower of 5 dice, 5 dice of the same colour in a structure, having pip values 1 through to 6 in the structure (face-up) or four dice showing the same value, with two of each award available. The individual rounds are all played the same however players start each with a new blueprint card. At the end of the game the victory points earnt are summed and the winner determined.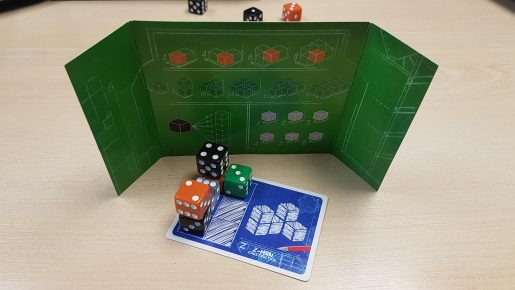 Right out of the gate it is important to note I'd only feel happy getting Blueprints to the table with player whom are confident with some quick mental maths. Players whom struggle with maths can feel pressured to quickly sum values together, detracting from their experience. In addition to this the scoring can take a lot of time, even though there are only 4 different types of dice that score differently. It can also confuse players when you explain the difference between scoring points and victory points, something that only further complicates the matter. Therefore, being comfortable with some mental maths makes the experience flow that bit better.
Regardless, the flow of the gameplay often gets disrupted. Not for the common reasons of understanding rules of placement, these are quick and easy to pick up; neither is it due to the way the four types score differently. It is simply the unintuitive action of once a die is used getting another from the bag and rolling it. The reason this disrupts the game, especially with new players, is because when concentrating on placing a die, to maximise the points it scores, replacing it with another is easily forgotten. On top of this even if you remember there is a moment per turn of unnecessary downtime while the next player waits to see the full dice pool to choose from. Allowing the next player to randomly draw and roll a die, during the previous players placement phase, cuts this downtime out and therefore is a permanent house rule when I play, to limit the impact on the flow of the game. Think of it like the house rule of drawing a tile at the end of your turn in Carcassonne, that can cut minutes off the game length.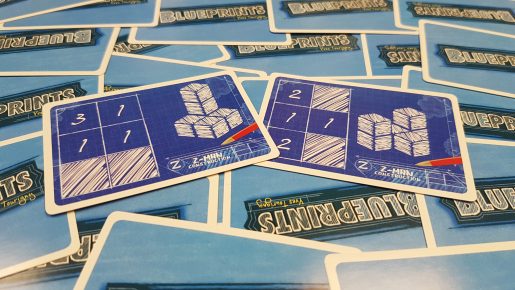 The production quality of Blueprints is perfectly decent, though isn't exactly anything special. The cards are of good quality and do represent the blueprints clearly but like the rest of the components do little otherwise to inspire love for the title. The dice, that are also good quality, feel underused; being rarely rolled and used more as building blocks than things to satisfyingly clatter across a table. There just isn't that special touch or unique component to draw plays to Blueprints.
Potentially this merely acceptable visual appeal sets the game off on the wrong foot but encouraging someone to play a family friendly style game is often made easier via the components. With solid but uninspiring components, Blueprints starts off as a good game and doesn't really manage to elevate itself out of that position. The gameplay is enjoyable to play and if someone wanted to try the title I'd be more than happy to get it down from the shelf. Alas, it won't be the first game to come to mind when trying to get someone excited about the hobby, nor will it be for those looking for a game with impactful decisions. Perhaps being a good game just isn't enough.
[Editor's Note: Blueprints was provided to us by Z-Man Games for review purposes.]