Telltale Batman: The Enemy Within has reached its conclusion with episode 5 called 'Same Snitch' being released to finish off Season 2. Batman had to fight a lot of his famous villains, but this time he faces ultimate rival as he has to now confront the birth of The Joker in this episode. The Joker used to be friends with this iteration of Batman, but things start to change and Joker's mind starts going crazy.
If you have not kept up with Batman: The Enemy Within, the previous episodes were very interesting because they allowed the player to become friends with Joker's alter ego 'John Doe'. This was a unique take on the Joker character because not only was he funny, but he acted like a good guy and trusted the judgement of both Batman and Bruce Wayne.
Throughout my playthrough of Batman: The Enemy Within, I was happy to see a unique and different iteration of the Joker character as I've never seen him act like a cheerful good guy before. In the previous episodes, I tried my hardest to get on John Doe's good side to make sure he stays being my friend.
Well at the start of "Same Snitch" things are very interesting because John Doe becomes a vigilante of his own as we see a very different side to the Joker character. This Joker idolizes Batman and mimics him by having black face paint as well as his own batarang and grappling hook. As Batman, you have to constantly tell him what it takes to be a true hero and this includes the "no killing" policy no matter who you face up against.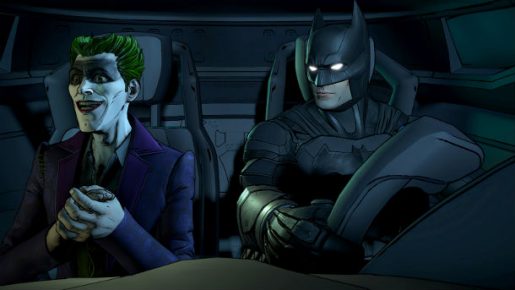 However, things start to change in the latter half of "Same Snitch" that kind of annoyed me because things took a more traditional and linear path. No matter how hard I tried to convince Joker to stay being a good guy, the player has no choice to affect the story as Joker will ALWAYS become a villain by the end of the episode.
This linear storytelling annoyed me because it gives you false choices and it's not really decision based. I usually like playing decision based video games that allow you to change the course of the story and characters, but here it seems as if you can only get one ending and that's the path of Joker still becoming a villain.
To make matters even more linear, Jim Gordon still has to partner up with Batman in this episode to take Joker down. This seemed out of place during my playthrough because when I played the video game, I made sure Gordon hated Batman's guts. It seemed weird he forgave Batman so quickly and decided to join up with him again.
The linear narrative is the only major thing I disliked about this episode, because everything else is a big improvement over past episodes. This episode thankfully allows you to actually play as Batman the whole way through so the action is fun and suspenseful. I found episodes 2, 3 and 4 to be quite boring because the player was forced to play as boring Bruce Wayne for the majority of the time.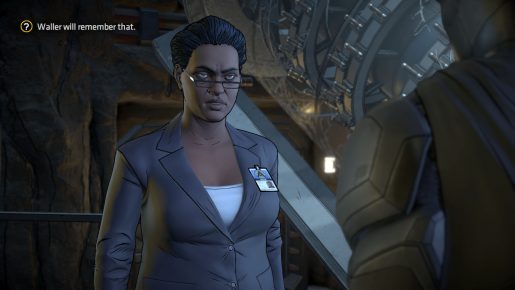 Episode 5 is an improvement mainly because Batman is able partake in lots of exciting boss battles throughout and the action scenes are cool to watch. That said, episode 5 never truly reaches the same heights as Episode 1 which is still by far the most exciting episode that Season 2 of Telltale's Batman has to offer.
However, the story itself is still somewhat unpredictable thanks to Amanda Waller because the player still has to guess if she's a good person or a bad person. Not to mention in this episode you really find out the true identity of the person that killed The Riddler back in episode 1!
Graphically though, nothing has improved with episode 5 "Same Snitch" because it still has the same outdated graphics engine that Telltale has been using for several years now. It's still quite jarring seeing lots of jagged edges playing a game on Xbox One X in 2018. Thankfully, Telltale is said to be using a new game engine in the near future so things should hopefully look better if a Season 3 of Telltale Batman is revealed.
Verdict
Overall, Batman: The Enemy Within Episode 5 – Same Snitch is still a satisfying conclusion to Season 2 with an exciting storyline that ties everything together. The only major flaw is that your decisions are not always going to lead to different outcomes which makes the latter end of the episode very linear to play. If you can bypass the lack of freedom given to the player, this episode is still worth playing through if you loved playing the previous episodes.
[Editor's Note: Batman: The Enemy Within Episode 5 – Same Snitch was reviewed on the Xbox One X platform. The game was provided to us by the publisher for review purposes.]