Sushi Go Party!, released back in 2016, is a sequel and expanded version of Phil Walker-Harding's card drafting and set collection title, Sushi Go. Published by Gamewright, the game sees 2 – 8 players enjoying a feast, including maki rolls, sashimi and green tea ice-cream. As with the original, the game length is pretty short, lasting around 15 – 20 minutes, depending on the player count. However, with over twenty sushi related dishes has too much been stuffed into the box? Let's find out!
A game of Sushi Go Party! is played out over three rounds. A menu of three Appetizers, 1 lot of Rolls, two Specials, Nigiri and a Dessert is preselected and those cards are taken from the box. Depending on the player count a number of Dessert cards are added into the mix each round, otherwise all of the active cards are shuffled. 7 – 10 cards are dealt to each player, with the amount again depending on the player count, though this starting hand won't be with you for long.
As with any card drafting game each player gets to choose one card from their hand to keep, passing the rest of the hand to the player on their left. Once everyone has chosen a card they are simultaneously revealed, showing others what card has been selected. You then pick up the new hand, choose one and repeat. This continues until all the cards have been played and players have a range of cards in front of them in a tableau.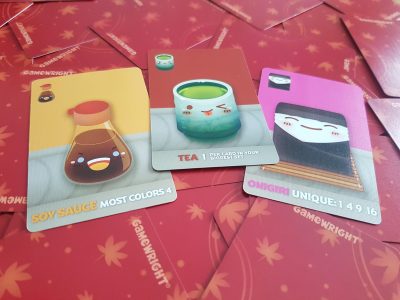 So, what's the point of all of these cards? This is where the set collection side of the game start to shine. Points will be awarded for different types of cards in different ways. For example, a Nigiri card will simply score 1 – 3 points, the exact number denoted on the individual card. The Tempura card type will not score you any points on their own, however collect a pair in a round and you'll get 5 points. There are other types which see the player with the most scoring and the player with the least losing points. Miso Soup are rather unique as players must announce when they reveal them, as they score points instant if, and only if, that player is the only one to play one on that turn.
Desserts are also unique as at the end of each round all other card types are reshuffled for the next round. Dessert cards are kept as they only score at the end of the game, with their scoring conditions listed on them. Once the three rounds are over, and Desserts are scored, the player with the most points is crowned the winner.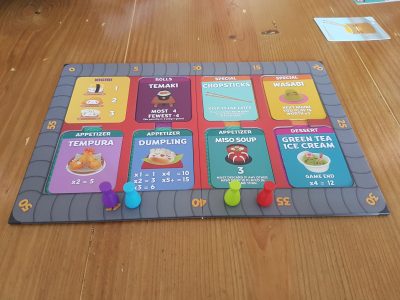 There is a speed to a game of Sushi Go Party! that enables the game to be played in a very short space of time, perfect for a lunch time game or between some longer, weightier games. This speed can be attributed to the simultaneous card selection process, so everyone is constantly doing something, staying engaged and eager to find out what their opponents have left them to choose from. For the first game or two, as new items are swapped onto the menu, players may take a little extra time reading what cards do. Not only does this speed up as players start to know the cards from game to game but as the same cards are reshuffled for each of the three rounds players pick up on strategies from round one and this carries over to later rounds.
There is a spot more setup time in Sushi Go Party! compared to the original. This additional minute is however such a minor inconvenience compared to what it adds to the game. In this minute players will be deciding on the menu that will be in play. Nigiri are always in play but everything else from the Appetizers to Desserts can be switched in and out. The rulebook has a range of suggested menus, including the original menu, enabling you to jump into a game faster without having to individually pick menu components. Players can decide to make their own custom menus though, immensely adding to the replayability.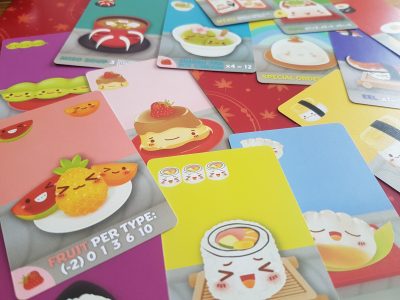 Say what you want about food having faces but it is a very family friendly theme. Even cards which require having more than your opponents, seen in other games as military power, maintain this light-hearted nature. The artwork plays on this family friendly, exaggerated Japanese theme down to the items available such as chopsticks and a takeaway box. When new players see the box often their first thought is of the food, not that they are about to learn a new game. This can be great for getting those normally opposed to something such as card drafting that can sound a tad tedious.
The cards are of nice glossy finish that should stay colourful and robust no matter how much the game hits the table, perfect for a game where there is a lot of shuffling. It would have been nice to find bags included in the box for the cards to protect them from bouncing around the box when transporting the game but that is nit-picking to some extent. The board is a nice double thickness to allow indentations to place the chunky menu tiles. All the way down to the player pieces the visual aesthetics have been considered, being the shape of small soy sauce like bottles. The only issue is while they are definitely functional, at times when multiple players are on the same score the room on the score track is too narrow. It ends up being easier to have one next to the scoreboard, so you don't have to balance it and potentially see it roll away.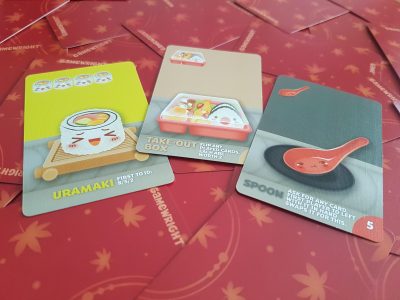 The original, Sushi Go, still is a solid fun experience. Sushi Go Party! takes everything that game does and increases the variety via the modular menu, thus you have a game with even more replayability. This enables the game to stay fresh, with each game having a different feel and different sets of cards to prioritise. Some I've played with have commented they'd not go back to playing the popular card drafting title 7 Wonders, which is very similar mechanically. In spite of this, I believe there are enough differences for both to warrant their space on my gaming shelf. Sushi Go Party! is a simpler game, though due to the speed and approachable theme it will most probably hit the table more often. It does exactly what you need and what it to do, utilize card drafting and not complicating the experience, allowing fun to be had from the offing.
[Editor's Note: Sushi Go Party! was provided to us by Coiledspring Games for the review. The game is priced at £22.99 on the official product page.]