Burnout Paradise came out back in 2008 and was a different beast compared to the previous Burnout games. This was because it was the first in the series to break out and become an open-world style of racing game. The game was successful on PS3 and Xbox 360, although sadly EA did not continue with the Burnout franchise ever since.
For some reason or another, EA decided to leave the series dormant while concentrating on the Need for Speed series instead. Due to the long absence, fans have been very vocal about wanting to see another next-gen iteration of the Burnout series. While we still have to wait for another brand new Burnout sequel, we have now received the next best thing and that's seeing Burnout Paradise get re-released on PS4 and Xbox One in this remastered iteration of the game.
Remastered and HD ports can be both really good or really mediocre. Final Fantasy X/X-2 HD Remaster and Final Fantasy XII: The Zodiac Age are good examples of remasters done well as both games look great on the newer PS4 machine. On the other hand, we have average ports that don't improve the visuals as seen in this month's release of Devil May Cry HD Collection on PS4 and Xbox One.
Thankfully, Burnout Paradise Remastered falls into the same category as the Final Fantasy remasters as this re-release looks awesome on new generation hardware. I had the chance to play this game on the Xbox One X on my new Samsung 4K TV and the results have to be seen to be believed.
Burnout Paradise Remastered runs at a blistering fast pace in 4K and a full 60fps throughout. I did not see any lag issues or any other dips in the framerate while I was playing this game for several hours. It didn't even matter how much traffic was on the screen or how fast I was travelling, the game still ran pretty smoothly and looks awesome.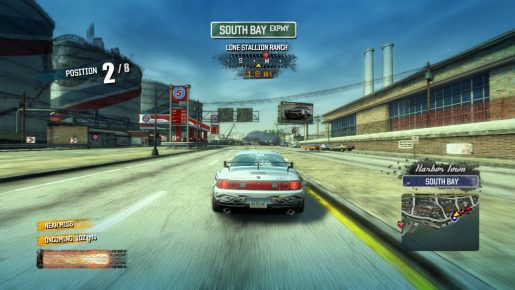 Not only does the environment of Paradise City look bright and colorful, but the slow motion effects when you see vehicles crash into stuff is also very admirable. The last Burnout game I ever played was Burnout 3 back on my old PS2, so it was refreshing to see how detailed the crashes have become in Paradise.
As great as the visuals are in Burnout Paradise Remastered, modern day gamers will notice that the graphics are obviously not on par with the likes of Gran Turismo Sport or Forza Horizon 3. For a PS3/Xbox 360 game that has been remastered, it still looks decent since it is a ten year old video game.
Speaking of Gran Turismo and Forza, some racing game fans might not like Burnout Paradise mainly because the entire video game only includes fake vehicles. Unlike EA's Need for Speed series, Burnout does not feature real life car manufacturers like Nissan, Toyota or things like that. Every car and vehicle in this game is from a made up fantasy.
That's not to say that the car selection is shoddy though because there are lots of vehicles that you can drive in this game. This remastered version of the game comes with all of the previously released DLC and there's still loads of vehicles that are playable. You can drive sports cars, muscle cars, police cars, some trucks and even motorcycles. Every vehicle pretty much handles very well and you will need some quick reflexes in order to avoid all of the incoming traffic as you drive at very high speeds!
Speaking of high speeds, the open world nature of the game means you can participate in lots of events that are scattered all over Paradise City. There's standard races, sprints and time trial events but there are also racing disciplines that are unique to the Burnout franchise. Road Rage has always been a favorite of mine as your main goal is to crash into other racers speeding around the city. Another thing that's highly enjoyable are stunt events where you can jump off ramps, drift or do other dangerous things to score large points.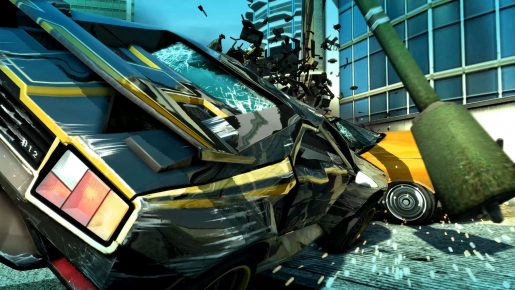 To make things even more chaotic, every vehicle has access to the boost meter. The boost meter is actually Nos that allows you to travel at high speeds for a brief moment of time. The game is helpful too because you can visit Auto Repair shops to fix your car or gas stations to refill your boost meter during race events if your car is about to die…
The only thing that really bothered me about the gameplay is the fact that the map can sometimes be hard to read. There's no racing line to guide you to where you need to go and sometimes I would take a wrong turn in the middle of a race. It's just a small gripe, but hopefully the map gets improved if EA ever wants to make a new Burnout sequel.
Despite the cluttered map, one feature that didn't need any improvements is the excellent original soundtrack. EA managed to retain all of the songs that were featured in the 2008 release and as far as I can tell, none of the songs are missing. It's so cool listening to the likes of Guns N' Roses, Faith No More, Soundgarden and other alternative rock music.
Verdict:
All in all, Burnout Paradise Remastered is an excellent re-release on both the PS4 and Xbox One. Despite being a game that was released ten years ago, this remaster modernizes the graphics and retains the excellent soundtrack and fast paced gameplay. If you love fun arcade style racing games, you must try and pick this game up now as it's a refreshing change compared to the more realistic racing games such as Forza and Gran Turismo.
[Editor's Note: Burnout Paradise Remastered was reviewed on the Xbox One X platform. The game was provided to us by the publisher for review purposes.]