After Until Dawn: Rush of Blood and The Inpatient, the UK-based Supermassive Games is back to bring another experience to PSVR. Bravo Team takes away the horror elements, focuses on the shooter aspects and mixes them with a military setting. Is this enough to get more players engaged in VR or is it just a bad excuse to show that the Aim controller wasn't forgotten?
The story in Bravo Team is really simple. You are part of a team of elite soldiers who are nearly finished with their mission to protect the president of a fictional country in East Europe. Following an attack from soldiers during the Civil War, the president and most of the squad are killed. The last two survivors now have to fight through a city ravaged by war and in hopes of escaping alive. The story is so bland and unengaging, that it's hard to care about the fate of anyone you meet. Honestly, it's one of the most forgettable experiences currently available on PlayStation VR.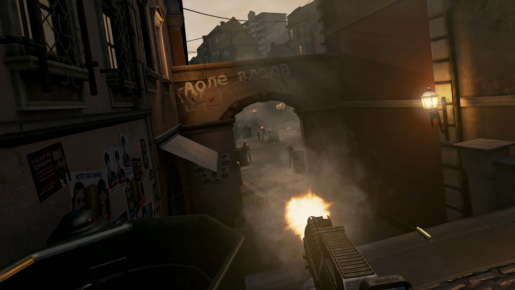 Similar things can be said about the gameplay. Bravo Team is a Light Gun shooter in which you choose where you want to hide. Equipped with a gun that is controlled by your movements, you need to fight enemies and survive. The cover mechanics are also really simple. Point the gun or your head where you want to go and then the game switches from a first-person to a third-person perspective. This change is often quite irritating, especially when you're down and facing the opposite direction, since it will face forward after being revived.
While you can pop out of cover by physically moving, there is no real reward for doing so. Enemies will just shoot on sight and all it takes is raising your weapon to take damage. So, you might as well just push the button to have better control over your actions.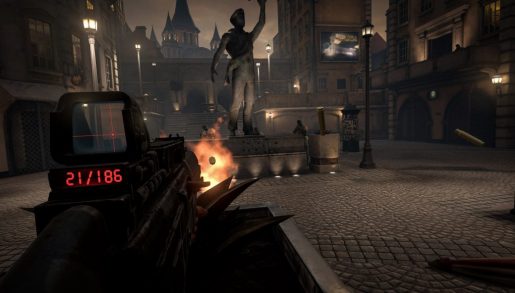 Every chapter boils down to moving forward, which is achieved by moving from cover to cover and gunning down any foes along the way. Needless to say, it doesn't take long before it feels repetitive. To make matters worse, enemies will continue to respawn until you progress to the objective, something that isn't always obvious, creating a more linear experience. With a lack of diversity between missions and no real replay value or even collectibles, with the main motivator to keep playing being trophies and arcade mode scores. However, trophies are disabled in arcade mode, meaning there is less incentive to bother chasing after higher scores.
Since Bravo Team is geared towards physical gestures, it works surprisingly well with the Aim Controller. It's definitely makes better use of it than Farpoint, despite relying on the same moves. However, the option to use PlayStation Move should be avoided. It simulates holding a gun in two hands and doesn't feel right without the Aim Controller. Those without an Aim Controller should stick with a DualShock 4, as Bravo Team plays quite well in a seated position.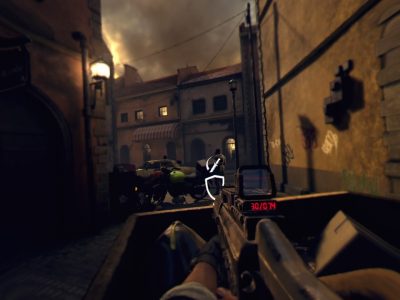 Among the many issues in Bravo Team, it fails to simulate realistic gunplay. There is no real feedback when shooting at enemies and even though guns look big and imposing, the damage they deal, especially the machine gun, is surprisingly low, with other guns, such as the shotgun, are too high. Shotguns also have an absurd amount of range, making it the best choice for any situation.
Bravo Team claims to be a tactical shooter, something that can be true when playing with someone else, it doesn't naturally exist. There is no need for tactics, since you can solve any problem by shooting at it outside of a small handful of situations. This makes it multiplayer more enjoyable, as the single player experience is simply forgettable.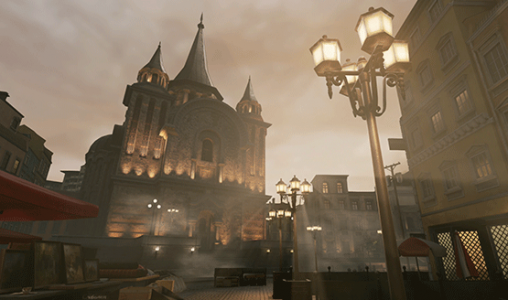 While the graphics themselves are quite nice to look at and some environments being sharp, character models tend to look pixelated. Regardless of how nice the world looks, it doesn't stop locations from feeling bland. It's just so boring after five minutes and when the game isn't brown, it's in a sterile place like a police station. The environment is also completely static and besides some barrels, nothing can be can interacted with.
Bravo Team is not a bad shooter and occasionally offers an immersive sensation, though that isn't enough. Most of the time it will feel like a bland game that is entirely too forgettable. With so many other titles showing what PlayStation VR can offer, there is really no need to pick Bravo Team over them.
[Editor's Note: Bravo Team was reviewed on PS4 platform. The game was provided to us by the publisher for review purposes.]