Sword Art Online Fatal Bullet is a brand-new action RPG from developer DIMPS and publisher Bandai Namco Entertainment, based upon the renowned anime series. Releasing on PlayStation 4, Xbox One and PC, the game features guns, monsters and lands to explore all from a third person view. With an original story by SAO creator Reki Kawahara, is Fatal Bullet worth a shot? Let's find out.
One of the first things players will notice is that there has been a shift in the combat style from Hollow Realization. Instead of focusing on avoiding attacks, triggering abilities and waiting on cooldowns, Fatal Bullet is more about finding that sweet spot that'll do more damage, while putting down some fire. Of course, the game plays differently depending on what weapon (from the large arsenal) that you choose. A large range of weapons become available from a laser sword like Kirito's to sniper rifles, with assault rifle and Gatling guns in the middle.
Combat is fast paced, although it requires players to slightly study opponents. Akin to the likes of Borderlands, enemies of all kinds will have a weak spot. Find this spot and exploit it to deal multiple times the damage. With damage numbers flying off your victims and a hectic like feel to running and gunning similarities are certainly there. Nevertheless, Sword Art Online Fatal Bullet does have movement to set it apart. Take the grappling system as an example; it enables players to zip around to get the best angles, something not possible in Borderlands.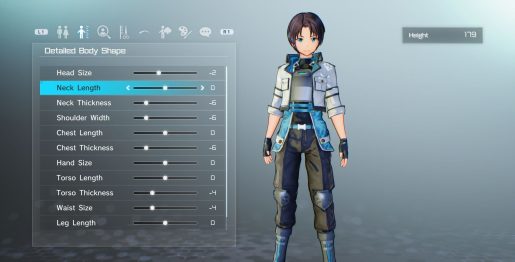 At the beginning of the story your player-created character, the main protagonist, will meet up with an AI, similar to Yui, called ArFA-sys. After this you'll be able to team up with other pairs to create a 4-person team. Treat this team as you wish, although it is very useful to have someone to take some hits while you pinpointed weak spots. I don't want to spoil anything else story-wise so, fear not, there won't be any plot specifics further than this: though fans of the series will be glad to know that some familiar faces will appear.
Players will find themselves inside the extraordinary world of Gun Gale Online, as seen in Sword Art Online II. If you've seen the show the storyline won't be a completely fresh experience, as part of the Sword Art Online brand is seeing that place for the first time. Conversely, it does give the player the feel of being the one avatar ready to save the day. There are choices to be made that allow the story to change slightly, though the majority of the differences, for replayability sake, will come about from how players choose to skills and abilities.
As with any good RPG, the game does manage to feel different depending on how you have spec'd you character. There are plenty of skills to unlock that can completely change how you experience the game. For example, on one run through you may have bullets that revive fallen allies while another you could equip a Toxic Gas Blast that deals poison damage to enemies. Then, there are skills such as Omnia Vanitas that enable players to perform two high speed steps in succession, perfect for adding more dodging into the protagonist's repertoire.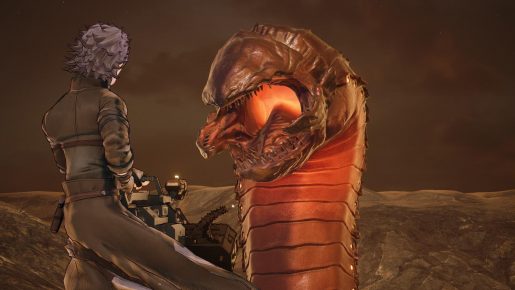 Players can even unlock the ability to be able to shoot when sliding forward. A few skills will cover most weapon types however the majority work with specific sets of weapons. This doesn't limit the player but will see it being more advantageous to stick to the weapons types that compliment your skill choices.
The visual experience naturally draws from the anime series, although from a video game perspective it is similar to Borderlands, more parallels with the amazing video game franchise. Some of this similarity is drawn from the damage numbers while fly off enemies, as they are hit, but take off the dark edged shading of the Borderlands textures and you're incredibly close to the visual presentation in Fatal Bullet. As a result, the game isn't exactly breathtakingly beautiful, though the style fits the anime theme well. The balance between the 2D anime and a 3D world has been struck perfectly, as to not alienate lovers of either style.
There is a decent amount of loading between small rooms, even backing out of what are effectively computer menu screens results in the reloading of the room. This breaks up the flow of the game and cuts through any immersion that has been created since the last loading screen. For a game that visually runs smoothly at 4K it is surprising the game hasn't been designed to cut out some of this wasted time. Also cutting through the immersion are some odd animation glitches, specifically to do with hair. Hair clipping through the character's body and clothing is present, though this is seen in many similar games. What is unusual is the way in some cutscenes long hair seems to wiggle and erratically move when the character is stood still, merely talking. It is rather distracting especially when reading the subtitles.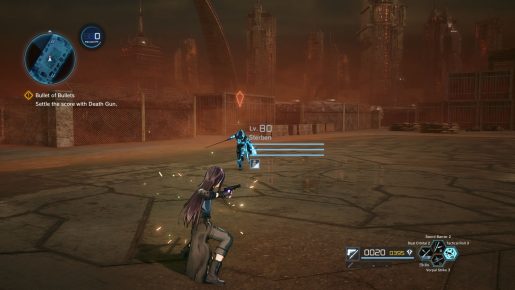 Perhaps the biggest issue I have with Sword Art Online Fatal Bullet is the controls. For the third person shooting and movement mouse and keyboard are much more responsive. When it comes to grappling around, combat rolling and scoped ranged attacks the mouse and keyboard combination works straight away. Alas, when it comes to navigating the menus controllers win hands down, offering a much less clunky and intuitive way to hop in and out of lists. Remapping some controls would certainly help, with right click being the default for going back in the menu, and 1 and 2 used to tab through menus.
This unintuitive approach continues outside of menus, for example Enter being used by default to interact with most of the game world. With most games, and with Fatal Bullet, players hands will be placed on the mouse and on WASD. To then interact with a chest, talk to an NPC or interact with a screen moving across the keyboard to press Enter just feels wrong. Remapping controls shouldn't be a necessity for a game to play nicely.
It would be hard to find an anime series better positioned to translate from the medium into a video game. The whole premise of Sword Art Online is that the main characters are in a game, controlling an avatar like form of themselves. While Sword Art Online Fatal Bullet doesn't capitalise on the massive multiplayer online portion of the VRMMORPG anime it's based on, the action and role-playing elements do shine through. The abilities allow players to customise their experience to one that suits them, much like how the characters of the anime are all unique.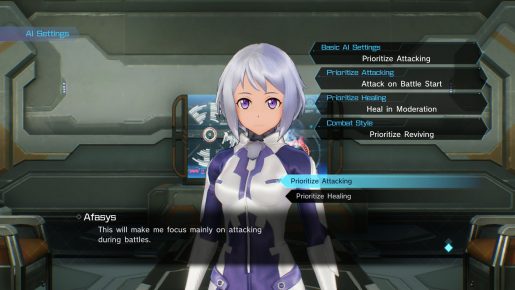 For all its clunkiness, control problems and continued loading there is something at its core that fans of the series will find hard to not enjoy. This is driven by the early interactions with the iconic characters of the franchise and sets the game world of Gun Gale Online up to be a memorable one. If you're a fan of Sword Art Online this could be for you but otherwise it might be worth switching out.
[Editor's Note: Sword Art Online Fatal Bullet was reviewed on Windows PC and PS4, with the game being provided to us by the publisher for the review.]