New York Slice is a set collection game by designer Jeffrey D. Allers themed around pizza. Utilizing I split, you choose mechanics, New York Slice sees 2 – 6 players having a shot at being the head chef in a pizza parlour. Pizzas will be made, sliced into sections and then claimed by players, though with the ability to eat slices straight away and specials what to take isn't always an easy decision. However, will players choose to keep this game on the menu? Let's find out!
In a game of New York Slice pizzas will be formed, split and then slices will be saved or consumed. Each round one player takes up the coveted role of the Slicer, with the rest first to grab a portion. At the start of a round the Slicer will grab 11 random slices from the box, or from neatly pre-shuffled piles. Laying these onto the table in either a clockwise or counter-clockwise way creates a perfectly round and normal shaped pizza. The Slicer player then divides the pizza into portions, equal to the number of players. The top most specials board is flipped over and added to one of these portions, though can be used as its own portion if the Slicer wishes.
Once divided, starting with the player to the left of the Slicer, each player claims a portion of the pizza. This leaves the last, leftover, portion for the Slicer themselves. When a portion is chosen the player must then decide what to do with their claimed slices. Each slice has a number on it. Take the extra cheesy number 11 slices as an example, at the end of the game the player with the most "11" slices gains 11 points, and there are exactly 11 slices of that type in the box. The numbers range from 3 – 11 so there is plenty of variety in the size of sets.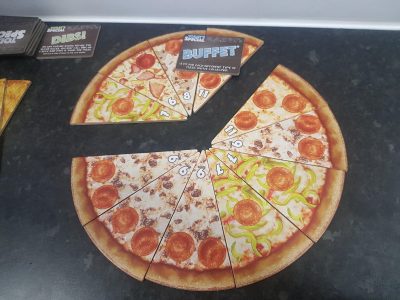 To add to the game, and give some additional player choice, some slices comes with pepperoni and dastardly anchovies. As soon as a slice is claimed with pepperoni on it a player can decide instead of saving it for scoring to eat it. At the end of the game the number of pepperoni on an eaten slice indicates the points earnt. Any anchovies lose the player a point unless they have been eaten during the game so there is somewhat of a trade-off keeping tiles with them, when going for sets.
After 6 full pizzas have been baked and split between players (5 in a 5-player game or 4 in a 2-player game) then it is time to get the bill, or at least the scoring sheet. This does to some extent limit the mathematics and calculations that are about to take place, but most will still reach for a calculator. Working along the numbers you can circle whom has the majority of each and there are specific boxes for points earnt/lost by special boards, eaten pepperoni and collected anchovies. It could have done with a little extra writing room. Nevertheless, the pad of themed score sheets is a nice way to round the game off, and means that the scores can be read out adding tension while the winner is announced.
Thought has definitely been put into balancing the game, no matter what the player count is. The key feature is that a pizza is constructed from 11 slices, which results in a pizza that can never be split into completely even portions. This is the brilliance behind the I split you choose mechanics, no matter how many players are round the table. Even for 2 player games, a player count I was surprised the game still worked at, there are balancing features such as the special board Dibs! tile being removed. From Dibs! coming up in larger player count games I'm sure it could be over powered but clearly it was something that popped up in playtesting. It's little things like this that show the development team has put the effort in.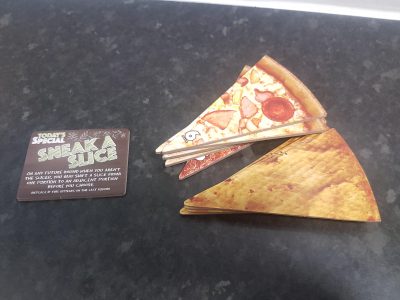 Sometimes in board games there is a component, rule or feature that makes or breaks the game. For New York Slice there is a "make" element and that is the special boards. They take what is a simple set collection concept and add in an extra wave of choice. All of a sudden, a player can choose to throw their current strategy out of the window to grab a powerful special board, gifting an opponent the slices they need. It is this increased level of consequences from choices that adds a new layer of intrigue into an otherwise simple I slice you choose game.
Some specials are stronger than others. You Like Anchovies! has the potential to be hotly wanted, while Day-Old Pizza will make a decent portion look a lot less tempting, coming with a -2 points de-buff. It would be nice to have seen some kind of super special board that extends these round rules to entire games. This would have just allowed each game to have its own feel, rather than individual rounds. On top of this, 14 special boards may sound like a lot of variation. However, as up to 6 come up in a single game it isn't long before you've seen all the tiles. Special boards coming out in different orders does help but repetition does start to creep in after a couple of games in a row.
This is perhaps why I'm hesitant to recommend New York Slice, especially to a player with a limited games collection. Long term the replayability is there, as it is a light game that is easy to grab of the shelf and get played. However, this is not a game to replay over and over again in the same game night. One game to another there just isn't enough difference to keep players hooked past a couple of games.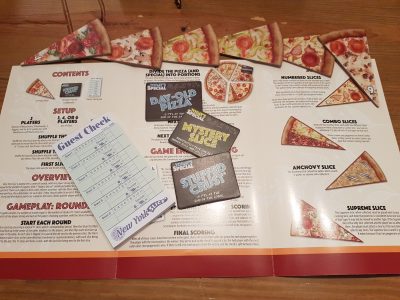 The production quality is brilliant from start to finish. The box lid opens up like a pizza box, starting off the experience perfectly. Next up is the rulebook which is designed and written to be reminiscent of a menu. Then, there are the pizza tiles which visually look like slices, even the backs are oven baked bread like. The artwork isn't the only aspect of the tiles to be praised, they are think and robust, with a semi-shiny finish to them that slightly protects them but doesn't result in lots of light reflection. The special boards are designed to look like chalk boards, thus fit the consistent theme. Finally, the experience is wrapped up with a waiter/waitress's styled scoresheet to help the calculations that determine the winner. Each and every aspect is drenched not in grease or cheese but in theme.
New York Slice is a great game where players will agonise over each and every choice. This is generated by the core I split you choose mechanics but is exaggerated by the special boards, which add something new to the mix. New York Slice is an incredibly thematic title, screaming pizza from every component, just don't try to eat the tiles. It may not stay long on the table but it will keep returning from the shelf. At the end of the day, New York Slice is a board game that is good for casual sessions, where you're looking for something quick and easy. Unfortunately, the gameplay is less exciting for those engrossed in the hobby looking for a meatier game.
[Editor's Note: New York Slice was provided to us by Asmodee UK for review purposes. For all board games check out 365 Games. Find the game at your local board game stores, find your local store here]