Machi Koro is a city building, dice rolling, card based board game from designer Masao Suganuma and publisher IDW Games. Taking around half an hour, Machi Koro sees 2 – 4 players elected as the Mayor of the city. With this need found position comes a list of demands from the city's citizens whom require specific buildings. Buildings will be built, dice will be rolled to trigger building abilities and a fair amount of coin will be spent. However, is this a city gamers will want to revisit? Let's find out!
Players will start out with 3 coins to their name, a solitary wheat field and a bakery. They have in their possession what are effectively blueprints for the four required buildings, for the citizens to be appeased. These are, in increasing cost order: a train station, a shopping mall, an amusement park and a radio tower. Your aim is to grow your humble hamlet into the great town of Machi Koro by being the first to construct all 4 of these objective buildings. A simple aim but it won't always be smooth sailing.
Turns are short and simple in Machi Koro, with a player following the same three stages each time. First you roll the die or dice, as after purchasing the Train Station players can choose to roll both dice and combine their values instead of rolling a single die. The value on the die, or dice, then triggers cards of that value, so rolling 4 and a 2 activates purchased cards of value 6. Cards comes in four types, ranging in numbers from 1 – 12. These four types are Blue Primary Industry, Green Secondary Industry, Red Restaurants and Purple Major Establishment cards.
Each type works slightly differently, with cards dotted across the 1 – 12 number spectrum. For most of the cards you can build as many of each type as you wish and duplicates will all trigger if the number is rolled. Blue see coins earnt from the bank on anyone's turn, even opponents, when the value is rolled. Green are similar, again earning coins from the bank, but only trigger on your turn. Reds see players taking coins from the active player if triggered. Finally, Purples are powerful exceptions to most rules as they are all of value 6 and only one of each can be built.
Once the dice has been rolled and cards triggered in order (Reds, Green and Blues then Purples) the active player then is able to purchase a single establishment from the supply, or one of their landmarks. The game continues until one player has managed to build all four of their landmarks, which each give a specific player power, such as rolling two dice or taking additional coins from Red Restaurants. Once all four are built that player instantly wins and was the best mayor.
Early game players will only have one die to roll so cards such as the "1" Wheat Field or the "3" Café will see a quick return. However, as the game progresses the higher values cards can be much more beneficial. Take the "11 – 12" Fruit and Vegetable Market for example, for every wheat field you own you'll get 3 gold when it is triggered. Stack up on wheat in the early game and roll either 11 or 12 late game and the money will be flowing in. Another change between the offset and end of the game is that players will have had the opportunity to purchase Red cards. These add in a slight element of take that into the mix. Some will love this inclusion, some may hate it. Rest assured like the rest of the cards you could see them brought and not activated in an entire game.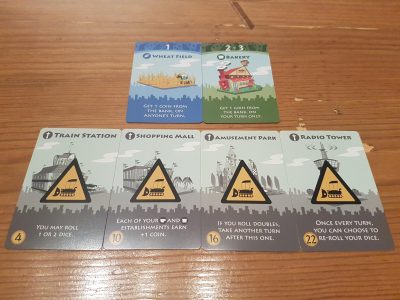 Player choice is in the game in abundance, which buildings to buy, do you stack up on individual numbers, even the order to buy the 4 objective buildings. Alas, despite all this choice players have very little control over the outcome. Success or failure boils down to the rolling of a die or dice. Stacking up on a number does give the feeling of a huge pay-out on a roulette wheel, as you've played the odds. It gives the player a huge surge of pleasure when this happens, as you praise the dice gods, while they are cursed by your opponents. It is this banter if you will find dice games create, regardless of the luck aspect they give tension whenever the D6 bounces across the table. They are used for their full fun factor and playing the odds is very much prevalent in Machi Koro, and this might be enough to put some off.
When it comes to the artwork, it is good not great. Cards have a nice art style and a clear colour palette, with the individual building types each have their own artwork. They are far from bad in quality but are just lacking a little flair. While the artwork does little to inspire the card design is something akin to a brilliant user interface. Colours are used to split the differing card types and the layout allow them to be stacked to minimise the amount of table room used. They maintain the simplicity that the game could have easily ruined by using clunkier cards.
There is a line in the rulebook that truly captures the sense of the game: "They say you can't build Rome in a day, but Machi Koro will be built in less than 30 minutes!" It is incredibly fitting as the game is played, more is built, the city of Machi Koro becomes more varied and there is a sense of an expanding city. Players may fall into a bit of a repetitive rut when it comes to building their own Rome, with game to game players looking to purchase what worked for them last time. This can be easily broken up, especially when everyone has the same idea of what worked well.
After a few plays the game does seem to be a little samey, and with luck of the dice being a major factor it's hard to work out strategies. Due to this, the game doesn't really evolve with players experience. At the same time, games such as King of Tokyo strongly rely on dice rolling. Though, they get around the dependency on luck though by having more dice and re-rolling. Having the choice after rolling two dice to treat them as combined or separate may help, though would then make the cheaper cards much more powerful.
The game effectively is over as soon as a player builds the radio tower. Costing the most it is 99% of the time left to be the final landmark to be purchased. As a result, it's player power of re-rolling never gets a chance to shine. It would potentially shift the balance of the game, and drag out the experience, but the ability to re-roll even only a few times in the game would help to ease some players frustrations.
Machi Koro is designed to play for 2 – 4 players, yet it shines as the player count increases, to the extent I'd rarely get the game out for only 2 players. At this player count it can be extremely frustrating to be the "unlucky" player, constantly on the bad side of the dice rolls. This is a situation only amplified if one player stacks on the Red take-that cards. What can be a light-hearted dice roller at max player count suddenly becomes an experience that can easily have a runaway leader, and at this point the fun starts to seep away. Keeping the player count up stops that feeling of being targeted and seemingly allows players to laugh more about their own misfortune.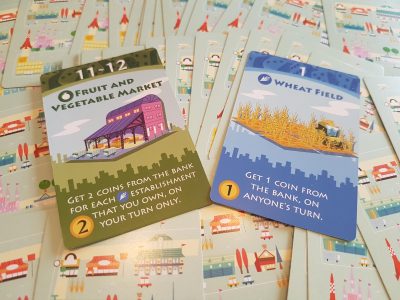 Machi Koro has gone down best with gamers whom would be consider themselves casual. The low weight works well at getting them quickly into the game and if you go in with an attitude of having fun playing, rather than trying to win, the light-hearted appeal will certainly resonate. As with any dice based game the odds are almost evened out between experienced and non-experienced players, it'll just take them a touch longer as they read the card abilities. The theming is pleasant and colourful so it does grab people's attention even if the cards don't feature great illustrations upon closer inspection. If you can look past the randomness of the dice there is fun to be had, at least at the max player count.
[Editor's Note: Machi Koro was provided to us by Asmodee UK for review purposes. The game is currently available on 365 Games for £20.99. It is also available from local UK board game stores, find your local store here]