Just Push Start has recently been able to get hands on with some top of the range PC peripherals from Snakebyte, in the form of the Key:Board Ultra and Game:Mouse Pro. We'd like to thank Snakebyte for the opportunity and without further ado here is what we thought of them!
Snakebyte Key:Board Ultra
This is Snakebyte's top level entry into the mechanical keyboard market, which they state is "for unparalleled, professional PC gaming". This keyboard is built to last, designed with an aluminium face plate, Mechanical Outemu Blue switches (which claim to have a colossal lifetime of 50 million keystrokes) and a long non-fray cable.
Built of metal the keyboard is robust and pretty cool to the touch, in both senses of the word at this time of year. Coming from using shiny or matte plastic keyboards this is instantly noticeable, especially around the arrow keys and number pad area. These areas the black metal is fully exposed and on show in all its glory. Below the letter keys is a more comfortable rubber coated hand/wrist rest. Despite being of rubber finish it does feel very plasticky to the touch, a slight negative for the keyboard. This is naturally a personal decision but I've found the height of the keys a little high. Adding a cushioned wrist support negates this issue entirely and is supposedly better for you in the long run.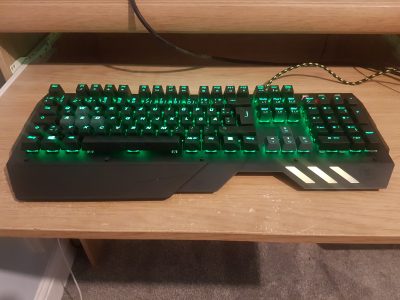 The main sell of the Snakebyte Key:Board Ultra is that it's a mechanical keyboard: designed to give gamers that feedback they crave when hammering away at the keys. The Outemu Blue switches, which are effectively a copy of Cherry MX Blues, are on the noisy side (Compared to the like of Cherry MX Red switches). Mechanical keyboards are often loved for the chattering noise the keys make as the user types. Alas I found this was less chat, more shout when it comes to typing noise. This is a personal grievance though, even red switch keyboards I find can be too much, not an overly popular opinion.
The keyboard we got hands on with was of German layout yet my fingers still easily glided across the keys, making typing effortless. While I'm still coming around to the noise of the switches the feedback when typing, even playing games, on mechanical switches is a real winning feature. There is something about the tactile click that is strangely satisfying.
Making the product that bit more satisfying are the LED backlights and key illuminations. They take an already well designed looking keyboard and make it look stunning. It is extremely easy to cycle through the available colour options, of which there are 7. Simply holding function and tapping right on the arrow keys sees a new colour pulse across the keyboard and keys. Gamers can also slightly adjust the brightness of the LED lighting in case sitting in a dark or light room and utilizing Scroll lock, or "Rollen" key, you can instantly turn the illumination off. I'm unsure why you'd want to turn it off while playing, it's a major draw of the product, but the option is there.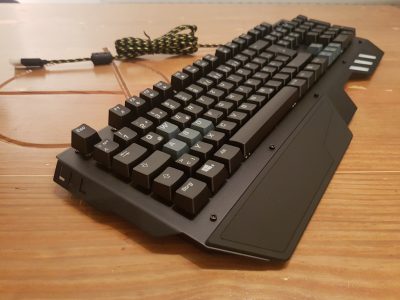 Plugging in via a single standard USB the Key:Board Ultra is a perfect example of a plug and play peripheral. Visually it looks stunning and well designed and the visuals do not mask an inferior product. The aluminium face and the mechanical switches (even if they are noisy) combine together to make a keyboard you don't need to worry about when pounding away at the keys. It is built to last and built to be comfortably used by gamers for a long time.
Snakebyte Game:Mouse Pro
The Game:Mouse Pro is a 5 button mouse from Snakebyte, with 2 dedicated buttons for adjustable dots-per-inch (DPI) settings and LED glow options. The mouse has 4 cyclable DPI settings (800/1600/3200/4000) adjusted via the dedicated DPI button. It doesn't go up to 7500 DPI heights of the seriously pro-gaming mice but even 4000 seems a little extreme sensitivity wise. The other dedicated button is for cycling through the 7 different colours the LEDs light up in, slightly changing the appearance of the mouse. This is a personal preference of which to choose, and it can actually be a little annoying clicking through colours after accidentally changing it after a vigorous scroll.
The main 5 buttons can be easily used with in-game configurations when mapping controls. The layout of the full seven buttons are: a left button, a right button, a clickable scroll wheel, the LED colour button behind the scroll wheel, the DPI cycle button located just behind that and two thumb buttons on the left side (Mouse4 & Mouse5).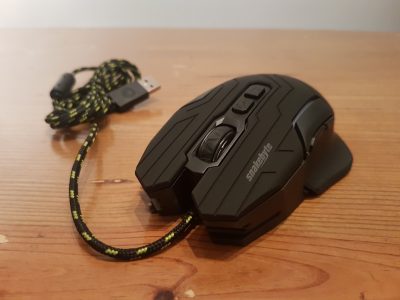 Five buttons for many, including myself, is the ideal for a solid gaming mouse but is integral for an everyday mouse too. It makes things like surfing the net easier with back/forward buttons and allows you to get a couple of controls off the keyboard in games. For example, remapping the grenade thrown key to one of the side thumb buttons is perfect for reducing the movement away from WASD. This just makes FPS games more comfortable to play for hours on end.
I've tested the mouse whilst playing a variety of games, trying to cover a range of genres, from Destiny 2 through to The Witcher 3 and across to Dota 2. As of yet, I have not found a genre the mouse produces a weak, immersion breaking experience. Conversely, there wasn't a genre in which the mouse performed better than another which leads me to the conclusion this is a solid all-round gaming mouse. No matter what type of game you're playing it stays consistently responsive, which is exactly what gamers need.
This is a fully sized mouse that feels large to hold, whilst not being too bulky. This stops you hand cramping around a small mouse when using it for hours on end. This is a rather ergonomic shaped mouse, built for a right-handed user, that is surprisingly light given its solid build and visual appearance. The build quality is on show with small touches like a rubber coated scroll wheel and long braided cable that show attention has been spent, and gamers kept in mind.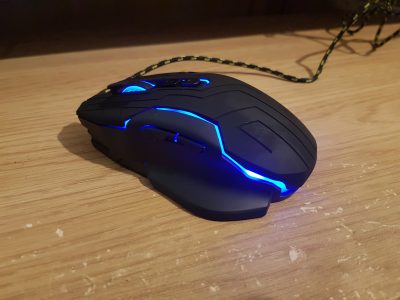 Every mouse needs a flat surface to work well but the Game:Mouse Pro thrives when it comes to a perfectly flat surface. It glides across it with enough ease to never pose an issue, whilst not flying off your desk. For those with a huge mouse mat this will be perfect. This may sound an odd issue to have but when a surface isn't perfectly flat you can feel the bumps through the mouse, more so than with other mice on the same surface. Naturally, this is not a huge commonplace issue but noteworthy enough for those not always a perfect desk.
Overall, the Snakebyte Game:Mouse Pro delivers a responsive mouse that glides comfortably in your hand. Despite marketed as having 7 buttons, this is realistically the 5-button setup most gamers will use. This isn't the 10+ MMO button configuration but for the standard gamer they simply won't need that. The parts of the mouse that your hand touches are all shaped to accommodate it, making this a solid entry into the gaming mice market from Snakebyte. A stylish, LED lit, comfortable all-rounder.