Rick & Morty Anatomy Park is tile placement game based on the iconic episode of the hilarious show Rick & Morty. The game sees 2 – 4 players constructing a theme park inside of a homeless man called Ruben. For those uneducated about the experiments of Rick, for some reason Ruben is perfectly happy with this. However, does the game reach the heights of the show or should it be sent through a portal never to see be seen again? Let's find out!
At the offset of the game players must pick one of the 6 available characters, all from the Anatomy Park episode: Rick, Morty, Dr. Xenon Bloom, Annie, Roger and Poncho. Each character has a unique player power, a standee to be used as the player marker and a colour for control cubes. The Anatomy Park entrance tile is placed in the centre of the table and players get 3 tiles from the Park Tiles draw deck.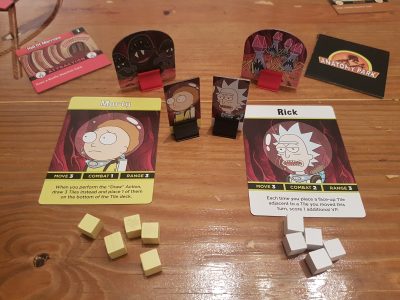 Tiles come in six major types: Attraction, Food, Ride, Exit, Transit and Focus Groups. The first three come in different colours (red, blue and brown) to add variety when placing. Exit tiles are a green colour and enable players to escape Ruben's body. Yellow transit tiles allow players to zoom around the park costing no movement to journey along. Finally, focus groups are all about gaining bonus points and don't get placed into the park.
Poor Ruben is going to have plenty going on inside of him. On a turn there are 4 phases: 2 character related and 2 hand management stages. Starting the turn, players must discard a tile from their hand for each disease on their tile. The other hand management action occurs at the end of a turn, discarding down to five tiles, but this happens even more rarely than discarding due to a disease.
The first character related phase is movement, which can be used three different ways. Either move your character up to their movement stat, move a disease 1 space or move an adjacent tile 1 space. Moving a tile rather than your character, or placing specific tiles, will see a bodily reaction drawn from the deck. These can range from Ruben coughing or orgasming through to outbreaks of Tuberculosis or Gonorrhea.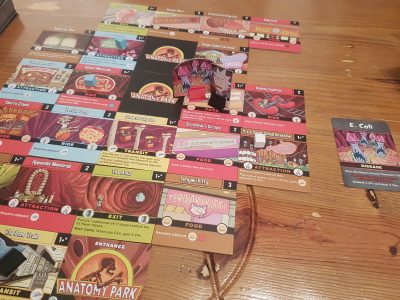 After any type of movement is the action phase: players now have another choice: Draw 2 tiles, place a tile in an empty adjacent space and score points, play a focus group tile, exit the board or shoot at a disease. You can only play a tile from your hand, making drawing a necessity at times, and if it meets the placement rules. Some tiles will say they can only be placed next to a Red Attraction for example but all award the player an amount of victory points. To add a way of getting bonus points Focus Group tiles are shuffled into the pile of tiles. Focus Groups give points for placing a tile onto the board next to a specific type of tile, adding to the placement decisions.
Throughout the game diseases can be spawn, as bodily reaction cards are drawn. These aren't moved around much but present hazards and potential gains. When diseases appear it is time for the players to either run or gun. Staying away from them is very helpful as it'll mean you won't be discarding tiles. Player can instead choose to try to take them out using their Combat and Range stats, attacking up to their range away by rolling dice equal to their combat number. Only a six will kill a disease of any kind, with success gifting the killer a reward. If a player misses they must draw another Bodily Reaction card, lore wise the bullets have to go somewhere!
The other Bodily Reaction to watch out for are the game ending heart attack cards. Shuffled into the lower half of the deck when the first is drawn the game will have three rounds left. At this point players can risk sticking around to play more tiles or try to escape. Some tiles, such as The Left Nipple or Right Ear, are designated exit tiles. Getting out before the end of the game grants 3 victory points, though you cannot re-enter. If in those three rounds the second heart attack card is drawn the game instantly ends. Whether via running out of tiles or by heart attack the game ends and after control cube points are awarded whomever has the most points wins. Unfortunately, for Ruben it matters not if he is alive or dead at the end of the game.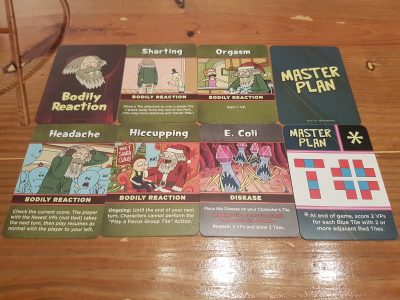 The range of organ-themed rides such as everyone's favourite Pirates of the Pancreas through to the Testicle Drop are included. It is nice to see that each of them comes directly from the Anatomy Park episode of Rick & Morty, it was very rich in material. Surprisingly, the best tiles I found to place were not these amazing rides but transportation rides, such as the Skeletal Skyride. These massively open the map up, seeing characters zip across sections of the growing board. Transport rides introduce a movement rule, effectively costing nothing to move onto or along. This results in the movement stat of characters becoming almost redundant. By not limiting movement on transport the game flows that bit faster, enabling the game to keep up the excitement levels.
Iconography and colours are used to keep the game flowing, making it super quick and easy to distinguish rides from attractions and building limitations by colour. The colours make it snappy to look around and determine where you need to be and means less text on the cards. By extension, this means more room for the artwork, which are great snapshots from the Anatomy Park episode showing the rides off in all their glory. One concern, I'm unsure if the colours selected Red, Blue, Green, Brown and Yellow will cause issues for those with colour-blindness so this is something to think of when purchasing.
While the concept of the Focus Group tiles is mechanically brilliant the artwork is a visually gut-wrenching issue. They simply stick out like a sore thumb from the rest of the game. To some extent they are meant to, and they aren't added to the board, but they could have used a consistent design. What has instead been used is just a white tile with text, which feels very much like a forgotten prototype piece when alongside the other tiles adorned with colour and cartoony artwork. Despite this, Focus Groups do add to the decision making in the game and the bonus points can be enough to grab victory.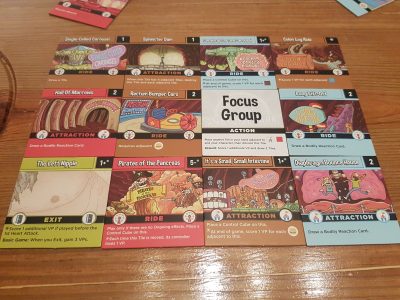 Rick & Morty Anatomy Park plays with up to 4-players yet six characters from the Anatomy Park episode have been included in the box. The six offer a decent amount of variety visually and special power wise so each game plays slightly differently from the last. Alas, the game still feels like it is missing something with Summer, Beth and Jerry not making the cut. The various character powers have been balanced surprisingly well. Often when unique powers are introduced one character becomes too powerful. Instead of one of the powers seeming over powered, they are all useful, stopping one from always being snapped up.
Points are somewhat thrown at players. A point tracker would have been a nicer inclusion than the rather small victory point tokens. These tokens being double sided is a double-edged sword. It limits the number of tokens in front of players, alas being so small and fiddly they grow increasingly frustrating to use. Larger, thicker tokens or a tracker is all that would have been needed to solve the issue, one that slows the game down while gameplay thrives as a fast-paced tile placement game.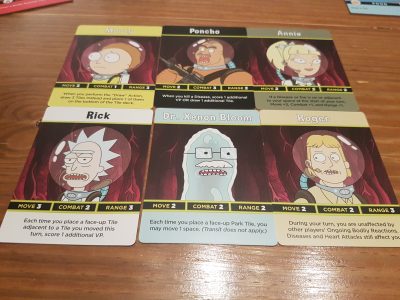 This game will undoubtedly draw in new gamers into the hobby and they will be treated to a surprisingly mechanically solid game. Whenever a popular IP gets a quickly released board game it does look like a bit of a cash grab but Anatomy Park could actually be the ideal gateway game for fans of the series. The humour of the hit show is extremely prevalent. Don't "understand" why it is funny and odds are it isn't your sense of humour, rightly or wrongly.
Some of the shock factor of the cards will wear off overtime. This could mean the game stays on the shelf longer than most gateways games between plays, with it being brought out only with new players to witness their reaction. Fans of Rick & Morty will love the crude jokes, "tasteful" artwork and general theming. The same theming puts others off: therefore, I cannot recommend it to anyone other than fans of the series, otherwise it could receive a lukewarm reception at best.
[Editor's Note: Rick & Morty Anatomy Park was provided to us by Esdevium Games for review purposes. The game is currently available on 365 Games for £35.99. It is also available from local UK board game stores, find your local store here]