Kingdomino is a family orientated tile placement, pattern making board game; for 2 – 4 players from Blue Orange. Designed by famed Bruno Cathala, the man behind games such as 7 Wonders Duel and Five Tribes, the game sees players claim and place colourful tiles like dominoes to create a kingdom. As Lords, players want their new lands to surround their castle in glory, however being aimed at families can this hold the attention of seasoned gamers? Let's find out!
At its core Kingdomino, as the title strongly suggests, is a modern interpretation of the classic game of dominoes. Each tile, like a domino, is rectangular in shape; featuring two square halves. Replacing the coloured dots of old, tiles can have differing terrain types from yellow wheat fields and lush green fields to vivid blue lakes or dark mountains.
As with most games points mean prizes, or at least victory. Points are all scored at the end of the game for the lands within players' individual 5×5 kingdoms. Points are scored for the number of connected squares of a terrain type multiplied by the number of crowns featured on the squares. For example, a lake that spans over 5 connecting squares with two crowns on the lake would score (5*2) 10 points.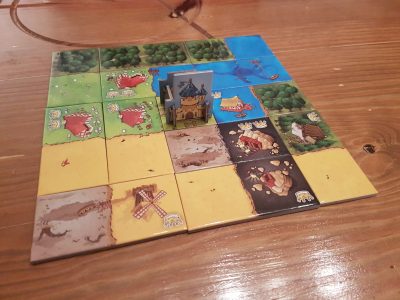 How do you create these kingdoms? After randomly deciding the initial turn order the number of tiles equal to the player count are drawn from the pile. Each tile has a number on the back and are sorted into ascending order. In order each player chooses a tile they want and places their meeple onto the tile. This choice is more important than just the tile choice as it also determines the turn order for the next round.
After all tiles have been chosen the next round of tiles, again equal to the player count, are placed in ascending order next to the already claimed tiles. Starting from the lowest numbered tile, that player takes the tile they claimed, places it into their kingdom and then selects a tile from the new set to place their meeple on. This process continues until the tiles run out, after which points are calculated.
Placement rules are extremely reminiscent of dominoes. One square of the tile you are playing must match a square of a tile you are placing adjacent to. Tiles can be in any orientation, horizontally or vertically, but kingdoms are restricted to a maximum of a 5×5 grid (by standard). The starting castle tile counts as a wild card, so any terrain type can be played adjacent to it. If a player cannot fit a tile into their 5×5 grid, adjacent to a terrain type that matches, the tile is simply discarded. This isn't too punishing but does lose the player the potential of points. Note: 2-player games are a bit different going up to a 7×7 grid, with two meeples each and 4 tiles drawn each round.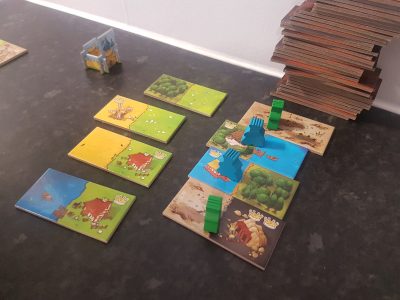 The numbers on the backs of the tiles work brilliantly at balancing the turn order. As a general rule of thumb, the more crowns on a tile, or rarer the terrain types, the higher the number. This means those choosing a tile with crowns on it are less likely to be going first in the next round. It is little aspects of Kingdomino like this that show how carefully designed the ruleset is. If I must nit-pick, like with a scuffed card, those whom play a lot will be able to use this information to their advantage. It is only ever the next tile that you'll be able to see but it might help someone. Thankfully, even with this information if a player isn't first there is no guarantee it would help.
The tiles of any domino game are the main event and nothing has changed in Kingdomino. What has changed is the love and attention that has been poured into their design. The first thing gamers will notice is the visual appeal has been cranked up to 11. Using almost minimalistic art the game thrives at being extremely clear for all players, yet has some flair treats to break up large blobs of the same terrain types. The bright vibrant colours that have been used make it easy to score at the end of the game and enjoyable to look at while playing.
After the colourful artwork, players will notice the production quality of the tiles. Kingdomino has thick tiles (a touch thicker than Carcassonne tiles for reference), which help the game feel sturdy and importantly for the tile placement aspect of the game less fiddly. They even have a glossy like finish: not enough to be overly reflective in bright situations but wipeable if playing and something gets knocked onto them. This is a great decision with the game being aimed towards families with younger children getting their hands on the game.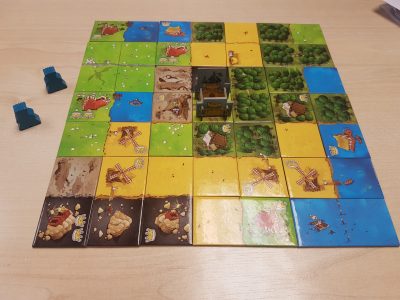 The small almost cute castles included in the box are not overly needed. They are nice to have at the centre of a perfect 5×5 or 7×7 grid, and do slightly help players know where their starting tile is at a glance. Though, gameplay wise nothing would change if these were replaced with a token or simply removed. They are potentially aimed towards capturing the attention of younger players, giving the game a little way to pop off the table. It pains me to say it, as personally I like them, they just do little to elevate the game.
Kingdomino has been branded as a simple game and unlike its sequel Queendomino isn't described as a "gamer's game". This simplicity is something that should be celebrated about the game not shunned. Kingdomino offers a rather simple yet enjoyable experience, one that can be taught within minutes. Even if young players struggle with the maths element of the scoring they can still enjoy the gameplay without any confusion.
This simplicity also allows the game length to be incredibly short. Games with the full player count of 4 rarely exceed the 15-minute mark: often only creeping over by a minute or two if there are new players involved and the full ruleset needs to be explained. As a result, Kingdomino can be a brought to the table time and time again: be it as a lunch time experience or a filler game. Don't write the game's long term replayability off either though. There are layers of strategy that can develop overtime with the right group. In a similar way to Patchwork, what tile to take becomes as much of a how to hinder opponents as it is all about personal gain. This is all before any additional rules are added such as bonus points for a perfect 5×5 kingdom or for having your castle at the centre of your kingdom; both of which change the way players perceive the importance of individual tiles.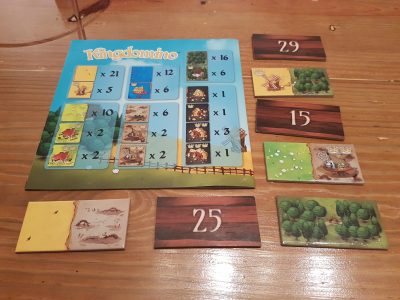 Kingdomino has instantly has become one of my go-to games for family gatherings, or as a gateway game. Whether or not players are new to the hobby chances are they already know half of the rules, regarding the way dominoes work. Therefore, Kingdomino really can be seen as dragging the age-old game of dominoes into the era of modern board gaming! Making it have such a modern feel is the cute, colourful, harmless artwork that's perfect for the fun atmosphere the game thrives at generating. Be it avid gamers or family members forced to try out a new shiny game, each player has come out of their first game asking to play again. When a game is entertaining enough for gamers to keep requesting to play it, rather than packing it up and moving onto something else, you have a winner on your hands!
[Editor's Note: Kingdomino was provided to us by Blue Orange for review purposes.]