Star Wars Imperial Assault originally released back in 2014 however we have only just got our hands on this gloriously themed dice rolling, strategy game. Utilizing some light role-playing mechanics to create an almost Star Wars RPG game, Imperial Assault pits rebel heroes against the Empire, after the destruction of the Death Star. One off Skirmishes or a full-blown campaign, the choice is up to players and it all takes place across modular built maps. However, is this a credit worthy Galactic conquest or one to be left alone with Jar Jar Binks? Let's find out.
When diving into the box the first thing most will head straight for are the miniatures! All included are awesome and exactly what you would want for a Star Wars game. This base game includes a balanced mixture of the humanoid species, mostly on the Hero side, with a few different Empire models too (it's just hard to know what race they are under a helmet). The good side… I mean the Empire does have a few tricks up their sleeve including two rather mobile and vicious Nexu creatures ready to tear through some rebel scum. If that, the moveable gun turret troops and recon droids aren't enough the Empire can even call in the help of an AT-ST.
I'm first to admit I am a bit of a miniature amateur. With that in mind, it was a real pleasure to unbox the game and have all the models preformed/preassembled, apart from the AT-ST. This just speeded up the unboxing time letting me drive into the rules that bit quicker, inevitably getting the first game running much quicker. The only hold up is that the AT-ST has an incredibly stubborn front gun that eventually slotted in. This little piece was a physical pain to push into place, it really begrudged going in. Once in it won't be going anywhere fast though it is clipped in for good, but did take a good 10 minutes with some persuasion from a Stanley knife to pop into place.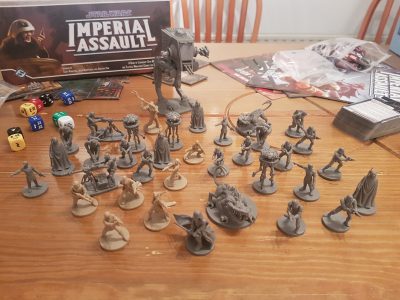 For those looking to paint the miniatures the plastic is of a high enough quality not to pose an issue. There might be some slight niggles that you need to just shave off but mostly they should be ready to go. I have heard some complaints previously about the wobbliness of the plastic for thin parts like the lightsabre and it does have a small amount of give. The included Darth Vader model in my box does have a slightly bent lightsabre but this is nothing the hot water trick wouldn't fix.
To give an idea of the gameplay, a standard action set is available to players no matter which side they play, regardless of game mode. Some slight differences are present, such as Imperial players only being able to attack once per activation, but otherwise players effectively choose two actions from move, attack or interact. Interact is the simplest being how you'll pick up crates or open doors during scenarios. Movement is determined by the character's Speed stat and interestingly can be used throughout the turn. For example, a standard Stormtrooper has a Speed of 4. They could choose to move two squares, Attack as another action then move the remaining two movement. This maximises the effectiveness of cover.
When choosing the Attack action a range of mechanics come into play. Firstly, if the character has a melee weapon they must be in an adjacent square to their opponent, unless they have the reach ability. If in range, melee is all about rolling hits and surges. If using a ranged attack first you must check line of sight. From one corner of the square the character is on you must be able to draw a line, uninterrupted by walls etc., to two corners of the enemy's square. This naturally makes hitting large multi-square units such as the AT-ST a lot easier. Logically it makes sense that a unit could peak around a wall to fire, but this doesn't stop it taking a little time to get used to.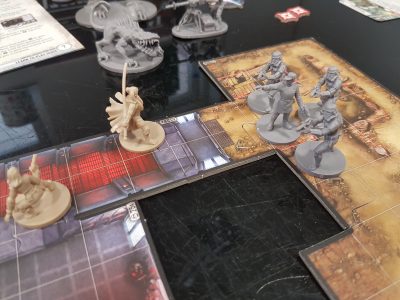 If line of sight is fine then range must be considered when rolling the dice. There are a number of coloured dice included though so which should be selected? Green, Red, Blue and Yellow dice are all attack dice, with the weapon card dictating which colours to roll. Respectively they are a normal balanced die, one that focuses on damage with no range, one that focuses more on range with medium damage and one that has low damage but high surge potential.
Once a player has rolled the indicated dice they determine if they have the range to hit their target. This is done by counting the squares between the units and seeing if the values on the dice are equal or higher. Then, the number of hits and surge points are calculated. Surge points can be spent for weapon specific improvements during an attack. Common traits include spending a surge point for +1 range or +1 hit. Some are a bit more interesting than this with the likes of stun also being a potential surge action. Alas, you may have rolled a lot of hits but your opponent may still not take any damage, as then it is time for them to roll a defence die.
Defence dice come in two colours. White is where players will try to negate some damage but could completely evade the attack. The black dice on the other hand is all about armour sponging as many hits as possible. The defence dice is not a choice. Like with attack dice the colour is dictated by a card, this time being shown on the character cards. Sometimes cancelling surges can be the biggest help, which sounds counter intuitive. This is because if a surge is being used to give enough of a range it could negate the entire attack like an evade. Once all dice have settled the outcomes of the rolls is determined and damage tokens are distributed accordingly.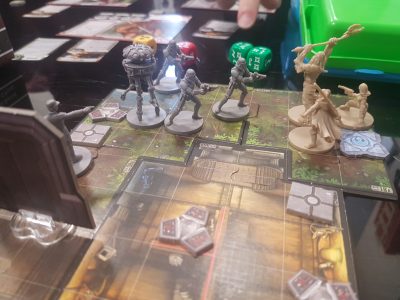 Before jumping into a fully-fledged campaign there is a fair share of preparation to do, and it can be wise to play a few skirmish rounds. This prep most importantly encompasses building the mission deck up for the epic journey players will venture on. The way the deck is built results in a different experience allowing multiple playthroughs without things becoming samey. Once a campaign gets going the way that missions link together really drives the importance of each mission as your past victories help and past defeats can come back to haunt you.
The campaign puts to the test the old phrase that you may not have won the battle but you can still win the war. Throughout the campaign the Rebels can comfortably lose a fair few missions and still come out victorious. Expectedly, this works just the same for the player controlling the Empire. Each mission leading up the finale serves only to prepare you experience and loot wise. Both sides earn experience which can be used to purchase class cards. Rebels can also earn Credits to kit you heroes with better items. The Empire's currency of choice is influence which can be spent to purchase Agenda cards. These can add practically mandatory side missions or have other Rebel punishing immediate actions. Practically, not completely, as they gain the Empire benefits if not completed but choice is there.
The way that players purchase items adds a bit of luck that didn't really need to be added. Six cards of the tier available are randomly flipped over to create a mini shop for the heroes to buy from. Coming from a video game side of things shops often have all items available, allowing for player to see what could be brought at any point, limiting items by price and experience levels. This would limit the randomness of the buying process. Having the full item list available to purchase might see some items always purchased early on but then price tweaks could have added balanced. It is just painful to see the best cards in one round just out of reach credits wise, for them not to come up when you have the credits available.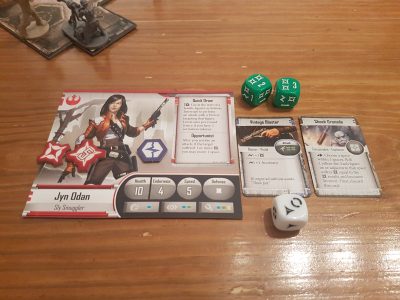 Player elimination is extremely rare but is a perceivable outcome. The Empire only need to wound each of the Heroes to win in the campaign. However, if one player is being overly aggressive or cocky with their hero it might be time to teach them a lesson. Cover is extremely important as it can block line of sight. If someone keeps foregoing decent cover, running and gunning, then even Stormtroopers will be able to pepper them with laser shots and they should.
Some players treat the wound system as an excuse to do this as they can take a serious ton of damage. With a minimum health pool of 10, resulting in them sponging a fair few hits before becoming wounded, and this is without the ability to heal via resting. Resting allows heroes to remove 5 tokens from their character sheet, though often most of these are not hit tokens. Players can be forced to or choose to take strain to perform special actions. Characters can only take a limited amount of strain depending on their endurance. One full the special actions are unavailable, plus when resting these strain tokens are always removed first.
To counter this damage sponge nature of the heroes the Empire has numbers on their side. It is the common explored scenario of few vs. many, which crosses franchises all the way to Orks vs. Space Marines in Warhammer 40K. That is somewhat the feel for Imperial Assault that the Empire has a constant stream of weaker units, able to overpower their more skilled opposition by weight of numbers. Something which is only amplified by the spawning side of the battle left to the Imperial player.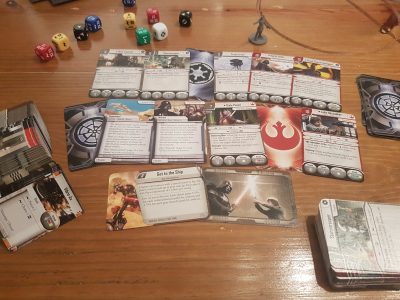 Getting Star Wars Imperial Assault to the table is pretty easy. A lot of the gamers I play with don't mind a weight to a game and who doesn't love Star Wars? Let's not lie to ourselves here, surely everyone loves it! This combination was always going to guarantee the game hitting the table above a similar game without the iconic theme. That isn't to say that the theme has just been plonked on top of the game mechanics. It feels integrated throughout the game, with small features or rules just hinting towards it being specifically Star Wars related. Unless you want to go as far as giving Stormtroopers a six-sided dice without 5 misses and one hit you can't go much further before it becomes a Star Wars themed D&D.
This feeling of Dungeons & Dragons extends to the role of the Empire player in the campaign mode. Though it is worth noting it's a more action focused D&D without any of the out of combat content. The campaign has a real 1 vs. all, Dungeon Master feel to it. The best suggestion is the most experienced player take up this role, as they are doing the most actions due to troop count. It is also so they can gauge the room, no one (not even me) wants to see the Empire constantly kicking the rebels into touch, so I'd combine a lack of unwavering competitiveness with experience to give the best results.
Even if getting the game to the table isn't an issue, doing so with the same consistent gaming group may be problematic. This is where the skirmish-campaign balance slightly falters. Skirmish is a "quick" experience but one that only uses a lot of the basic content, you don't get to touch the shiny upgrades or get hands on with the full ruleset. The campaign on the other hand is set to be consistently played with the same group, something a lot easier said than done.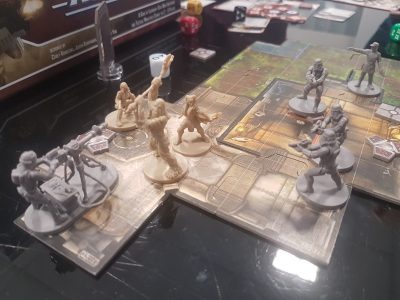 I'd love to have see an official way of playing well designed campaign missions as standalone games written into the rulebook. All it would take is for each mission have numbers for XP and Credits to spend for the Heroes and deployed details for the Empire. This middle ground could see the awesome content be enjoyed more freely, breaking from the ridged structure of the campaign. Players whom want to follow the camping could still go ahead but others unable to get that consistent group together could still slowly make their way through the game, without having to explain "Oh last time Player A brought X Upgrade for that character, so you get that". Running the campaign as a drop-in, drop-out mode just doesn't allow it to reach full awesomeness.
Experience is something which will only improve the whole flow and enjoyability of a Star Wars Imperial Assault game. The main reason the drop in and out system doesn't live up to the campaigns full potential. While you can jump straight into the campaign with a well-structured tutorial level, which is helpful for both sides of the battle, I'd advise the first time going with the Skirmish rules. This take out some of the mechanics the campaign, such as spawning units and resting, allowing players to get a feel for the movement and dice rolling before earning upgrades and stress become important.
When setting up the locations either for a quick skirmish or for any of the campaign locations the modularity of the board shines out as a beacon of replayability. Having a large set of modular, double sided, tiles is an epic way to create a huge variety of maps. Albeit they don't all fit nicely together, with desert or grassy forest themes and two distinctly different interior styles. Nevertheless, the different shapes and sizes allow plenty of variations. Especially impressive are the few connector pieces to link the outside with internal areas so maps can have a combination of both. It may be strange but I do have a few favourite tiles which when in play have that extra Star Wars themed visual flair: such as a hangered ship and terminals which block line of sight. Even some of the wall items that are skewwhiff just added to the world.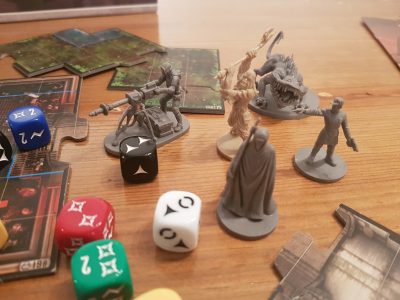 Maybe this is me being picky but when a game costs nearly £70 I don't expect the rulebook to talk about using items not included in the box. Now this is only referring to plastic bags. These are suggested to keep the cards heroes and the Imperial player have purchased separate, the mission cards in etc. It is a great suggestion as it makes the future setup of the next campaign game a lot quicker. For those of you like me whom is also prone to forgetting exactly what was purchased or not it also negates this issue. So, why was the decision made by Fantasy Flight to only suggest using these and not to include a few plastic bags? Sometimes I'm just not able to follow their logic… This really isn't helped by the fact there are plenty of tokens and small map segments left to rattle around unless you've put an order in for plastic bags.
For board gamers who are fans of the franchise Star Wars Imperial Assault has predictably an undeniably brilliant theme. The strength of the brand is fully on show with some great artwork on the modular tiles and cards, stunning minis and plenty of contextual text in the campaign book to give meaning and reference to the missions. Put all of this Star Wars theme aside and the basic game below is solidly built. The theme will certainly pull players in but the gameplay will keep gamers hooked and wanting more. I may struggle to consistently play the campaign, and a drop in and out system or one hit missions could have solved this. Though the wait that can be filled with skirmishes is worth it. Massively misquoting Obi-Wan: This is the Star Wars strategy game you're looking for.
[Editor's Note: Star Wars Imperial Assault was provided to us by Esdevium Games for review purposes. The game is currently available on 365 Games for £65.99. It is also available from local UK board game stores, find your local store here]