Tsuro is a tile laying, path following board game from designer Tom McMurchie. Coming with a spiritual Asian theme, the game is otherwise pretty abstract. Players construct paths that they move along, which are loosely supposed to represent the path to enlightenment. This is a game built for 2 – 8 players and states on the box it's a 15-20-minute game, though this is an overestimate in my experience. Can a game with player elimination within minute or two hold the attention of so many? Let's find out.
At the start of the game players take a player piece and three tiles. The board in front of everyone is completely empty, revealing a vibrant red phoenix. Starting with the oldest person (or however you want to determine the first player) players place their piece at the edge of the board and the game begins. Each turn you will play a tile from you hand in front of wherever your player piece is. You then move your piece along the path until you hit the next edge of a tile. Then, if possible draw up to three tiles and play moves onto the next player. This sees players building paths around the board. The goal is simple, stay on the board.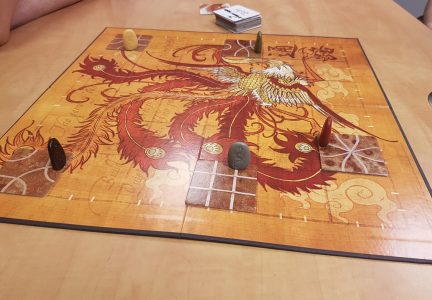 Paths start to connect up and soon players will find themselves following long wiggly paths around the board, eventually following one off the board. This can be because they are unable to do anything else or because an opponent has made them move. As players' paths collide there is a chance that when an opponent puts down a tile neither player is then at the end of a path. First the player whose turn it is moves, then the other effected players in turn order around the table. At this point if someone hits the edge of the board they are eliminated and the remaining tiles in their hand are added back into the pile. The game continues until only one player remains.
When drawing tiles there is an interesting mechanic in place in Tsuro that is solely there as more of a gentle reminder. When the first player attempts to draw up to a third tile but is unable to due to the draw pile being exhausted they take the dragon tile. This special tile cannot be played on the board instead is an indicator for whom should next receive a tile. After a player is eliminated their tiles reform a draw pile. Even if it is not their turn, the player with the dragon tile then draws a tile and so on around the table until, if possible, everyone remaining has three tiles in their hand.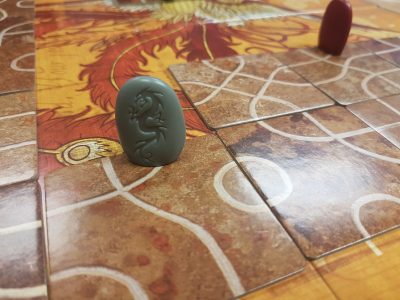 Beautiful imagery adorns the board and the backing of the tiles. It is almost a shame that throughout the game players will be placing tiles covering up the artwork with the game itself. Not enough of a shame not to of course. The art doesn't just offer a visual treat for players but it sets up the game board with a light grid and starting location lines around the edges of the board. This reduces potential alignment issues where players starting at opposite sides of the board would have otherwise come across.
The same love shown to the grand artistic imagery on the board even extends down to the smallest, but most important, component – the player pieces. Each are in unique colours with the same small dragon logo etched into them. Tsuro may be a small light game but I wish other games paid as much attention to the presentation. It doesn't make a game but it does help elevate a great game even higher.
The endearing theme and simplicity sell me on the game that Tsuro is but it can leave other wanting more. At the lowest player count of 2 there is often limited player interaction. Players must wait until their journey across the board almost collides with an opponent. An experience only lengthened by the fact both players will often try to avoid each other as much as possible. This can make the start of Tsuro games feel like independent games all starting on the same board.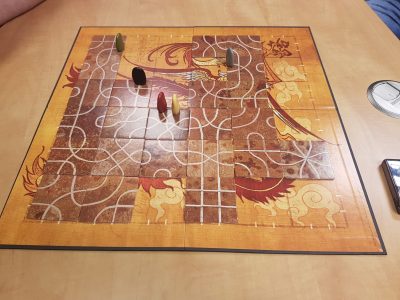 Given the short game length thankfully it isn't long before players start to collide. Tsuro gets going as soon as this happens and as more players are thrown into the mix, things change for the better. This is one reason why above 3 players is where Tsuro comes alive and the betrayal of friendships begins. As you add players more seems to occur outside of players control but that works. More starting locations are utilized. The board fills up more between turns and therefore there is more potential for early crisscrossing of players' paths. Insert friends fighting for quick victory bragging rights and the entertainment exponentially increases.
Don't completely discount a 2-player game. It's a bit of a stretch to call it strategic but you can at least plan three moves ahead. It just doesn't have the same buzz when compared to a much busier game. It is a more mellow slower paced game for the most part as players dance around each other. As mentioned this limited interaction isn't for everyone. More cheering certainly occurs as you reach higher player counts.
Player elimination is a huge issue for me when playing long games, leaving the ousted player's excitement to dwindle even when watching. While I'm often left wanting there to be something eliminated players could do, in Tsuro it isn't as much of an issue. As the game will only ever, even with the full player count of 8, last 15 minutes players won't be out for long. To compound this, it is often like a domino effect with a string of eliminations coming all at once. The rarity of early eliminations followed by longer than a 5-minute wait makes elimination less of a boredom inducing punishment and more an acceptable cheer around the table by other players.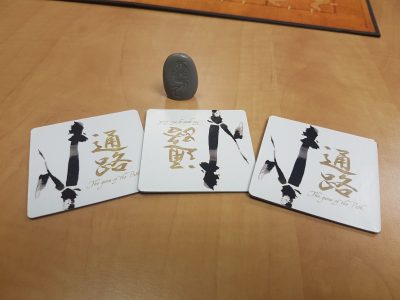 Tsuro is the epitome of how an extremely simple and intuitive game can still be satisfying to play. There's something special about placing a tile and seeing your player piece zoom around the board on an almost maze-like path. An experience which is only heightened when it is an opponent's piece you send hurtling off the board. The combination of short playtime and simple rules make this an ideal gateway game to draw non-gamers into the hobby. This is a game that easily confused aunts or uncles could understand at a family gathering.
Tsuro is a stunning board game which can be used to introduce the mechanics of tile placement and movement games in their simplest form. Yet, it captures players hearts and minds via this combination of beauty and simplicity. For most gamers this will be a very light filler that provides quick entertainment, as rarely does a single game go longer than 10 minutes. This is a beautiful game that you can get out whomever is around the table and I can't ever see myself playing only one round in a sitting. It won't be holding the attentions of those after heavy weightier games for too long after a few plays though. Don't let this dissuade you from playing Tsuro though. It will keep hitting the table, due to the length and ease of play, just don't expect Tsuro to fill an evening.
[Editor's Note: Tsuro was provided to us by Esdevium Games for review purposes. The game is currently available on 365 Games for £22.99. It is also available from local UK board game stores, find your local store here]