Fortnite has all the makings of a great game. There is a lot to do, fun to play with others, plenty of unique weapons and always something to grind for, except for a couple of things. Ignoring fundamental problems, like Ninjas and melee being irrelevant in mid-game and later, it's held back by aggressive microtransactions. The same is somewhat true for the lesser known title, Spelunker Z. Thankfully, for the Switch and PC version, Square Enix/Tozai decided to drop the free-to-play aspects and sell it as a full fledge game called Spelunker Party! With brutal platforming, RPG mechanics, less aggressive RNG and tweaks, is it the game Spelunker Z should've been or is it just a slightly better version of a bad game?
Spelunker Party! follows Spelunkette on her quest to investigate a location where a comet landed. With strange things happening and caverns to explore, will her quest end with treasure, glory or death? While you'll need to play to see where it goes, the adventure itself is quite cute. With colorful visuals, simple scenes and plenty of characters to unlock, it makes for a decent journey.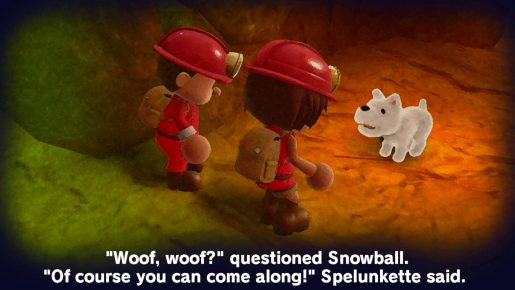 One of the biggest changes, besides the addition of a more involved story, is new levels and events. For instance, one of the most exciting additions in Spelunker Z was pets, which can now be unlocked by progressing in story. They do neat things like dig for treasure, increase points or simply revive a fallen ally. These changes make it easier to progress and work as a team, resulting in a better offline and online experience.
To further increase enjoyment, items are significantly easier to unlock. Originally players needed to find specific collectibles during missions and hope RNG decided to give them a rare one and then had to repeat it multiple times. A large number of pieces are still required, though now collectibles seem to be color coded and unlock high tier items at a much faster rate. Within 10 minutes I got more rare tiles than grinding the original for a couple hours.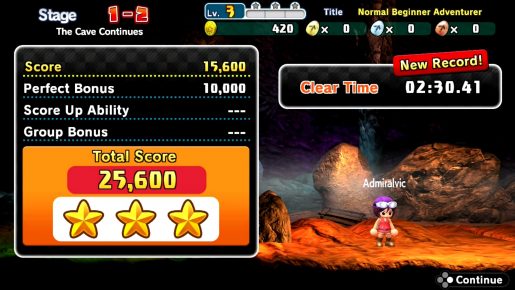 This makes Spelunker Party! a more exciting experience, as items do two things. The first is that they act as a costume. Be it a black dress, fancy hat, glasses or even tribal armor, they give a fair amount of variety. While it takes away from the costume aspect, they also have various perks. These range from more points to protecting against certain attacks. These can help a lot, but it also takes away from the experience.
What made Spelunker a great game is that it is tough, but fair. I'd say the same is true for Spelunker Party!, though there are times it seems to be balanced around having or using specific perks, except these elements trivialize some of the challenge. For instance, you might see a flame trap or bat and instead of waiting for it to be safe, you can jump/walk through. Even if you don't utilize these mechanics, other players, be it those you play with online or through local multiplayer, will, making it much harder to win MVP. Thankfully, it won't remove all the difficulty, as you still need to time your jumps correctly, but it does remove a lot of the depth.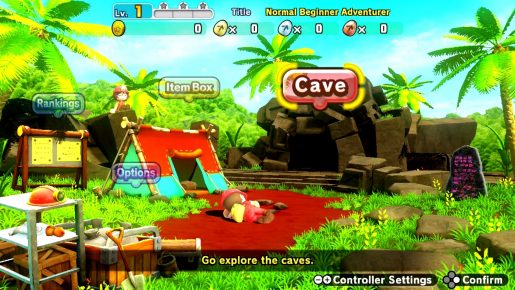 Outside of that, a big part of the journey is figuring out how you want to play. You can try it solo, possibly miss out on some treasure and put your skills to the rest or you can play with other spelunkers, work together for additional treasure and compete to be the best. Even if you're not the best player, other players can handle sections you're not good at and bring you a long. Again, some sections will require you to go above and beyond, but for the most part it's a lot of fun. Even when you accidentally kill a teammate or get trolled.
Verdict
Spelunker Party! might not be perfect, but it's certainly better than the free-to-play version. With items being far more accessible, grinding is far more enjoyable. Combine this with harsh mechanics and multiplayer and you got a solid experience. However, if you're hoping for the originals difficulty or just a hard experience, Spelunker Party!'s RPG elements can ruin them. Sure the option is nice, but they change an intense platformer into a silly game anyone can play if they have a decent understanding of the timing.
[Editor's Note: Spelunker Party! was reviewed on Switch platform. The game was provided to us by the publisher for review purposes.]
Spelunker Party! Review

,