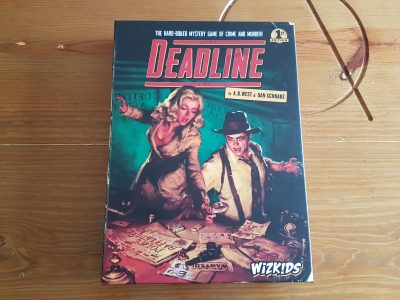 Deadline is the noir detective themed game from designers Dan Schnake and Adam West. Making a large theme change from the team's previous titles Galactic Emperor, Ninjato and Wizards of the Wild, Deadline takes place in the Big Apple in 1938. Players take up the roles of unique detectives with handy special abilities for the hand management elements of the game. It is a cooperative experience where players must obtain clues to solve mysteries. However, are there mysteries worth solving or this more of a crime against the genre? Let's find out.
At the offset of the game each player chooses an investigator and a case to attempt to crack. Included are 12 cases in total falling into 3 categories; Easy, Normal and Hard. This system allows you to pick a case for the mood you're in, with the biggest weighting towards Normal. Once a case is decided the brief and initial clues are read by a player from the Case Book. This gives some starting location clue cards to place clue side down within reach. Whomever starts with the first player marker can then choose which clue to investigate first.
The Lead and Plot Twist cards are shuffled and each player receives a number of cards depending on the player count. The exact cards must be kept secret from your fellow investigators even though you're working cooperatively. Plot Twists are mostly negative. They clog up your hand and if you fail an investigation they come into play: often adding difficulty or otherwise negative traits. Lead cards are what you'll be playing to try to match the symbols on the selected Clue card. When playing a lead card you must overlap it with at least one of the previously placed lead card's symbols.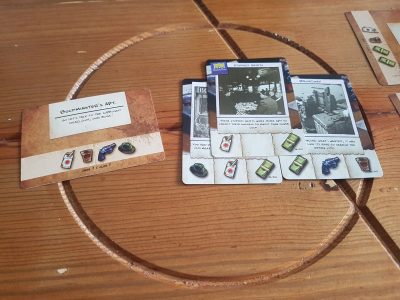 When playing certain cards, which come with the Hot Tip icon, you can flip the specific Hot Tip token. This is helpful as after two are flipped an extra action is available to players. Two Hot Tips can be used for an additional card, three to remove a single in-play Plot Twist and all four to remove two Plot Twists at once. The final option for players is their investigator power, which can be used once per case. These are often rather powerful and allow additional cards to be drawn, Plot Twists to be removed, giving your hand of cards to another player or other equally helpful actions. If you are out of available actions you must drop out. If you have any Plot Twists in your hand one must be played in front of you and the rest of the hand is discarded. You are then out for that round. If everyone is now out the team has failed the investigation.
One of the best features of the clues in Deadline is also one that is horrible for the players when it occurs. After failing the symbol matching investigation element of a location it is placed back in the available locations piles, enabling players to investigate it again later. Also, a bullet token is removed from the teams pool. By default investigators star with 3 bullets. Once these are depleted the Clue card with the highest number is removed from the game. Slowly but surely case crucial clues could be slipping from your fingers. To date I have been extremely lucky to only lose a maximum of two clues during a case. These meant we were unable to answer the bonus questions but, thankfully for out investigator reputations, all critical questions were still answered correctly. Seeing those clues slip away is a real kick in the teeth, most likely because of a risk not paying off.
If the team successfully manages to get the symbols required, regardless of the order, then their investigation has paid off. The player with the first player badge gets to flip the card over and read the valuable clue aloud. The clue aspect of Deadline is spot on. Getting a clue often doesn't just lead to information but a new place to investigate. This isn't always the case though as some lines of enquiries turn out to be dead-ends, with nothing to follow up on. On top of this, clues and locations can be interwoven with a two or more pieces of information pointing towards the same location. You may already have it as an available location or even have already got the clue from there. This tangle of clues and locations makes you feel like you are doing the work of a detective and missing clues for whatever reason can make it significantly harder to get the outcome you want, of being a Master Detective.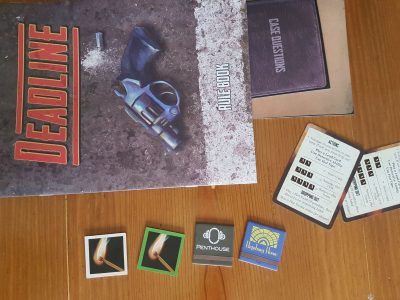 If clues are still available a new round starts. Players draw up to their hand limit and a new available clue is selected. When all clues have either been earnt or discarded the deadline has been reached. The players must now open and read the case related questions, made up of a mixture of critical and bonus. To discover if they were right the solution book is carefully checked, so to not ruin another case and players find out how well they did. One issue with the question book is that the questions sometimes seem to give some of the other answers away. This is slightly irritating but if everyone plays by the spirit of the game and doesn't purposely cheat then it all works well.
The symbol matching gameplay works well to add some challenge to the game, especially as players cannot openly communicated about what cards they have in their hand. You can see individual players accidentally blocking off fellow investigators while trying to stay in the game, in fear of having to place down a Plot Twist card. My issue with this is it becomes a bit samey after a few cases. Long gaming sessions, full of trying to solve multiple Deadline cases, are therefore almost out of the picture. Leaving it and coming back is fine but otherwise the repetitiveness of this symbol matching becomes a bit too much and erodes the enjoyment the clues can give.
Replayability is unfortunately extremely low with any game of this type. Whether you are a fan of these deduction styled games which can only be played through once, like the Legacy game genre which is increasing in popularity, is 100% a personal choice. If you're looking for a game to play for years to come, then Deadline won't be for you. There are 12 full cases included which should offer plenty of hours of entertainment for the price tag. Therefore, if you're happy to pay for entertainment that comes at less than the cost of watching films at the cinema per player, per hour Deadline should comfortably fall into the category of acceptability.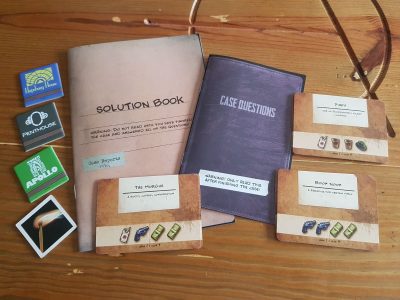 The Plot Twist cards should be feared to some extent; as they can massively increase the chances of failure. Even if only a few are in play, at the start of the round they can see one of the helpful Hot Tip tokens unflipped, additional requirements for successfully cracking clues and even more Plot Twists cards added into the mix! Turning the lower clues from 3 symbols to 4 or 5 isn't a huge deal. When the clues with 5 symbols start cropping up though is another matter, becoming almost impossible unless you play your cards right…
Deadline is playable with up to 4 players though it seems to excel at lower player counts. While downtime isn't a huge thing when doing the Lead cards matching up symbols, this does increase towards the maximum player count. Not just from the point of waiting while others have a go, discussion time increases and there is a lot more change to the cards in play resulting in less pre-planning opportunities. By extension the game is stated for a minimum of 2 players but as with any cooperative game it could I'm sure be slightly tweaked to be playable by a single player. It might just take some balancing for the correct hand size for cards to draw, but most likely someone has already done it.
Overall, Deadline is a solid deduction and hand management game. It won't be first picked off the gaming shelf very often to guarantee the symbol matching doesn't become too repetitive by playing in a short space of time. Symbols aside, the clues are where this games lives and shines, being well written and the interwoven nature of the locations. The guessing part at the end always lives up to the billing and due to this I can confidently say it is worth the price tag despite being a onetime playthrough. Do other games excite me more than Deadline? Yes. Regardless, do I want to play through the final few cases? Yes, again.
[Editor's Note: Deadline was provided to us by Esdevium Games for review purposes. The game is currently available on 365 Games for £34.99. It is also available from local UK board game stores, find your local store here]