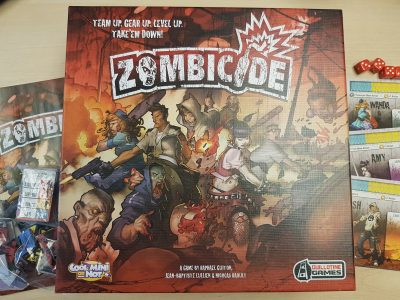 Zombicide is a cooperative board game, released back in 2012 by CMON Games. Each player takes up the role of one or more of the six unique heroes. Though with the outbreak of zombies they are referred to as merely survivors. Each game these characters start a fresh with limited weaponry, no experience and an empty game board. It won't stay empty for long, as soon zombies will start spawning and hunting down the noisy survivors.
Players are tasked with completing ten missions, each with differing maps, objectives and difficulties. Being a Zombicide base game the box contains 9 double sided tiles which add together to make the altered maps. These can also be tweaked and changed around to make player made custom content, almost like a sandbox style game. The objectives often revolve around tokens which are placed around the board. Simply moving their positioning can have huge results in how the map plays. This can also alter the difficulty, with additional or a wider spread of objectives being harder to collect.
To accomplish each mission players will spend action points each turn to move around the map, interact with doors or objectives, attempt to slay zombies or search for new weapons. The arsenal available to player to start off with is fairly limited with the humble frying pan being the most common starting item. Thankfully, along the way players can find chainsaws, machetes, rifles, SMGs and much more. Obtaining better weapons is key to slaughtering the ever-increasing numbers of zombies. Better weapons have the potential to deal damage to multiple zombies at once or deal addition damage to enable the survivors to take down large Fatty type zombies. The improved weapons regularly allow players to roll more dice when trying to attack, something extremely helpful when the dice gods are against you. The quests are nicely balanced out so they range from easy (ish) to what can only be described as a brutal death derby. Yes "Mission 10: Small Town" I'm looking at you with your four zombie spawns! One day I may complete mission 10 but to date success has been out of reach.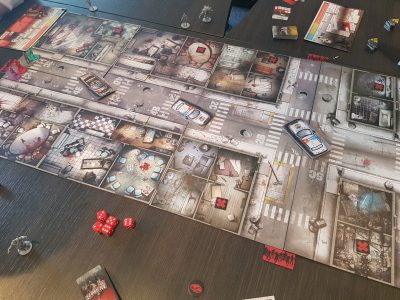 Characters level up individually as zombies are slain and objectives are collected. At defined levels players obtain new abilities such as an addition action point or additional dice for combat. While this sounds great it also increases the danger levels of the game as the zombie spawns level up with you. This can see at the start a zombie spawn card deploying a single slow Walker onto the board. Later on, that same card could see a trio of fast Runner zombies spawn, which have two actions each turn. The more actions a zombie has the fast it'll get to the survivors. Thus, the faster it'll deal damage!
Coming from the medieval ages of Zombicide Black Plague I was surprised to find that the map feels larger. Even though I know the map tiles are the same size. This is despite the fact that there being a lot of road segments, the area still feels bigger. Potentially this is due to real world preconceptions of sizes of streets. This may be helping players visualise the city landscape with known parameters of size simply making them, myself included, perceive it to be bigger than it is.
In Just Push Start's review of Zombicide: Black Plague we mentioned it felt like a Lead 4 Dead-esque board game. While I don't rescind that statement the modern day setting of Zombicide Season 1 takes these comparisons to a whole new level. The general modern day theming and weapons drive the similarities, something any L4D fan will appreciate. I've found this similarity, and the lack of a fantasy theme, resulted in new players getting more excited to play. They have found comfort in recognising the setting of a city and real world weapons, remembering modern zombie films and video games, and not having to imagine the fantasy elements of old world styled villages and spells.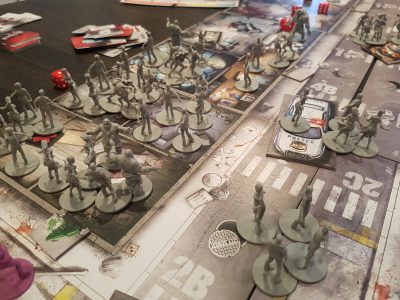 House rules are often debated but do seem to improve Zombicide. The biggest culprit, a rule which has been altered in other Zombicide games, is when shooting into a zone with a survivor. In this base game players are, for all practical purposes, unable to shoot into a zone with a survivor in it. This is because by default the survivor will be shot before any zombies. This inconceivably ramps up the importance of the rare sniper rifle scope which would allow a survivor to pick targets in a zone. The item just isn't abundant enough so guns feel severely nerfed. One house rule is to utilize the re-written rules for shooting. Using these rules successful shots hit zombies and unsuccessful shots hit survivors. This keeps the value of the scope high but adds in a last-ditch attempt and risky plan if players start to get surrounded.
Cars are a nice inclusion in terms of the loot mechanics they add to the game. Alas, even on the biggest maps the driving seems very action point heavy. Costing an action point to get into or out of either vehicle type, cop car or pimpmobile, at least in the early half of a game seems a bit of a waste of valuable action points. Almost just like the survivors are parking a car in a zombie apocalypse. Especially as movement action in a vehicle is only two squares and with Wanda being able to move two squares per movement action by default. Later on, when players have 4 action points a turn, it is more of an acceptable trade. The vehicles are very helpful for transporting a group of survivors, as you can then move survivors even when it's not their turn if they pile into the vehicle. This can be useful for not splitting up and staying as a cohesive unit.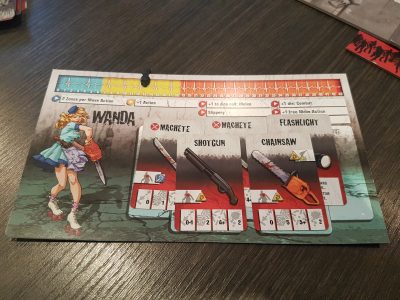 Disappointingly select tiles are very similar in design, though makes sense in a modern-day city. You don't have to go more than a block away to find another identical coffee shop, so why not in a board game? For this reason, they can kind of get away with it to some extent. On top of this, players coming into this game with knowledge of the more recent titles form the franchise must remember this is the original Zombicide. The same logic applies to the player mats. If Zombicide Black Plague didn't exist with its nice plastic, neatly laid out player mats the mats in Zombicide would be fine but I know they could be better, so they are to some extent a detraction.
When it comes to the miniatures Zombicide is right up there with the very best. Some examples of the details on show are: you can see and feel the zips on the hoodies worn by the runners, you can see the pleating on the wind-swept skirts and even see the double chin on the fatty. The level of details on the models is fantastic and the sheer quantity is exciting every single time you open the box. The only negative is that Phil the cop is grey in colour. Therefore, in the midst of all the plastic his mini blends into hordes of zombies despite holding a shotgun.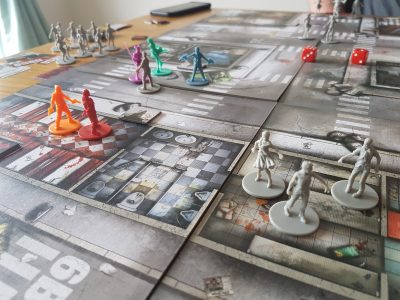 Zombicide Season 1 is what started the much-loved franchise and it is clear to see why. It combines cooperative turn-based gameplay with zombies ready to devour you. Could it get any better? Mechanically the game is solid, though some will disapprove of the randomness added into the game via the dice. The game board is at times flooded by zombies so players feel outnumbered and up against the impending zombie threat. This is where the miniatures shine and it is a real pleasure to push the plastic around the board, even when it's a horde coming your way. Later versions of Zombicide in particular Zombicide Black Plague have iterated on game elements such as improving the player mats. Nevertheless, as far as zombie killing action goes Zombicide ticks every box for me.
[Editor's Note: Zombicide was provided to us by Esdevium Games for review purposes. Check out 365 Games for a range of Zombicide content. It is also available from local UK board game stores, find your local store here]