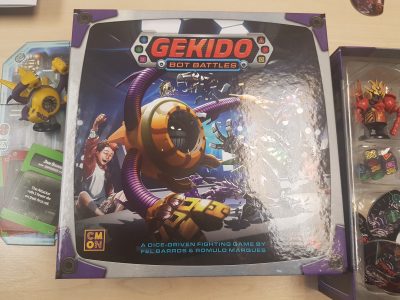 Gekido: Bot Battles is a dice rolling fighting board game for 2 – 4 players, published by CMON. Designers Fel Barros and Romulo Marques have imagined up the ultimate battle arena for Bots to square up and smash each other. Each round players try to dish out damage to their opponents to become the last bot standing. These fights last for around 30 minutes for the full player count but can be as short as 5 minutes when only two players are involved. "How does it play?" I hear you say. Let's find out!
Reminiscent of both Yahtzee and King of Tokyo, Gekido: Bot Battles is somewhere in the middle of the two. There are cards available for players but they don't come with a wide abundance of game changing abilities. Instead, the focus is on each and every dice roll in an aim to deal damage. There's also no rolling for healing or victory points. Each Bot has slightly differing attacks. Nevertheless, all Bots use the same combinations to perform attacks: such as two pairs, a full house all the way up to the biggest attack 5 of a kind.
In Gekido: Bot Battles, the Bots have a health pools which will, over time, get depleted as opponents attack. The health pools are made up of six-sided dice, initially all showing 6. As health pools are reduced players rotate and flip the dice losing the amount dealt by the incoming attack. When a dice is completely removed, all 6 damage, the player then continues to remove health form the following dice until they are either eliminated or all the damage is taken.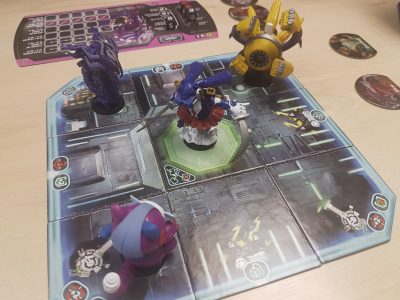 Once a dice has been removed the Bot starts to fight a bit harder. When completely removing a health dice the player get a perk, as denoted on the Bot character sheet. For example, if next to the dice it says +1 upgrade, when that dice is removed the player puts that dice, with 1 face-up, in the upgrade slot. This upgrade is either for attack or defence depending on the Bot. This increases damage dished out or reduces incoming damage by one point respectively. At other times the dice can be used for +1 Power. Each Bot has a unique set of powers which include additional re-rolls or the ability to flipping a rolled dice. For the most part these don't drastically change the outcome of the game. Though, if used correctly they can help a player dish out some decent damage when looking to complete that killer combination.
The mixture of push your luck mechanics and abilities which enable players to manipulate rolled dice works well. It means players have a way to negate some of the randomness when rolling dice. There will still be times where players feel victimised by the dice gods but others will feel like they are unstoppable. When this happens they undoubtedly overextend and come crashing back down to Earth. By extension the mechanics of the game also stop individual players feeling victimised. Players must target a player before an attack and they must be in an adjacent tile to do so. Once an opponent has been attacked, you must attack all other opponents once before you return to deal damage to that Bot again.
By default, player have three rolls per turn. After the initial roll, players must decide which dice combination they are going to try for and lock in any dice they are happy with. From here if they succeed the damage is dealt to the opponent. Conversely, if they fail at the combination they were attempting they take half the damage of the attack. I have seen games, and even done it myself, where a player has tried to land a killing blow only to take themselves out. That truly is the ultimate failure!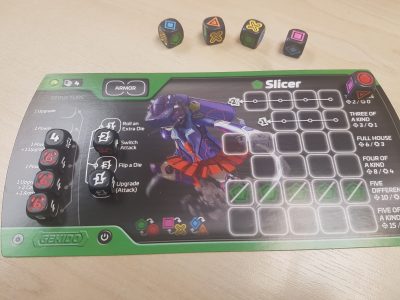 Players can be slightly tactical in their movement, whether in a 2-player duel or the full 3-4 player game. If you notice an opponent favouring a particular square, for its bonuses to rolling or defence, it is possible to work them off it at least for a turn or two. On every turn players must move. When is up to the player but they must move either before or after attacking. In a 4-player game for instance players can gang up to force another player to move into the centre tile by cornering them. Why would you want to do this? The centre tile does offer them Tech cards but also makes them have -2 defence until they move off the tile. Similarly, in a 2-player game you can force players to move from the slightly safer re-roll tiles onto +2 attack and -2 defence tiles through movement.
One thing that is bound to draw gamers' attentions when looking at Gekido: Bot Battles are the six pre-painted, and frankly awesome, Bot miniatures. Each is extremely unique in colour, silhouette and details. Each utilizes vibrant colours, making them visually pop against the grey-ish battle arena. Stood next to each other there is certainly no way of confusing them even at a quick glance. Notably, this a feature that is helpful for new players when remembering where other players' characters are on the board. I mean it is hardly easy to confuse a V-Rex with a Pytron! The distinctness of the silhouettes just removes something small for players to have to remember which helps the game be more accessible. The miniatures aren't as detailed as other CMON titles but coming pre-painted with some small details helps extend the cartoony feel of the game.
The Bot models fit nicely in their own slots yet the tiles just float around the box. While I'm glad the models are in their own carefully moulded slots in the box, they are rather resilient models. This isn't to say the cardboard used for the target tokens or game board isn't decent it more surprising that the box isn't designed to properly hold them as well. This is the first reason why a fixed board rather than modular tiles would be an improvement, as less content would be left to rattle around the box.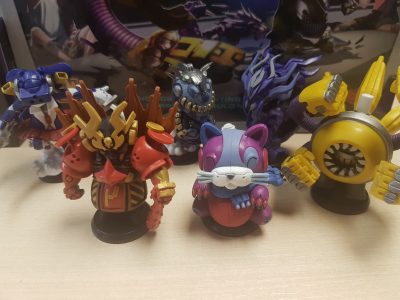 Modularity creates variation and variation can increase replayability if done correctly. Unfortunately, in Gekido: Bot Battles the modularity of the board adds rather little to the game. The visual experience is constant and while the tile effect differ the map always looks and feels similar. This isn't a huge negative as the game is still fun to play over and over again but the potential of the modularity is lost. I get a strong feeling from the design that CMON is planning for this to not be the only Gekido release. The tiles are crying out for more tiles to add variety and there's always the chance to expand the Bot roster. I don't believe additional purchases of expansions will be necessary but from the game's design I can't see them not coming. By simply including a couple of additional tiles to swap in and out or having some double-sided tiles would remove this and have this variation from the offset.
Gekido: Bot Battles is at its simplest when played in the 2-player Duel mode. This is a great way to introduce the game to new players, as it removes the player target tokens, limits the arena tile powers used and removes the Tech cards. Duels take place on a smaller 2×2 grid, made up of the four corner tiles. Two of these are Hot Grills, where players get an addition re-roll during the Attack Command phase, and the other two are Laser Turret tiles, these give +2 to attacks but -2 to defence. This 2-player Duel mode is similar to the full game but massively sped up, making it extremely fast paced. As a result, it is easy to squeeze in multiple games within a lunchbreak, which is never a bad thing! Personally, I enjoyed this simpler approach more, where you don't have to worry about whom your next target is. Though I seemed to be in the minority on this.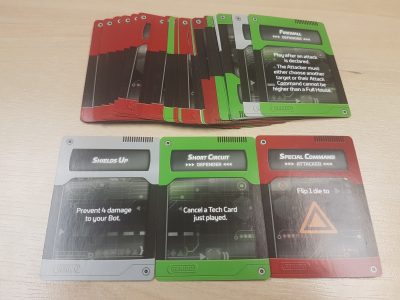 Gekido: Bot Battles is great to play whether you only have enough players for the quick, faster paced 2-player game or can fill the 4-player board. The experience does vary and as mentioned I found it easiest to bring new players into the game via Duels, before thrusting the rest of the ruleset onto players. The game is kept family friendly with the visuals, the over-the-top Bots and the simple ruleset that is easy to pick up. If you're happy playing games such as King of Tokyo with the family for instance Gekido: Bot Battles will fit in nicely. The modularity issues can be overlooked and are forgotten about when you're actually playing and the dice rolling gets serious. I'm intrigued to see where CMON decides to go from here but I wouldn't be surprised if more Bots and tiles are on their way and that is something the game deserves. Whether the gorgeous bot models can justify the price tag is something you'll have to decide but the game itself is well-designed and solid enough to enjoy if you make the plunge.
[Editor's Note: Gekido: Bot Battles was provided to us by Esdevium Games for review purposes. The game is currently available from 365 Games for £58.99]