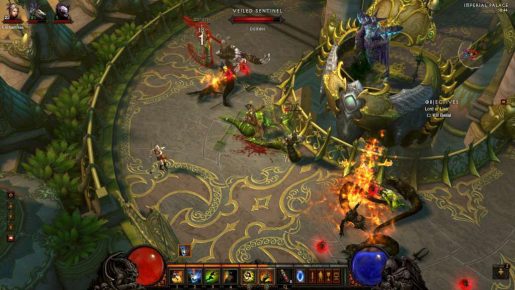 It appears as if another version of Diablo 3 will be making its way onto the PS4 and Xbox One consoles. The ESRB has rated the Eternal Collection on both PS4 and Xbox One.
People are confused about the Diablo 3: Eternal Collection because the game is already available on PS4 and Xbox One. It's possible this could add another expansion that has yet to be announced/revealed.
The rating summary says: "This is an action role-playing game in which players assume control of a mortal hero (e.g., witch doctor, barbarian, wizard) who must defend humanity from a demonic invasion. From a ¾-overhead perspective, players traverse dungeons/caverns and use swords, axes, flails, and magic attacks to kill a variety of human-like enemies (e.g., zombies, demons, succubi). Battles are accompanied by slashing and flesh-impact sounds, screams of pain, and frequent blood-splatter effects; creatures often explode into bloody fragments as multiple enemies are dispatched at once. Some levels depict burning corpses, bodies impaled on stakes, piles of limbs, and dead villagers amid large pools of blood. During the course of the game, a succubus creature is depicted topless."
Maybe this collection isn't anything big, but it's interesting it has been listed so close to E3 2017. Hopefully we will know more details about this collection very soon.